Let's Take a Look at the Marvel Legends Kingpin BAF Spider-Man Wave
Hasbro's third Marvel Legends release of the year already after a new Black Panther wave and the Captain Marvel wave is a Spider-Man related wave. Like most, when I saw the line-up of this one I kinda scratched my head wondering why some of the characters chosen are here, until I saw Night Thrasher and lost my mind. This wave is all about the BAF, as we finally get a classic Kingpin figure.Hasbro was nice enough to send over the whole wave for us to show you, so let's take a look at the wave and see what's good, and what is…not so good.
We already took a look at Night Thrasher when we found him on the pegs, so let me just say again that he is the best figure in the wave and you should own him. My only knock on him is that his bully clubs tend to bend, other than that he is one of my early favorites of the year.
We get two versions of Spidey in this Marvel Legends wave, the first being a new version of the symbiote suit. He comes with swappable hands, and features weird eyes that jut out from the head of the figure. I didn't really need an update to black suit Spidey, as I am more a fan of the red and blue, but they did a nice job on the look of the figure. He is so thin though! Peter my man: eat a sandwich! The tiny waist makes his legs look impossibly long, and at least in my figure he was hard to keep standing in even a straight-forward pose. Not a fan of this one.
Next to Night Thrasher, my next most-wanted figure from this wave was the Six-Arm Spidey. For a figure with six arms attached, he sure does feel hollow. He is super light, and it feels a tad cheap when you have him in your hands. I love the look with the extra arms, and the costume is great, but as I am sure it would be in real life, the four extra arms end up getting in the way and end up annoying. Not a disappointment, its a good figure, just not as great as I hoped before I opened it.
Two females are included in this wave, the first I opened was Black Cat. Man is it weird to see this costume. I love how the fur pieces slide around on her legs and arms, it makes for less obstructive posing. I really like the head sculpt on this one too, it has a slight animated feel to it and it works. Her whip is useless, it is plastic and feels and looks cheap. I was all ready to trash this figure before I opened it, but I actually kinds like it. Not classic Felicia but a solid figure anyway.
The other female figure is Silver Sable, and boy is it not good. Where to start….that leg bands do not stay up at all, they are too loose and constantly slide down to her ankles if you breathe by her. Same with her shoulder straps, I ended up just taking all of them off. The legs are bowed and falls victim to the same posing problems as many other female Marvel Legends figures in the past. Her hands do not hold either of her guns very well, and it does not look natural at all. This figure is just kind of a mess. It might just be mine, but man was this one a major letdown.
A figure that is not a letdown is the Red Goblin. This may be the fastest turnaround time from page to figure Hasbro has ever done. I feel like his debut was only a couple months ago (yes before you say anything I know its been longer). Anyway, in the comic I didn't care for the character or like the design, but as a figure he is quite the sight. I love the little Carnage Pumpkin Bomb that he comes with, and the tendrils add some cool elements to complete the look. That grin on the head sculpt is perfect.My only knock really is the tail: it is just a molded, soft plastic tail that pretty much stays in place. It helps with posing and keeps him upright, but limits him some for more dynamic posing. This one is the surprise of the wave.
Puma is a great figure. He has needed a figure for a really long time, and Hasbro has given us the definitive Puma Marvel Legends figure. The feathers are well done, and even with the bigger lower pieces to his feet he is quite easy to pose. His cat-like features are well-sculpted, and I love his claw hands. They have really figured out how to make those claw hands work and look menacing on figures like Sabertooth, this Puma, and others. This is the good stuff right here.
Collect them all and build a classic Kingpin. This is one of the best BAF they have ever done, hands down. He comes with his cane, and his suit jacket is removeable. He comes with two heads- a regular grim-faced Wilson and a "I'm about to wreck you" face. He is so big and hefty, and it is awesome to finally have a properly scaled Kingpin figure to add to my display. Ever once in awhile, his right arm pops off when over-rotating, but it pops right back in and is not a big deal. Great, great work Hasbro.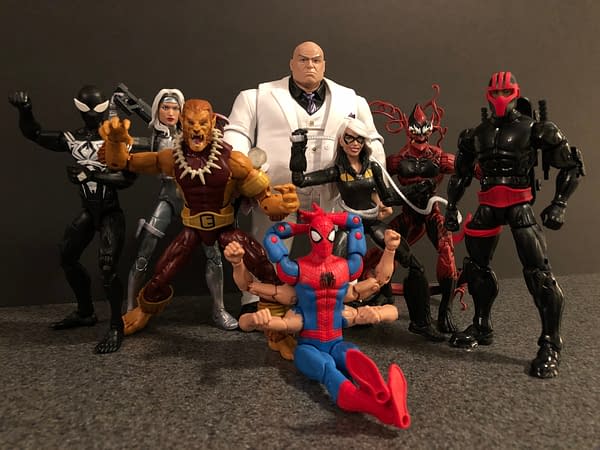 Overall this is a mixed bag of a wave. Is Kingpin worth $140 worth of figures to you? I guess that is the question. With better character selection, this would be a no-brainer purchase. But with the Silver Sable and Symbiote Spidey letdowns, and the meh Black Cat, it really weighs the whole wave down. Thrasher, Six-Arm Spidey, Red Goblin, and Puma are all great figures though, so maybe hold off a bit until you can find the wave on sale before pulling the trigger to build Fisk.
If you are like me, and you can't wait, you can order the whole wave on Hasbro Pulse right now.