Mego Corporation returns to Toy Shelves Exclusively at Target
Mego is making a comeback. The big announcement came through today that the classic toy line will be available exclusively at Target stores starting on July 29. The figures will cost between $14.99 and 29.99. The first wave of figures will features toys from DC Comics, I Dream of Jeannie, and of course, Star Trek. Each figure will have a print run of 10,000. Mego was the biggest thing going in the 70's before some film called Star Wars and Kenner took over the world. Watch the Toys That Made Us Star Trek episode on Netflix for more on that story…
Check out the full press release and pics of the new figures below!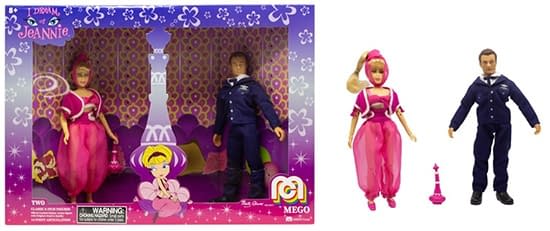 Hit toy line makes retail comeback for a new generation driven by fan demand

New York, New York – July 11, 2018 – Mego Corporation is proud to announce the return of the ground-breaking action figure toy line, Marty Abrams presents Mego™, which will be available exclusively at Target this August.

The first wave will include characters from hit properties like Star Trek, DC and I Dream of Jeannie. Each will have a unique serial number and be produced in a limited run of 10,000.

"This has been 30 years in the making and I'm excited to give my loyal fans and their kids something new and amazing to play with," said Martin Abrams, Co-Founder and CEO of Mego Corporation. "We wanted to recreate a line that provides that nostalgic feeling of seeing a display of action figures they had as a child, and to share that with their own children."

Marty Abrams presents Mego™ will be revealing the new line at San Diego Comic-Con (booth 830), July 19th – 22nd. Comic-Con guests will have a unique opportunity to purchase a limited number of the new action figures before they launch at Target. All items will be signed by Marty Abrams and a special celebrity guest.

Follow us on our social channels Facebook and Instagram to stay tuned for more information.

About Mego Corporation

Mego Corporation was founded in 1954 and became the first company to make action figures of TV and comics superheroes. Led by Marty Abrams, Chairman of the Original Mego Corporation and the godfather of the modern-day action figure, the company continues to successfully build on its history as an innovative leader in licensed Action Figure Toys and Toy Products for the United States and International Markets. Mego Corporation has established its headquarter in Great Neck, NY, with manufacturing facilities in China and Mexico.