Halloween collectors can admit that this is a golden age for Michael Myers collectibles. The Shape has so many quality items around right now that fans can hardly keep up. This however is one that they should seek out immediately. The Mezco Toyz One:12 Collective Halloween Michael Myers sold out when it went up for preorder earlier this year, but is now in stores and online. As a huge fan, this was one of my most anticipated releases of the year, and I am happy to say after getting my hands on it: it lives up to the hype.
The figure comes in the typical One:12 Collective box. The slipcover has a great big Halloween logo on the front, with the iconic pumpkin on the sides. On the back it the box contents, with some really cool pics of the figure on the bottom in familiar areas from the film. Once you take off the slipcover, the figure and accessories are all protected by paper and plastic sheets. Boy they really do a great job protecting these things and that is to be commended.
As far as accessories are concerned, Michael comes with two knives, a light-up jack-o-lantern, a Judith Myers tombstone, multiple pairs of swappable hands, his ghost sheet costume, and a cool Halloween logo base. I could do without the bloody knife if I am being honest, I get why they did it but its not needed. My favorite is the pumpkin Lit up or not, it is a way cool accessory. They made it so the light flickers as well, furthering the fact that One:12 Collective figures are some of the best on the market.
The main event is Michael however, and boy is he amazing. He has so much articulation and can get into so many different poses, but realistically how many would you need for him? The outfit and mask are top notch, and I love how clearly you can see his eyes. That is a detail most forget from that first film, his eyes are so visible, to let you know he is aware of what he is doing. Each set of hands are great as well. The knife-holding hands require very little force to get the handle into them, and changing the heads to put on his ghost costume requires just a little finesse, no force. All interchangeable parts on figures should be this easy.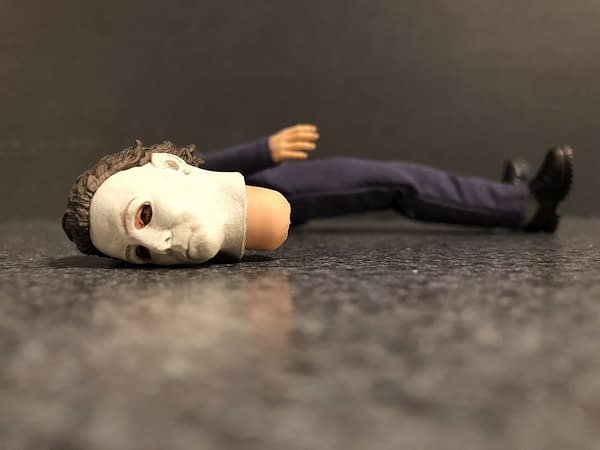 This may be the best Michael Myers figure we have gotten, or will ever get. It would be interesting to see what they would do with a Laurie Strode, Dr. Loomis, or even Michael from the new Halloween film. If they make them, I will buy them.
For now, if you want one of this Michael, go ahead and click here.