Visiting Hordak's Lair on SDCC Preview Night at SDCC
Hordak's Lair was a genuine thrill for Masters of the Universe and She-Ra fans on Preview Night here in San Diego. The Super7 store was taken over by the Horde, and fun and figures were had by all. The big draw here was of course the Laughing Prince Adam figure, by far one of the coolest exclusives that will be available at SDCC this week. You can also order him online right now until July 22.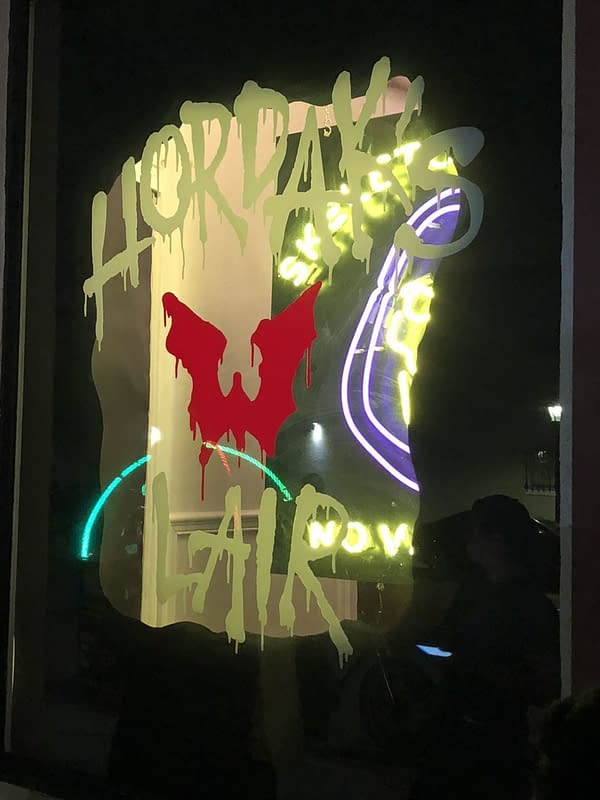 A Hordak's Lair sign covered up the Skeletor one as you got to the store front, and once inside there was a plethora of exclusive merch and figures to buy. Besides the Prince Adam, they had a She-Ra/Hordak ReAction figures two-pack, many t-shirts (I picked up that Masters of the Beach shirt as soon as I saw it), single carded Masters of the Universe figures from the latest wave of Orko, Ram Man, Scare Glow, Faker, Evil-Lyn, and Mekaneck. Rounding out the exlcuives were two sets of Keshi figures, one featuring She-Ra, and one featuring The Horde with blind box mini-figures inside.
Also on display were upcoming waves of figures in their Funimation and Classics line. The big reveal is that the Snake Mountain is finally coming out. It will be compatible with all Super7 seven inch Masters of the Universe figures, and features an amazing sculpt. I can't believe they are finally going to do it. There was no release date listed, my guess is that it will launch in the spring.
Super7 continues to not only produce quality Masters figures, but fostering a real collectors community that cannot be matched. The enthusiasm of everyone there made this visit to Hrodak's Lair a rousing success. If you want to go, bad news. Thursday is the last day for the lair at the con, as starting Friday the store switches over to the Universal Monsters Boodega.