Pennywise Gets an Accessory Pack From NECA in 2019
Fans of this years Pennywise figure release from NECA have reason to be excited. Next year they will be releasing one of their popular accessory packs centered around the dancing clown. The pack will include a gutter diorama, the S.S. Gerogie, a Pennywise jack-in-the-box, Gerogie's severed arm, a Pennywise puppet that eagle-eyed viewers of the film last year recognized as the Tim Curry version, and a red balloon. The sewer diorama is the coolest one included, as it has a new Pennywise face sticking out of it. This pack come after the awesome Friday the 13th and Nightmare on Elm Street packs, along with their Alien and Predator ones they have done over the years.
This will ship in spring 2019. Check out the pics and details below!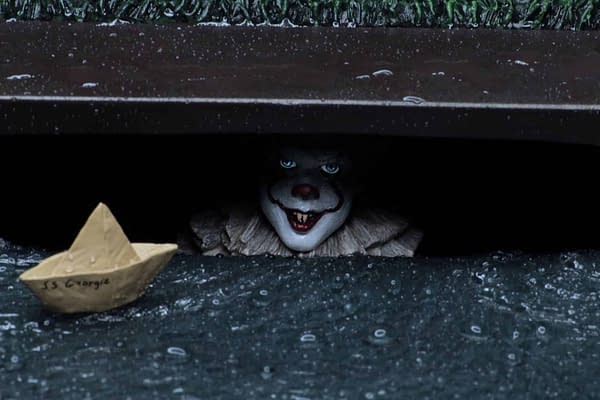 Build terrifyingly detailed scenes from the IT Movie, the 2017 movie based on Stephen King's original novel, with this new deluxe accessory set!

These incredible pieces are perfectly in scale with #NECA's line of 7″ figures and include some truly iconic items from the acclaimed horror film.

The set comes in closed box packaging and includes:
– Sewer Diorama Display Base – Featuring an exclusive-deco Pennywise face peeking out from the sewer grate! Measures over 6" x 6" (across and deep) and 2" tall.
– Pennywise Jack in the Box Accessory – Over 3" tall.
– Pennywise Puppet (as seen in the Well House Clown Room) – 4" tall.
– Georgie Severed Arm Accessory
– SS Georgie Boat Accessory
– Red Balloon