Stranger Things Kids Ghostbusters Figure Set Hits Gamestop in October
Stranger Things fans: our ultimate figures of the Fab Four are here. The figure box set of the boys dressed in their Ghostbusters outfits from Season 2 by McFarlane Toys. They come with their homemade proton packs and traps, 14 points of articulation, great sculpting, and figures bases featuring the shows logo. This box set is a Gamestop exclusive and will retail for $69.99. It will hit stores in October. Check it out below, along with full details.
You can preorder one for yourself right here.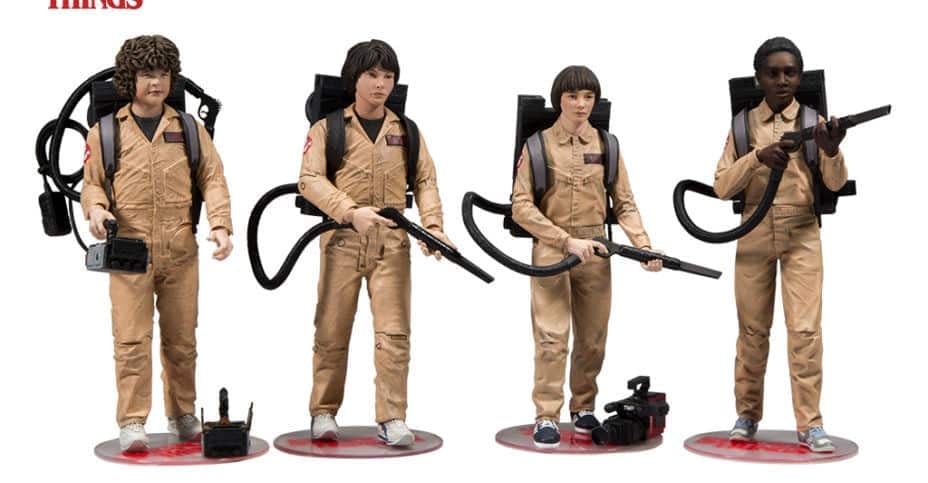 Mike, Will, Lucas, and Dustin return in season 2 of the Netflix hit series, Stranger Things with a bang. One gloomy Halloween night in Hawkins,Indiana, Mike, Will, Lucas, and Dustin decide to dress up as their favorite characters from the iconic movie but little do they know that Halloween will never be the same again. The Ghostbuster Deluxe Box features the 4 fan-favorite characters in the iconic Ghostbuster jumpsuits that were made so popular in the 1984 hit movie, Ghostbusters.

-Spectacular likeness of fan favorite characters Mike, Lucas, Will, and Dustin sculpted directly from assets created by Netflix and Sony

-14+ points of detailed articulation for optimal play-action

-Dustin includes the iconic Ghost Trap with Dart and Proton Pack, Will includes detailed TMP Video Camera, iconic Proton Pack and jumpsuit, Lucas includes iconic Proton Pack and jumpsuit, and Mike includes iconic Proton Pack and jumpsuit.

-All Proton Packs are removable

-Figures showcased in stylized Stranger Things and Ghostbusters deluxe box packaging

-Features authentic hyper-realistic paint decoration of the iconic jumpsuits worn by the original Ghostbuster cast.