Subscription service Loot Crate may be getting a boost from Nerd Block exiles. And their August core crate has the theme of Kingdom, promising The Lord of the Rings, Adventure Time and The Legend of Zelda items. And they've just released news on the middle one. The Adventure Time Nice King & Gunter Figure, manufactured by Loot Crate, features the Ice King, the former antagonist of the animated series, and Gunter, his penguin guardian. The figure captures the king's new softer side. And my children will fight over it.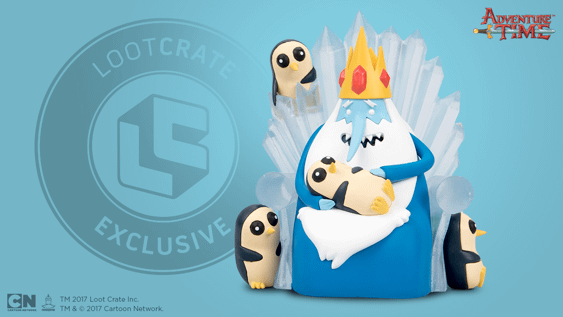 Go on a journey with the

Hero

of

Hyrule

Face a chilling foe in Ooo
Discover ancient artifacts in Middle-earth & More!
Lootcrate DX crate will have Dungeon & Dragons, Dragon Age: Inquisition, The Legend of Zelda
Loot Gaming, with a Fortress theme, will have items for The Legend of Zelda: Breath of the Wild, Middle-Earth: Shadow of War, The Witcher 3: Wild Hunt, Dragon Age: Inquisition
Lootwear and Loot For Her have Assasin's Creed and How To Train Your Dragon items…
If you want to jump on, click here and use the code BLEEDINGCOOL for added discount. Current crate orders close on the 19th August.
Enjoyed this article? Share it!