The Amazing Spider-Man #2 Review: Now I'm on Board
[rwp-review-recap id="0"]
The Amazing Spider-Man is fighting Man Mountain Marco and the Ringer at a book fair, because that's where these villains are at in their life right now. While dealing with this situation, Peter Parker reflects on how good things are going with Mary Jane, whom he has dating once again. He also looks back on the class he is now attending at Empire State University, which is being taught by Curt Connors, aka the Lizard.
Amazing Spider-Man #2 is far more engaging than the initial installment. The story is more focused, the humor clicks better, and the narrative flows more smoothly.
I understand that the first issue was trying to set up a new status quo for Spider-Man, but it still felt stilted, awkward, and was really only alright. This issue is genuinely good and is a joy to read.
Writer Nick Spencer's love of bottom-rung villains crops up again with the opening, and it's a genuine laugh. The plot with Curt Connors treads some familiar ground — the comic even admits that — but it takes that idea in a direction that has promise to be both interesting and fresh.
The fact that the comic isn't personal disaster after personal disaster for Peter helps too. That can only be used as a punchline for so long before it's just miserable regardless of attempted comedy. For those keeping score at home, that was another one of my big problems with the first issue of this new series.
Also, a couple of great Marvel villains show up in the second half to spice things up even further.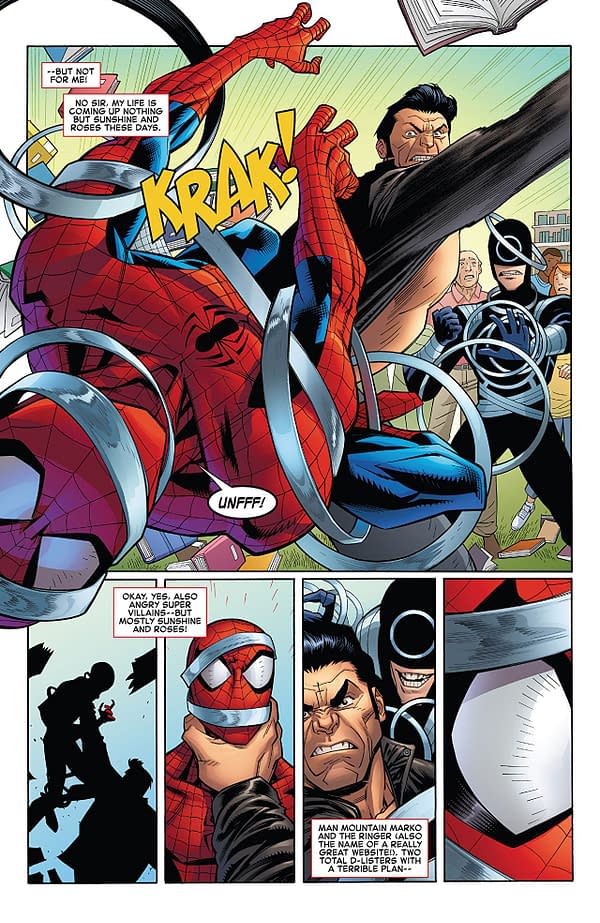 Even Ryan Ottley's artwork feels greatly improved in this comic. His rendition of the Lizard is fantastic, and he knows how to make an action scene impactful. At times, the faces and figures can still look too geometric, but this isn't a problem as often as it was in the first issue. There's a moment of excellent panel composition where Peter and Mary Jane talk about what has come between them in the past with the Spider-Man costume literally between them in the background, which tickled me in its cleverness. Laura Martin does good work on the color art too, giving the book plenty of life and energy.
Amazing Spider-Man #2 is a fun, fast-moving, and comedic book. I was laughing with Peter as opposed to cringing after another part of his life fell apart. I'm on board with this new take on the Lizard, and this book is showing a lot of promise now. This one comes recommended. Check it out.
[rwp-review-ratings id="0"]
[rwp-review-form id="0"]