Posted in: Comics, Comics for Your Pull Box, DC Comics, Marvel Comics | Tagged: action comics #1000, april 2018, Batman, batwoman, Black Hammer, black mask comics, brian michael bendis, charles soule, comics for your pull box, cullen bunn, damned, daredevil, dark horse comics, dc comics, doctor strange: damnation, Ed Brisson, G.Willow Wilson, Green Lanterns, her infernal descent, idw publishing, image comics, iron fist, jeff lemire, Marguerite Bennett, Marvel Comics, mata hari, ms marvel, nightwing, ninjak vs. the valiant universe, oni press, quantum and woody, superheroes, superman: action comics, tim seeley, Tom King, troy nixey, valiant entertainment, vault comics, vinegar teeth, x-files, Zenescope Entertainment
---
Comics for Your Pull Box April 18th, 2018: Action Comics #100, ' Nuff Said
It's that time again: let's take a look at the comic releases of this week and figure out which ones are worthy of awkwardly ringing up your local comic shop person and asking them to put it in your pull box other than Action Comics #1000. As always, here's a link to Comics List to see if there's anything I missed. Let's begin!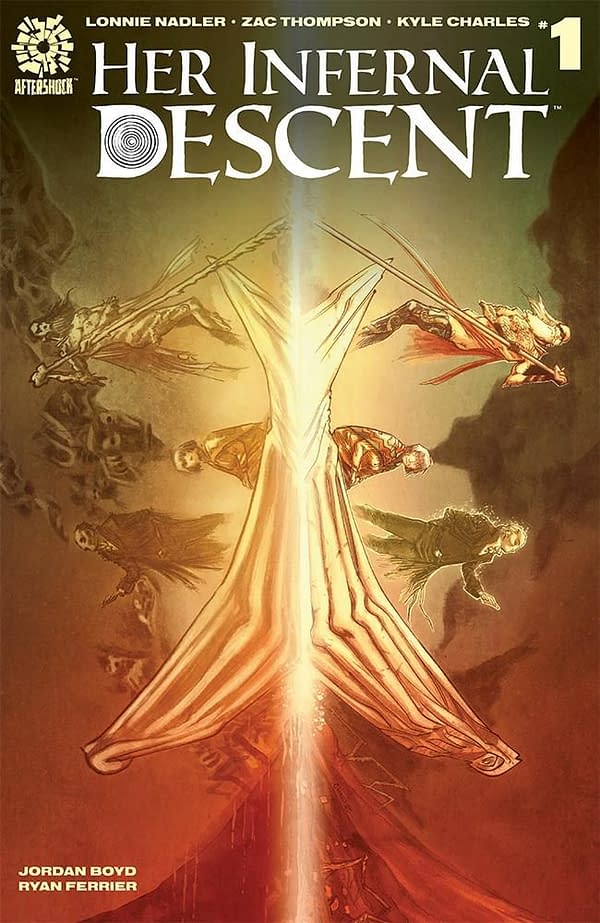 Her Infernal Descent #1
A mother who lost her family has done the unthinkable to get her family back; she is descending through Hell itself to bring back the ones she loves. A tale of extremity and the hypothetical extremes of human will and recklessness from Lonnie Nadler, Zac Thompson, and Kyle Charles, Her Infernal Descent is one I've been looking forward to for some time.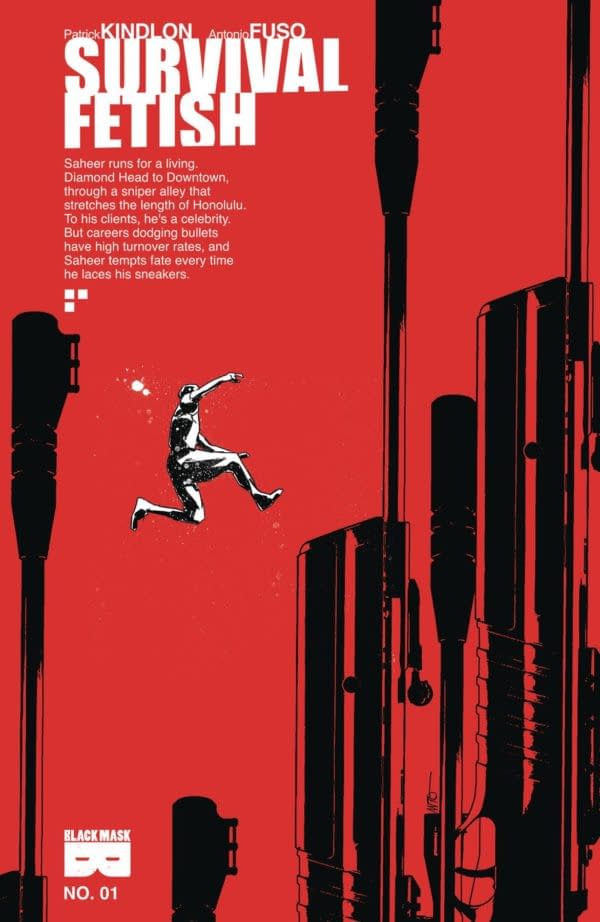 Survival Fetish #1
In a dilapidated Honolulu, Saheer is one of the best runners in there are. He is a celebrity for his ability to dodge militias and street gangs, but even Saheer has his private moments of doubt and misery. This one comes from Patrick Kindlon, Antonio Fuso, and Black Mask Studios. Be sure to check this one out.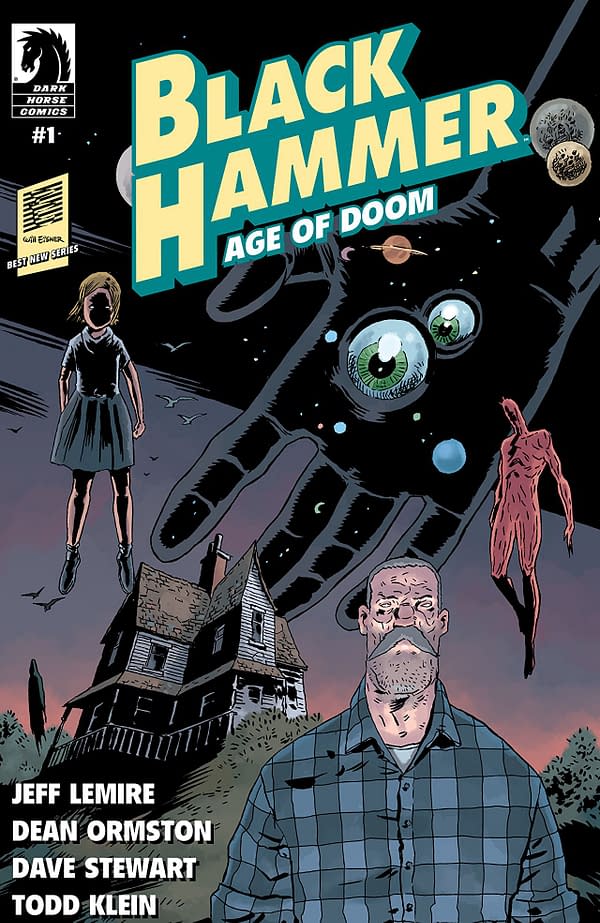 Black Hammer: Age of Doom #1
Jeff Lemire and Dean Ormston bring us back to the world of Black Hammer as Lucy Weber takes up the mantle of the legendary Black Hammer. Lucy finds herself on a strang world almost completely unfamiliar to her. This one won an Eisner, so it just may be worthy of your pull box.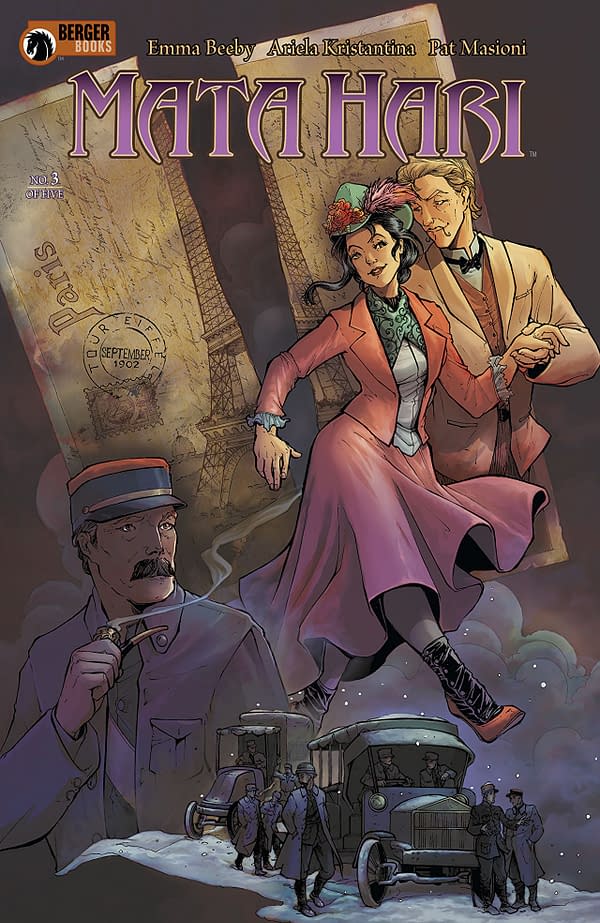 Mata Hari #3
Emma Beeby and Ariela Kristantina continue their dive into the life of Mata Hari, as our hero dives into her deepest tragedies and greatest losses while in custody of the French.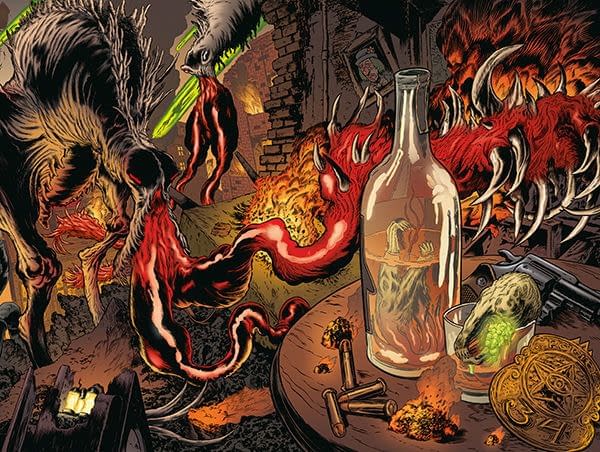 Vinegar Teeth #4
Troy Nixey and Damon Gentry bring Vinegar Teeth to its logical conclusion: Lovecraftian monstrosities raining hell upon Brick City and our half-drunk half-monster partnership must put an end to the chaos.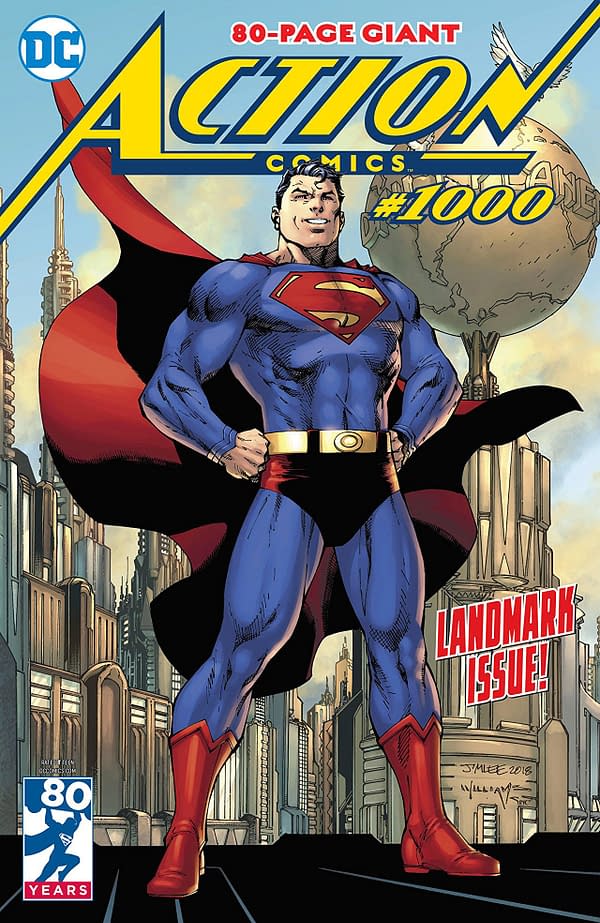 Action Comics #1000
What do I even need to say for this one? It's Superman. It's Action Comics #1000. It's Brian Michael Bendis. How could anyone miss this one?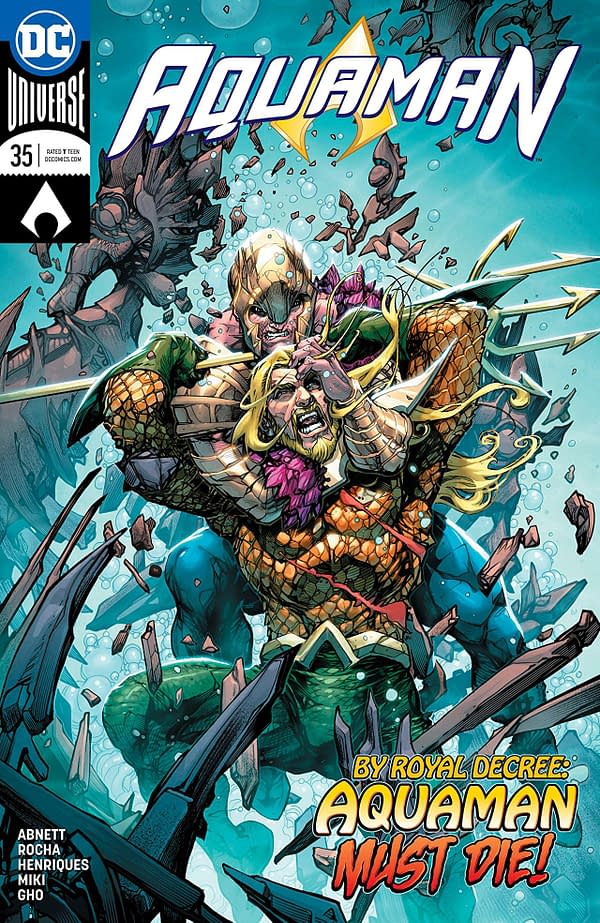 Aquaman #35
Corum Rath sends Murk to fight the Aquaman while Dark Nights: Metal begins to have an effect on Atlantis. Plus, the great Riccardo Federici returns to ply his amazing trade to the book. Dan Abnett has made Aquaman one of the most reliably good DC Comics, so don't miss out on it.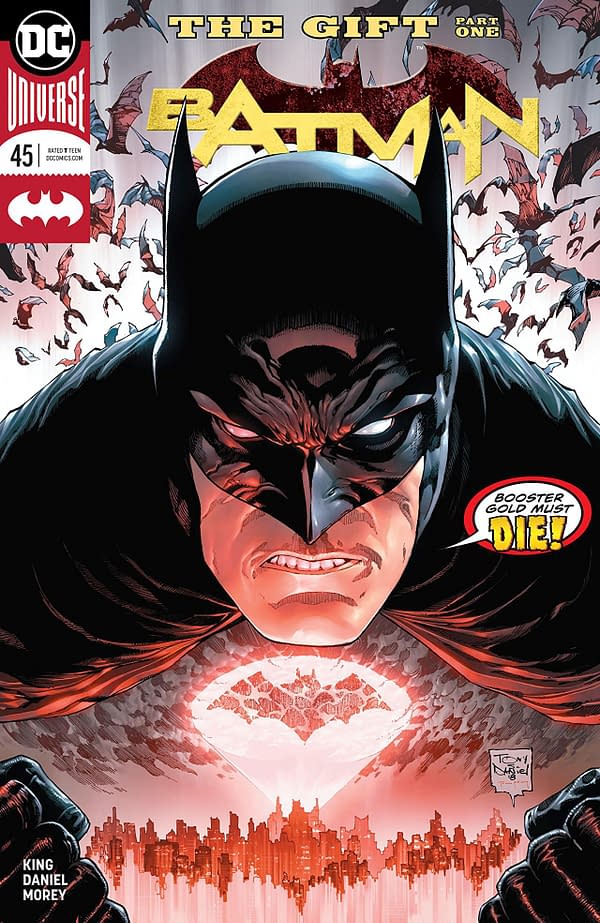 Batman #45
None other than Booster Gold himself pops up this month in Tom King's Batman. That's enough reason to check it out. Plus, Tony Daniel joins to contribute the artwork to the title. The plot, if you need such things, is a convaluted chain of Booster Golds kidnapping Booster Golds. Whatever. It's Booster. It's Bats. It's King and Daniel. Read it.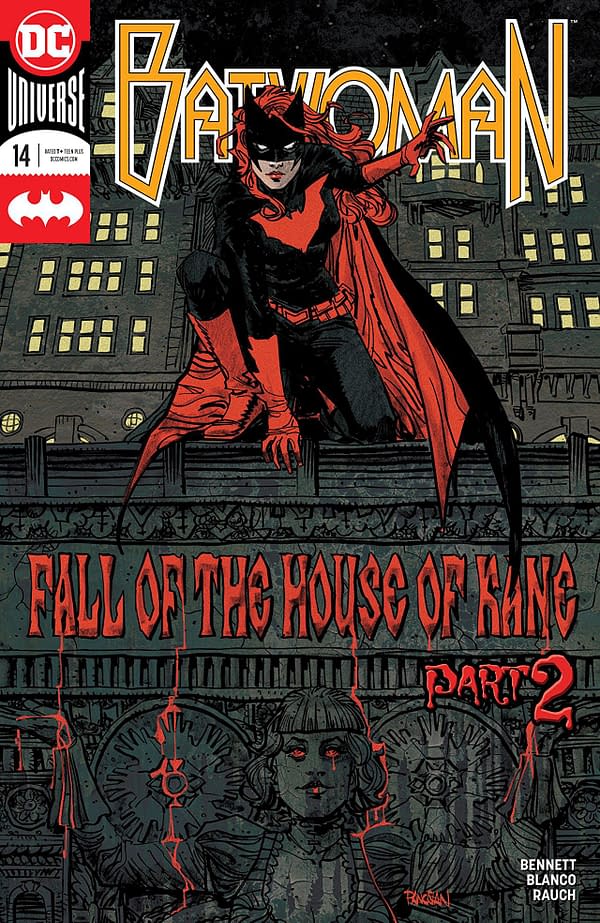 Batwoman #14
"The Fall of the House of Kane" continues as Batwoman's family comes crashing down around her thanks to the Many Arms of Death. Marguerite Bennett continues to be one of the most interesting writers on the scene, and this book is on par with her awesome Animosity material. In this one, she is joined by artist Fernando Blanco.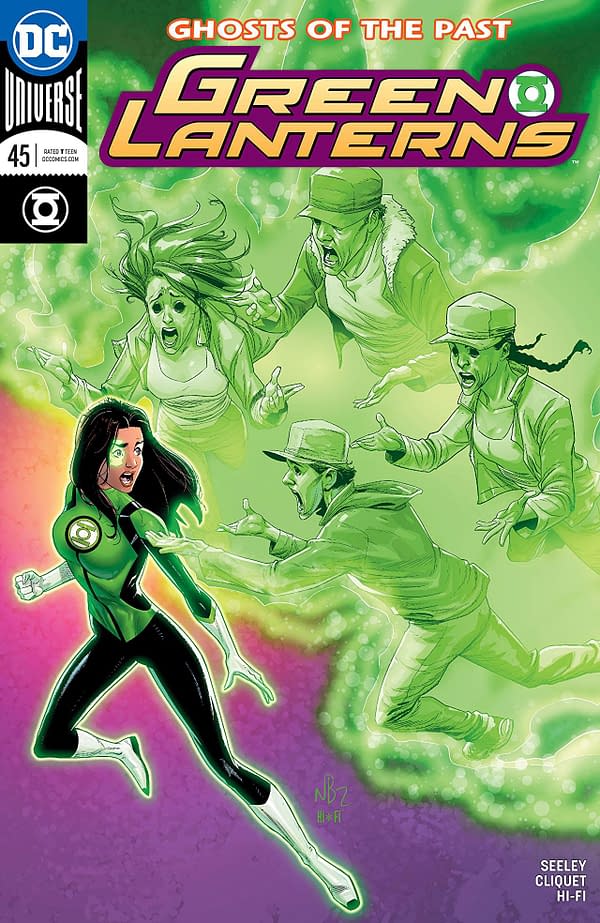 Green Lanterns #45
Jessica Cruz has let her past overtake her present after letting Singularity Jain tap into her nightmares. Simon Baz enlists none other than John Constantine to help Jesse get through this crisis. Also, I'd attribute this cover, but ComiXology and DC are giving Will Conrad, and I know that's not Conrad art–plus there's the signature which I don't recognize.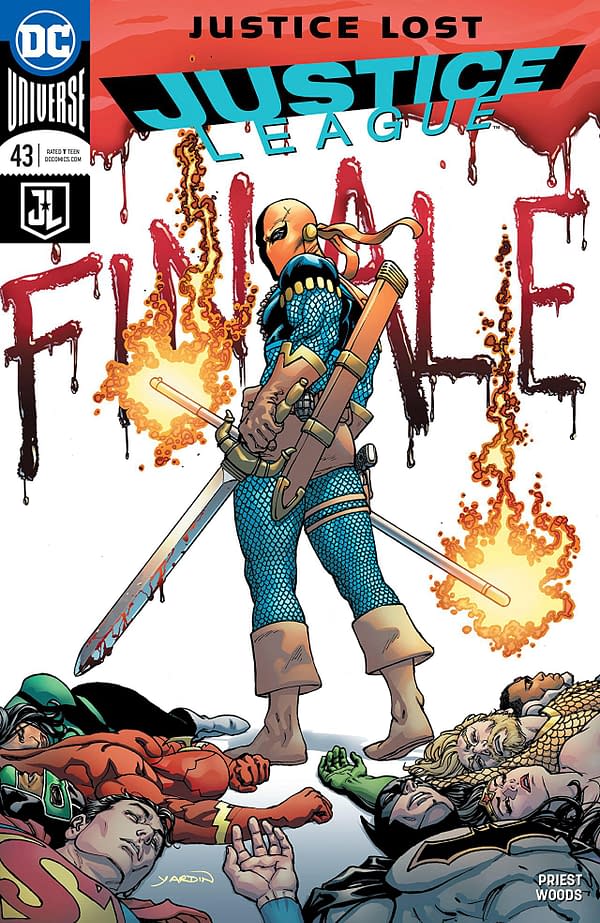 Justice League #43
In Christopher Priest's continued effort to burn Justice League to the shitting ground, he seems to have just replaced this issue with an installment of his Deathstorke, who will be saving the day since the Justice League screwed the ever-loving pooch. This is the last issue of his League run, so you can stop hearing me gush over it soon–unless Scott Snyder's Justice League disappoints me. Then I'll never stop.
Nightwing #43
Michael Moreci and Minkyu Jung join up for this issue of Nightwing, which has Dick having to answer the call for assistance from the nightmare team-up of Damian Wayne and Arsenal. That sounds so nightmarishly delightful; how could you miss out?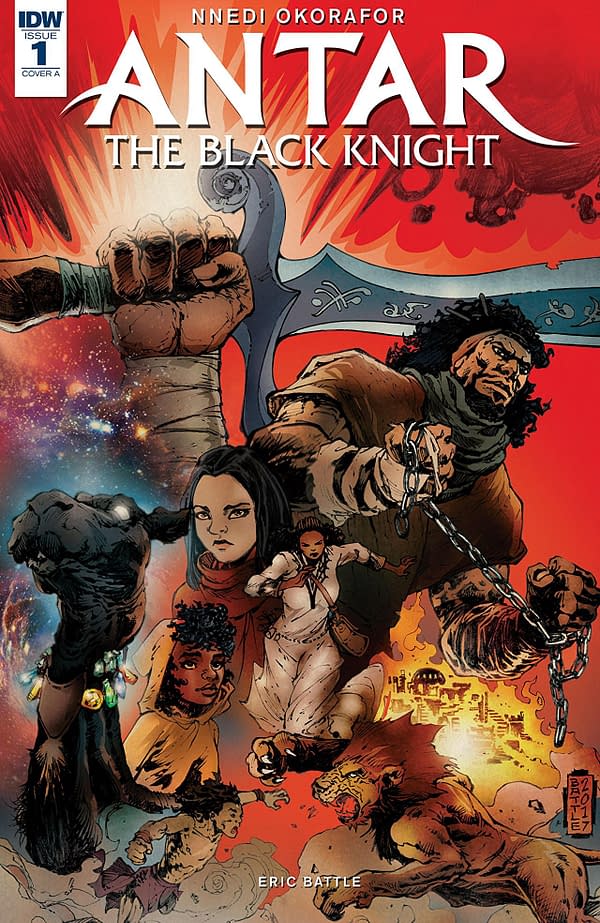 Antar the Black Knight #1
IDW brings you this comic adaptation of the story of Antar the Black Knight, a warrior poet from the annals of history. Brought to life by writer Nnedi Okarofor and Eric Battle, this one looks very promising and is worthy of your pull box.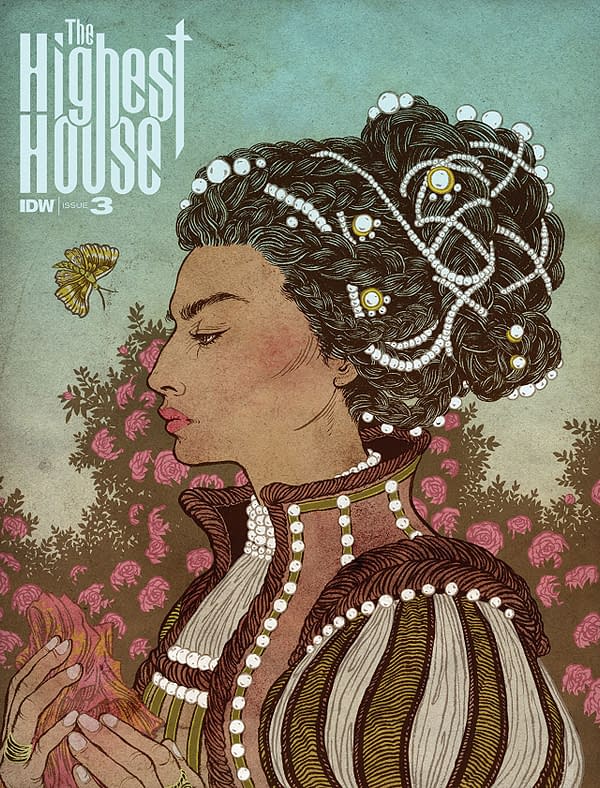 Highest House #3
With Obsidian having revealed some of his hidden secrets within Highest House to Moth and having helped protect him from the chef, the god will be receiving more help from the young boy. This has been a great fantasy miniseries from Mike Carey and Peter Gross so far, and I look forward to seeing how it continues.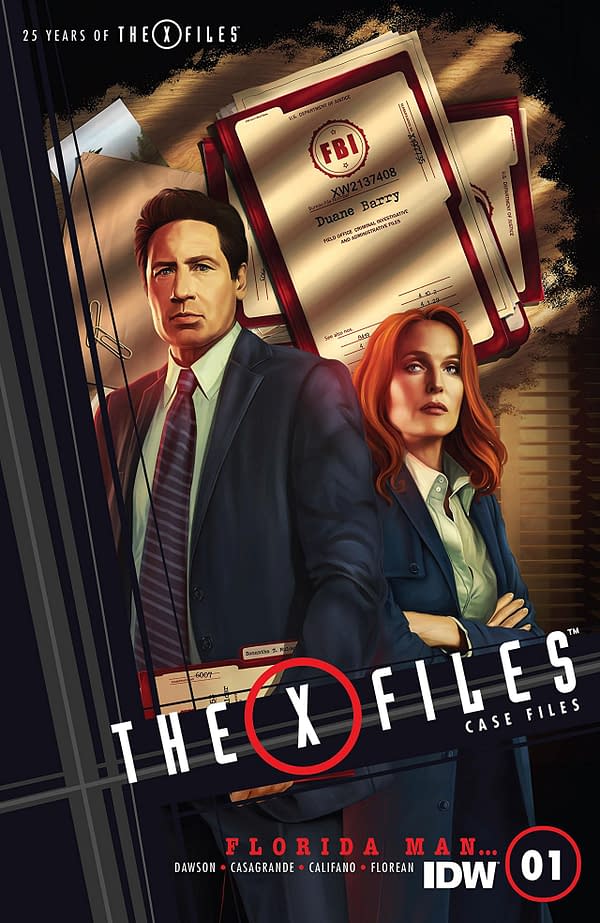 X-Files Case Files: Florida Man #1
New X-Files series called the Case Files starts up this week, and, like many strange things, it's beginning with the phrase "Florida Man." Like the rest of us, Mulder and Scully are determined that there is some alien nonsense going down in what Homer Simpson once called "America's Wang." This one is brought to you by creators Delilah Dawson and Marco Castiello.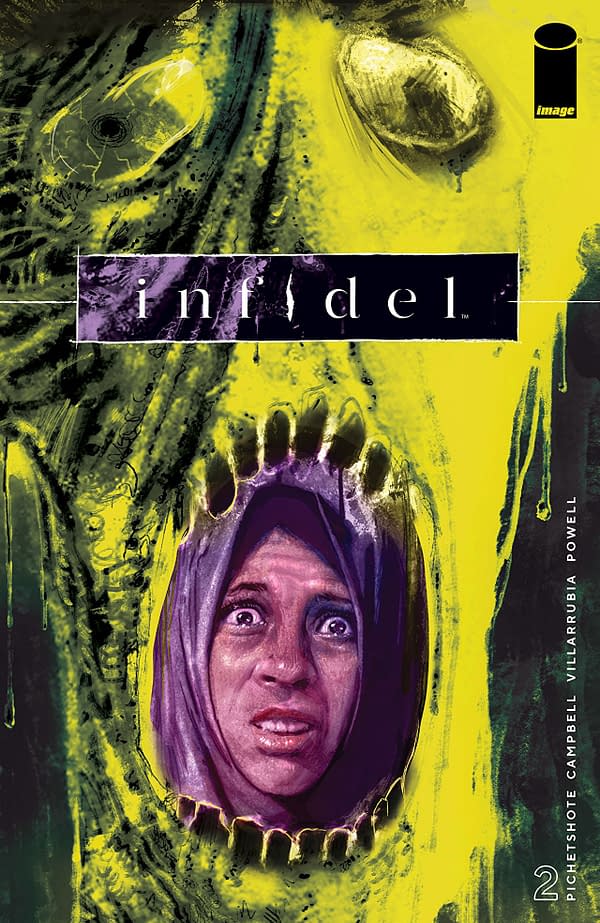 Infidel #2
Aisha begins to dig into the malevolent forces that inhabit her apartment complex as the situation intensifies between her and her family. The first issue to this comic blew me away, and, hopefully, Pornsak Pichetshote, Aaron Campbell, and Jose Villarrubia can keep up the good work in this social horror comic.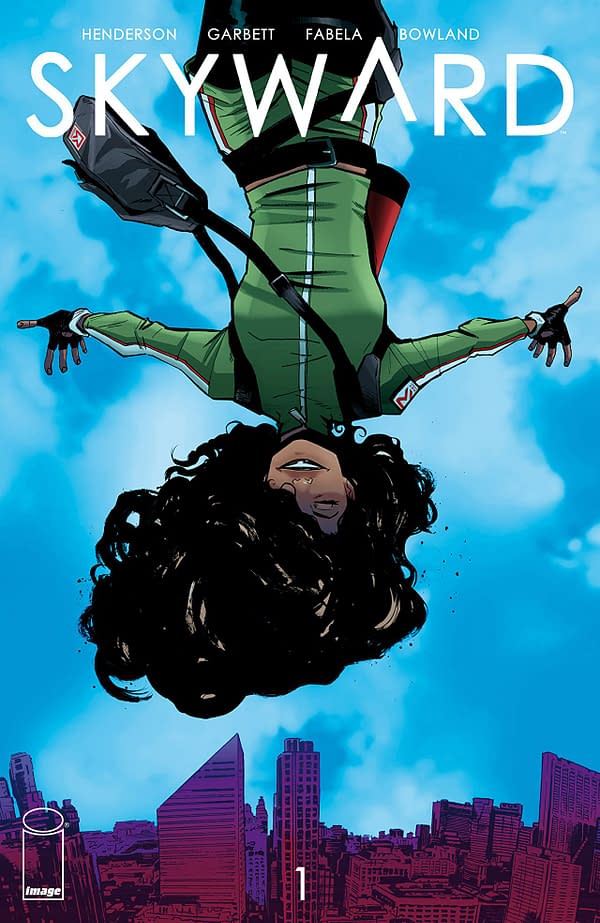 Skyward #1
Skyward brings us a world where Earth's gravity has been significantly decreased and has been so for 20 years. Willa Fowler, a woman who has lived her entire life with low-gravity, may be trying to fix things for the world. This seems like one of those bizarre starting-point premises that could give birth to something genuinely special. This one comes courtesy of Joe Henderson, Lee Garbett, and Antonio Fabela.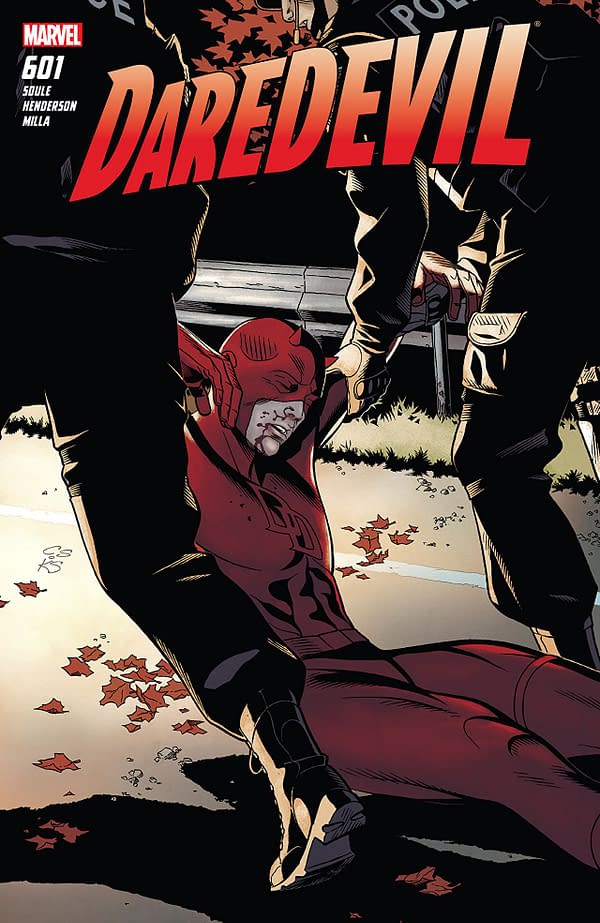 Daredevil #601
The landmark Daredevil #600 ended with Daredevil witnessing Kingpin full of Hand arrows and the heroes of New York arrested by Mayor Fisk's cape-hunters. Where do you go from there? Well, Charles Soule and Mike Henderson will be filling us in on that this week.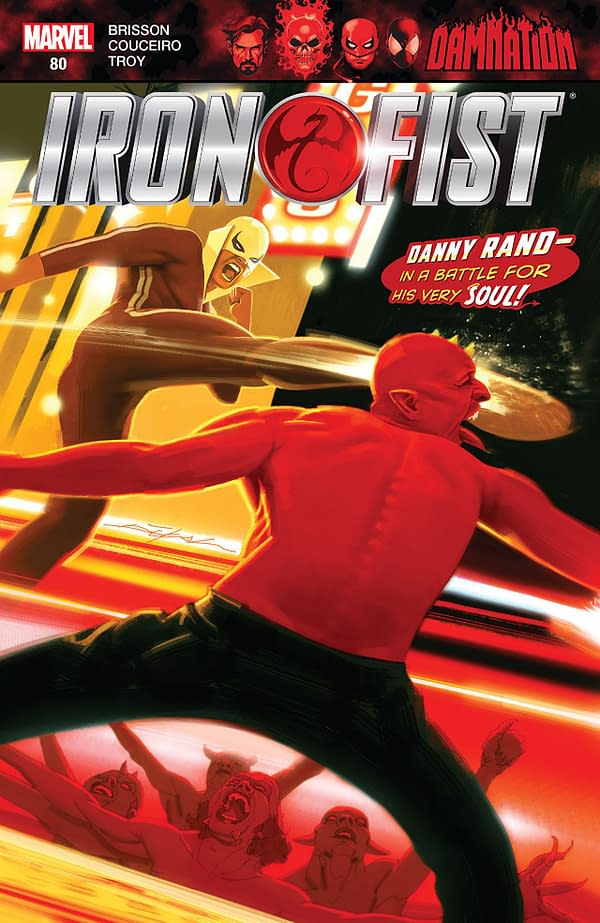 Iron Fist #80
The past two issues of Iron Fist have been underwhelming in the grand scheme of this run, but, with the series coming to an apparent and my love of Danny Rand undiminished, I find myself sad regardless that it's ending with a mediocre tie-in to Doctor Strange: Damnation. In any case, check out this final installment of Ed Brisson and Damian Couceiro's series.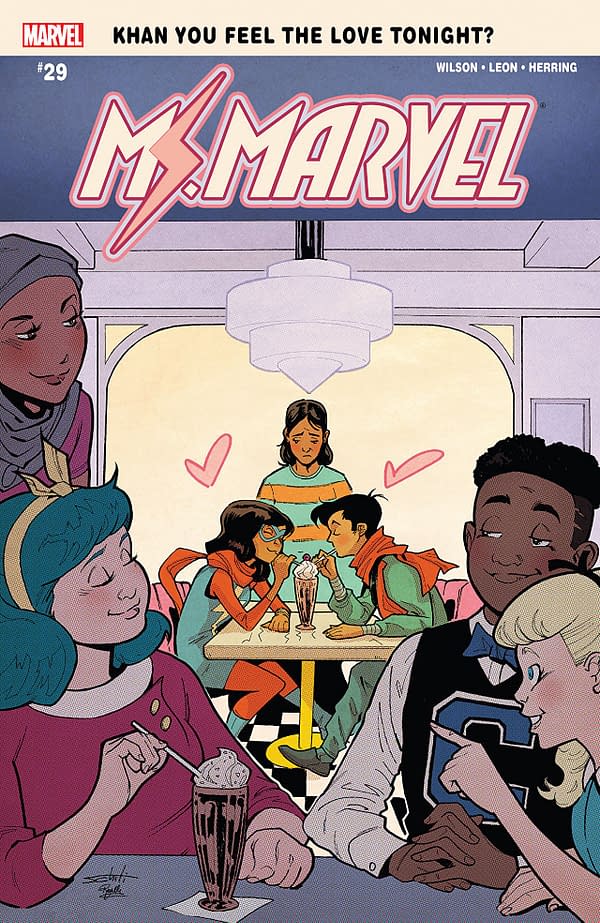 Ms. Marvel #29
I definitely don't give this series its due, and I quite enjoy it whenever I stop in for a visit. This time around, Bruno is back only to find Ms. Marvel dating Red Dagger. Plus, a school bully may be an actual supervillain. G. Willow Wilson, as always, delivers you this installment alongside artist Nico Leon.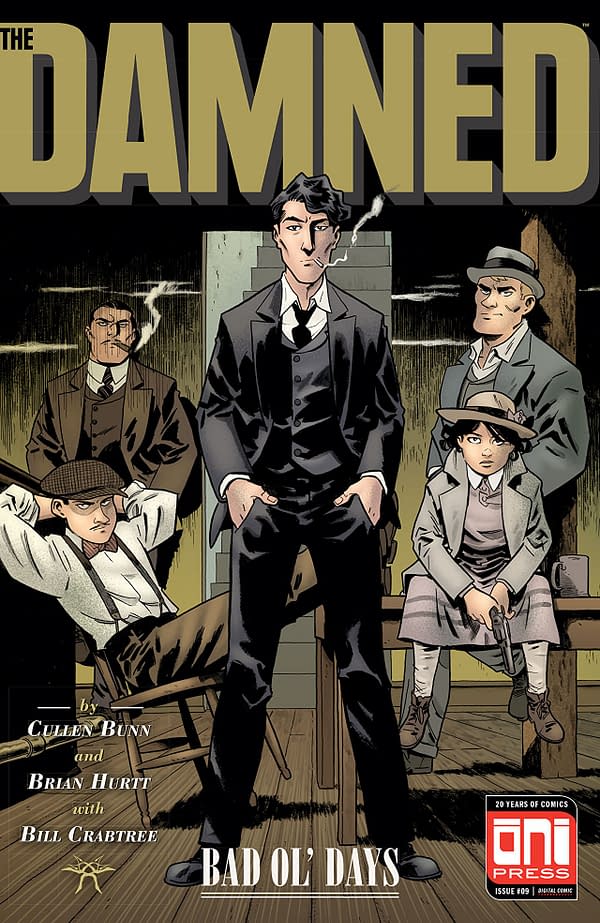 Damned #9
Never one to resist gushing all over Cullen Bunn's horror comic output, I can't help but praise Oni Press' Damned by Bunn, Brian Hurtt, and Bill Crabtree. It has demons, noir gangsters, and a lot of hopping between Hell and Earth. Another installment comes out this week, and you should give it a try.
Ninjak vs the Valiant Universe #4
While the miniseries has been somewhat troubled for me, I still hope that Ninjak vs the Valiant Universe, by Eliot Rahal and Joe Bennett, can stick the landing with Ninjak throwing down with Valiant's heroes in a final showdown in the hopes of revealing Roku's machinations to the world.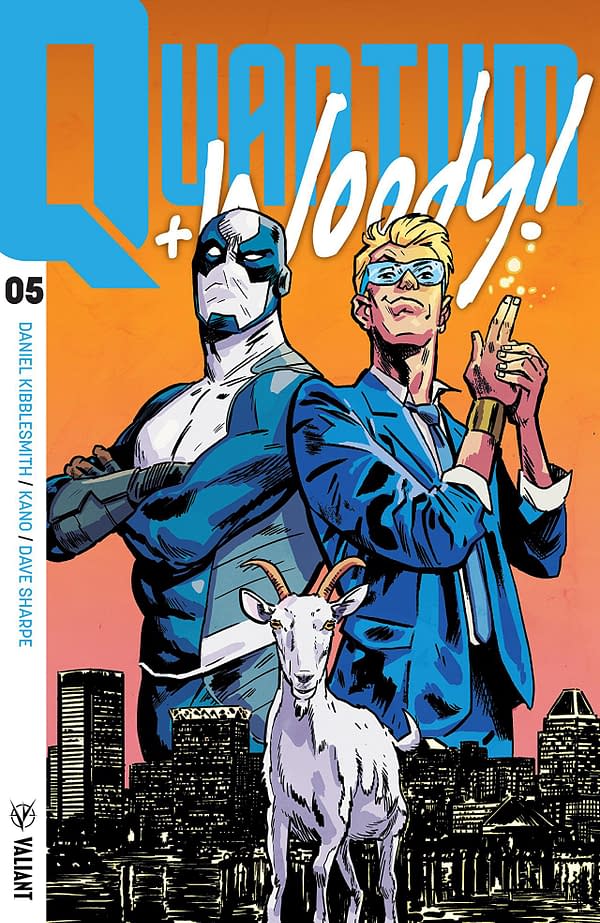 Quantum and Woody #5
Quantum and Woody must now face the ramifications of finding Woody's biological father in Australia. Valiant proudly proclaimed that this will be a real "Martha" moment for the book on its ComiXology profile, and I felt that needed sharing with the world. Anyway, this series has been a consistent source of joy for me, so feel free to check this book by Daniel Kibblesmith and Kano out.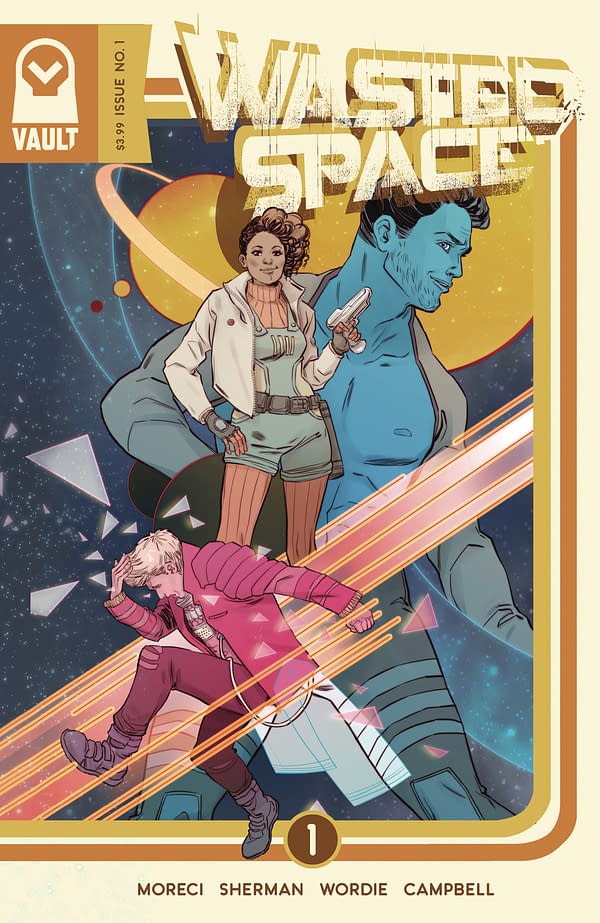 Wasted Space #1
Michael Moreci, Hayden Sherman, and Vault Comics brings you this sci-fi tale of a prophet whose prediction was wrong and doomed much of the galaxy. Now a new prophet arises, our failed propht must save the day from the next big threat. This sounds like a premise worth checking out for sure.
That's all for now. I hope everyone found something worthwhile in this list. As always, I will be reviewing many of these in the coming week and not just Action Comics #1000. See you all then!
---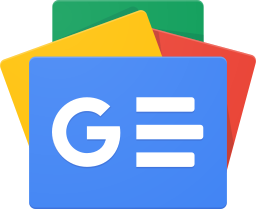 Stay up-to-date and support the site by following Bleeding Cool on Google News today!