Ms. Marvel #31 Review: Slumber Party Spectacular
[rwp-review-recap id="0"]
Ms. Marvel is having a sleepover! Kamala has invited Nakia, Zoe, and Mike to her house to spend the night, play videogames, and chat about life. Unfortunately, Lockjaw, a pizza delivery girl with skunk powers, and Spider-Man Miles Morales all have reasons that this won't go the way Kamala hopes.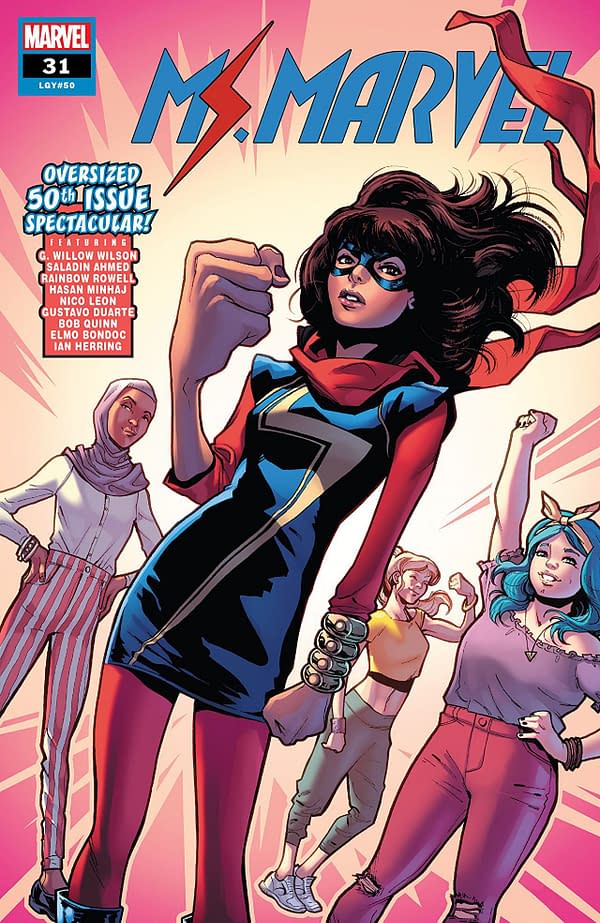 Ms. Marvel #31 is the landmark 50th issue of Kamala's beloved series. G. Willow Wilson never ceases to amaze me at how she can have me invested in mundane activities like a sleepover. This is done through a good balance of endearing characters, solid drama, and the quirks and detours one can expect from a superhero comic.
I found myself genuinely invested in Kamala getting back to her slumber party and friends. Each detour was fun and zany, but you're made to care about Kamala. As such, you want her to enjoy her sleepover.
The three detours are varying levels of enjoyable. The Lockjaw side plot is silly to the point of being a bit much. The other two plots with the skunk girl and Miles Morales are sincere and can justify their own presence.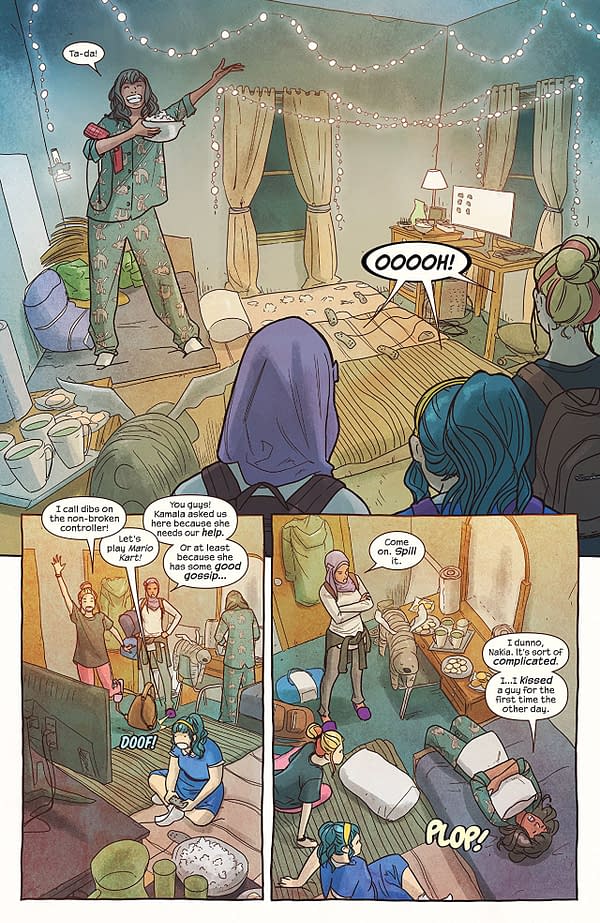 The art varies in a similar manner. Nico Leon's artwork continues to be a good suit for the series, giving a unique atmosphere, texture, and identity to Ms. Marvel. Gustavo Duarte's hyper-cartoonish style for the Lockjaw segment is jarring and unappealing. Bob Quinn and Elmo Bondoc contribute the art to the other two side stories, and they look great and are somewhat resonant with Leon's own style. Ian Herring is the color artist, and his color palette shifts to match each different artist while keeping a coherent identity.
Ms. Marvel #31 is a lovely extra-sized issue starring one of Marvel's best and brightest heroes. It made my jaded heart give a toss about a slumber party, and I think that's a feat unto itself. Mix that with some talented artists, and you have a book well worth recommending. Check it out.
[rwp-review-ratings id="0"]
[rwp-review-form id="0"]