Quicksilver: No Surrender #4 Review – Getting the Miniseries Back on Track
[rwp-review-recap id="0"]
Quicksilver, believing himself to still be stuck in this world between moments, has taken it upon himself to give his turtle, Mister Dibbles, a tour around the world. He discovers a hive of the light creatures and tries to fight them. When all seems lost, Scarlet Witch arrives to tell Pietro that the Avengers are still trying to get him back. She disappears again and runs far from the creatures with Mister Dibbles. Wanda appears again and tells Pietro that it's up to him to free himself. He must find peace, but Quicksilver has never known peace in his life.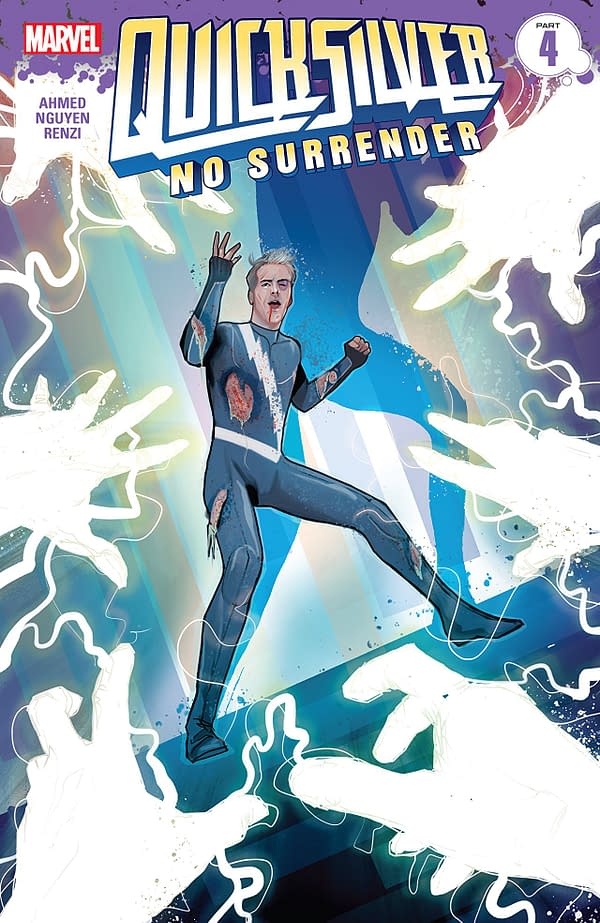 Quicksilver: No Surrender #4 brings the miniseries back on track with an issue that actually goes somewhere. Scarlet Witch has more appearances, and we have both a definitive goal and raised stakes for Pietro Maximoff.
Plus, the conversations between Pietro and Mister Dibbles are pretty damn adorable.
Once again, the conflict is tied to Pietro's internal struggle and personal deficiencies. He is self-centered and stubborn, and that is what is keeping him trapped in this realm. He is keeping others out and, consequently and literally, keeping himself alone and in danger.
The light creatures are still a bit dull as monsters go though.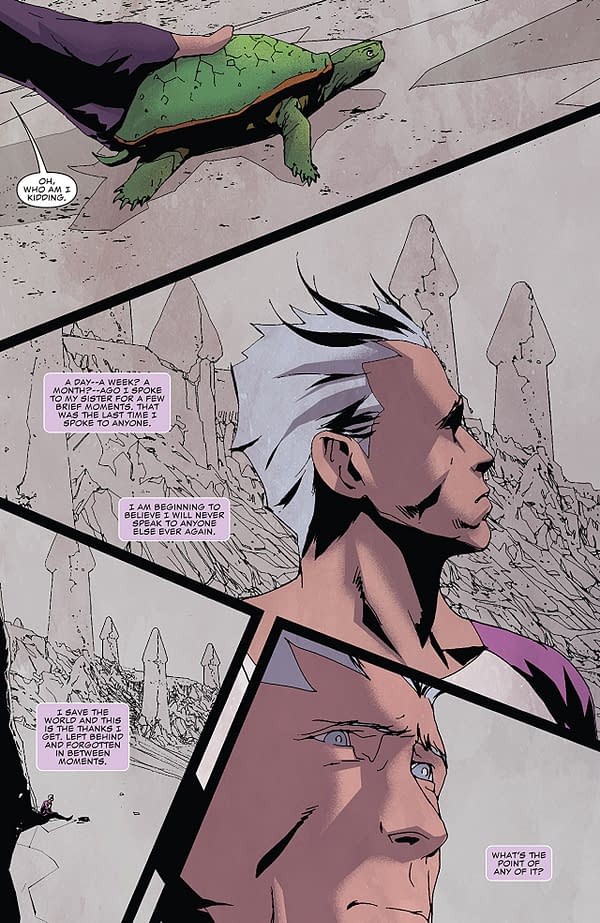 Eric Nguyen's artwork continues to work very well for the book. The smooth texture work and at-times blurred features lend themselves to Pietro's superspeed. Quicksilver busts out some new duds in this issue that also look pretty fantastic. Rico Renzi provides some pretty spectacular color work to add some additional life to this book, even if much of the landscape is a plain white by design.
Quicksilver: No Surrender #4 is a far more compelling issue than the previous installment. There is some forward movement on the plot, and far less of this book is lost in Pietro's head. This comic comes with a recommendation. Check it out.
[rwp-review-ratings id="0"]
[rwp-review-form id="0"]