Our comic book heroes have become part of the protest language of the times. This has been true, in other forms, throughout the course of history. Robin Hood, The Three Musketeers, and many more over decades and centuries. And now, Spider-man. Over the past few days, we have seen comic book iconography used again and again. There was a bow and arrow-wielding "Dollar Store Hawkeye":
A political activist taking to the streets with a crossbow to dispense justice? That's Green Arrow. And that was also Brandon McCormick of getting out of his car during a Black Lives Matter protest in Salt Lake City, Utah, yelling 'Yes I'm an American, all lives matter!' before producing a compound bow and arrows and aiming it at the protestors, to screams, in different directions at different people, before he was jumped upon and forced to the ground.
There was Sean Hannity wearing a Punisher pin on his massive Fox News platform:
His current coverage is nothing new, trying to draw attention to what Trump and Fox News are trying to call Obamagate, and urging states to control the current protests with whatever force or means are necessary. All the time while wearing a Punisher Skull badge.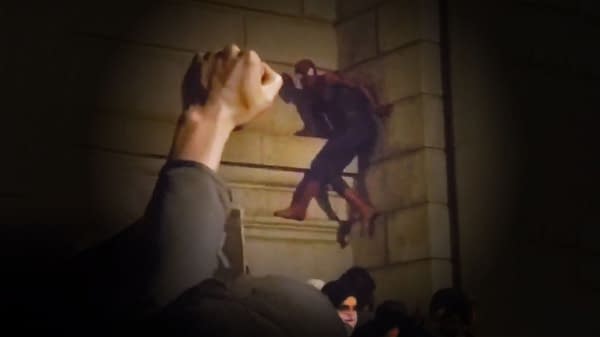 Spider-Man Takes a Stand
And now, exactly where and when you'd expect him, here comes the friendly neighborhood Spider-man scaling a structure looming over Manhattan. Of course, this is hardly the first time Spider-Man has taken part in or discussed political activism. For example, there were student protests in Amazing Spider-Man #38 by Stan Lee and Steve Ditko. There was that time in 1990 when Spider-Man took on animal rights issues. As tonight's protesters themselves did, we might even reference the iconic scene on Queensboro Bridge from 2002's Spider-Man, with citizens of New York shouting, "You mess with one of us, you mess with all of us." This all but came to life during a protest tonight on the Manhatten Bridge. Comedian and writer Anya Volz has captured the Amazing Spider-Man doing his thing at a Black Lives Matter protest in Manhattan:
A huge development at the Manhattan Bridge protest right now pic.twitter.com/rCH0GLDgEe

— Anya Volz (@AnyaVolz) June 3, 2020
It's fairly clear from the video that people are referencing the 2002 Spider-Man movie directed by Sam Raimi where the people of New York infamously turn on the Green Goblin and shout the iconic line.
How You Can Help
The protests against police brutality now span the entire globe and there are many ways you can get involved. You can go out and peacefully protest if you want. You can also donate to numerous organizations that are doing a lot of good work for the cause. Here is a list of just some of them:
Over at AfroTech, there is a great list of five apps that can help you find black businesses to help support in these trying times. The rest of us should be supporting, protecting, and lifting up our black friends, family, colleagues, and total strangers whenever we possibly can.
Enjoyed this article? Share it!