Terrifics #5 Review: Death by Metamorphos
[rwp-review-recap id="0"]
The Terrifics have returned to Earth and trying to get their lives somewhat in order. Metamorpho has a serious talk with Sapphire, Plastic Man calls Angel, and Phantom Girl tries to get to know Mister Terrific. This leaves all four feeling low, and it only worsens when the citizens of a town in Michigan begin turning into Metamorpho-like creatures. The Terrifics rally to respond.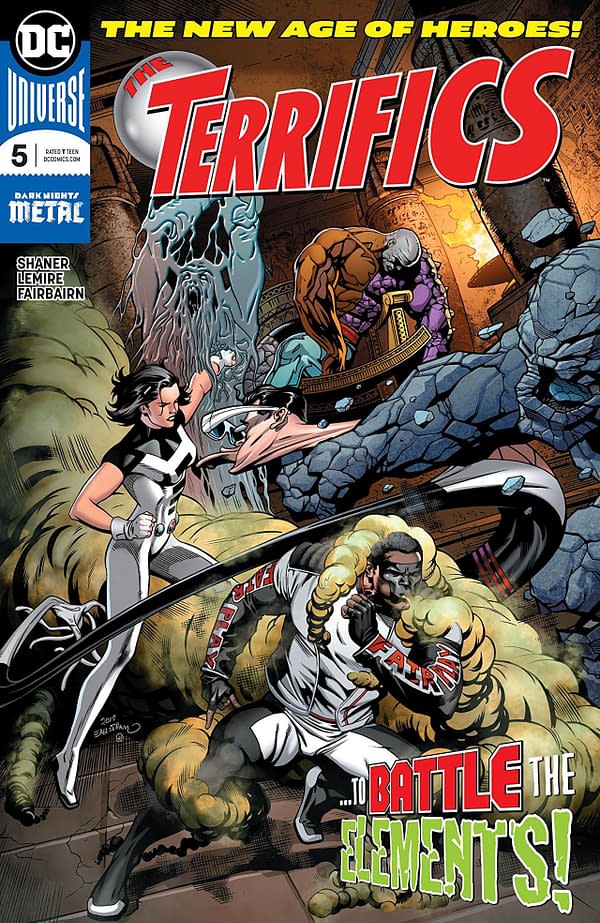 Terrifics #5 begins with more character development, which is a smart move as far as distinguishing this team from the Fantastic Four goes. We see Rex and Eel wrestle with their personal lives, and we see Michael struggle when Phantom Girl touches a raw nerve on accident.
The paneling is clever too, as it sequences itself in such a manner as each character takes up the same space on the page up until the Metamorpho-town plot kicks in midway through.
It's a neat plot too, as it draws upon some Metamorpho lore while stress-testing the team's ability to coordinate. Also, it's outright wild and presented as such. We get to see an element dog too, which is all anyone could ask for in a book like this.
The book almost scientifically balances adventure and character development, and it works incredibly well.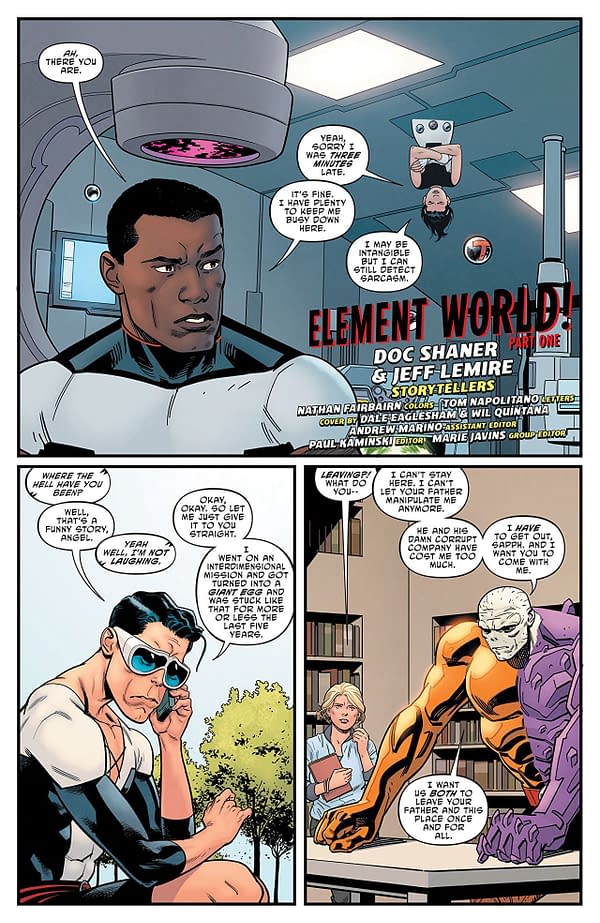 Evan Shaner is back to contribute the art to this issue of Terrifics. He plays with the morphing abilities of Plastic Man and Metamorpho well. The somewhat cartoonish styling allows coordinates well with the overall bizarre zaniness of the tone and premise. Nathan Fairbairn's color work is bright and saturated, and it contributes to the tone well too. This book's visuals are perfectly matched to the narrative.
Terrifics #5 once again raises the ceiling on how good this book can get. It develops its characters well, establishes more chemistry, and presents a crazy sci-fi plot to test how the four can work together. Shaner and Fairbairn kill it on the visuals, and this book earns another recommendation. Give it a read.
[rwp-review-ratings id="0"]
[rwp-review-form id="0"]