The Avengers #2 Review: The Avengers Have Truly Assembled
The Final Celestial Host approaches Earth as Captain America, Iron Man, Thor, and Captain Marvel ride out to meet them. Doctor Strange and Black Panther fight the insect monsters beneath the Earth. Jen Walters struggles to keep her other side under control. Ghost Rider is also being attacked by the insect monsters and has no idea what to do.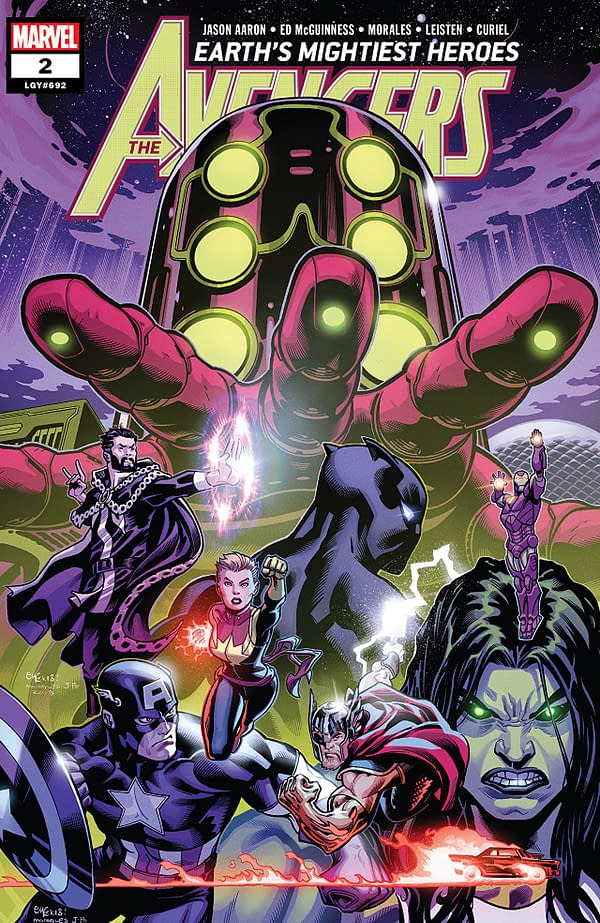 Avengers #2 continues to pull team together while showing further what kind of iteration of the team this will be. To that end, I can say pretty confidently that this will be a more fun-oriented gathering of Earth's Mightiest Heroes. There are plenty of one-liners. Ghost Rider's panic in the face of armageddon is almost played for laughs.
It all works quite well too. I had fun reading this issue. Iron Man and Cap have good banter. The overwhelming threat of the Final Host is still a kick-ass way to bring the band back together. It's all pretty exciting.
The one thing that doesn't work is that it tries to play keep-away with a mystery villain in this issue, but, even without paying that close attention, one could easily discern this character's identity by the second text box. It's very obvious.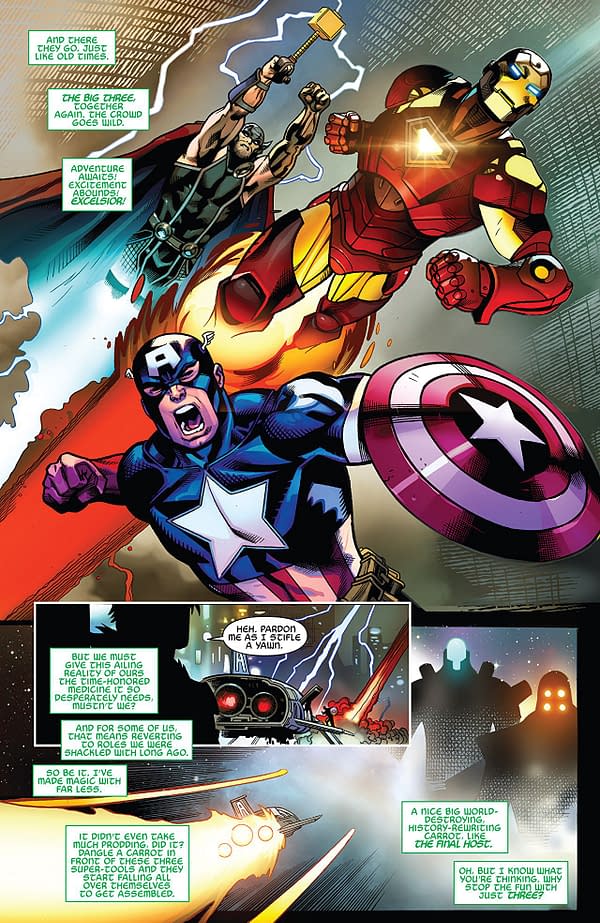 Ed McGuinness has more than a few good panels in this issue, especially the one pictured above containing the Big Three assembling to fight the Final Host. His cartoonish and exaggerated style works well for the more upbeat and comical tone of this comic. The heroes look great, Mark Morales and Jay Leisten do a good job inking the lines, and David Curiel injects more than a little dazzling color into the book.
The Avengers are back, and I can feel more confident in saying that with this second issue. We have a tight and impressive team fighting a mind-boggling cosmic threat. Jason Aaron is penning a solid story, and the artistic team is rocking it so far. This one gets a recommendation. Give it a read.