Blade Joins The One:12 Collective Line in The Fall
Blade is about to slay. In figure forum that is. He will be the newest Marvel One:12 Collective figure from Mezco Toyz. Like all of the other offerings in the line, Blade will come with a multitude of accessories and a realistic outfit, along with and amazing sculpt and loads of articulation. I gotta say- the fangs out head sculpt is pretty awesome. He will ship in the fall and as with most One:12 Collective figures will run $80. You can place a preorder here, and check out details and pics down below.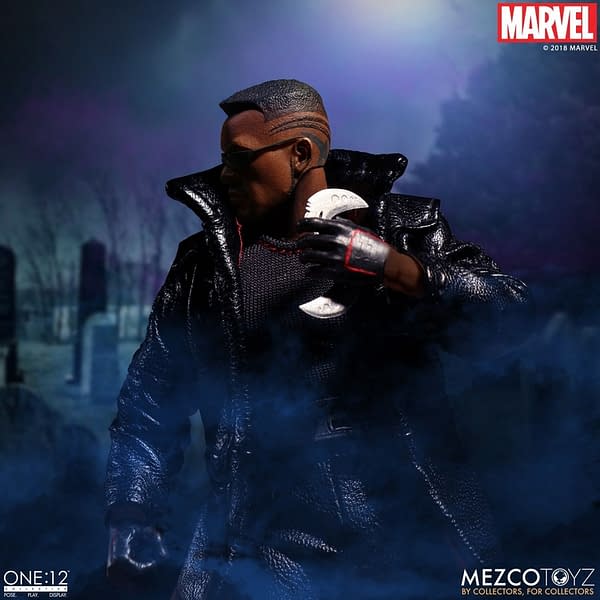 Blade, vampire hunter of the Marvel Universe, joins the One:12 Collective.

The One:12 Collective Blade figure features two intricately detailed head portraits: an unwelcoming scowl and a bloodcurdling roar. No details were overlooked when designing the infamous daywalker. His outfit boasts a leather-like black trench coat with an integrated wire for dynamic posing, as well as a tailored three-quarter sleeve t-shirt and motorcycle style pants. Blade comes well-equipped to hunt down creatures of the night with accessories including a customized submachine gun with removable magazines, a pump action shotgun, his signature sword with removable sheath, collapsible throwing blades, striking stakes, and of course, sunglasses.

Eric Brooks was being born when a vampire attacked his mother during childbirth, passing on a series of enzymes that transformed Eric into a Dhampir – a being tainted by a vampire's kiss, but not converted. Now infused with all of a vampire's powers but few of their weaknesses and determined to avenge his mother's death, Eric Brooks arms himself with weapons that are fatal to the undead and fashioned himself into the vampire hunter known as Blade.

THE ONE:12 COLLECTIVE BLADE FIGURE FEATURES:

One:12 Collective body with over 30 points of articulation
Two (2) head portraits
Hand painted authentic detailing
Approximately 16 cm tall
Eight (8) interchangeable hands

One (1) pair of fists (L&R)
One (1) pair of sword-holding hands (L&R)
One (1) stake holding hand (L)
One (1) gun holding hand (R)
One (1) pair of posing hands (L&R)

COSTUME:

Tailored trench coat with integrated wire for dynamic posing (removable)
Three-quarter sleeve t-shirt
Motorcycle pants
Belt (removable) with throwing blade sheath harness
Thigh harness for stakes
Work boots

ACCESSORIES:

One (1) customized submachine gun with two (2) removable magazines
One (1) customized shotgun with pump action movement
One (1) sword with removable magnetic sheath
Two (2) folding throwing blades
Three (3) stakes
Two (2) pairs of removable sunglasses
One (1) blast gun effect
One (1) firing gun effect

Each One:12 Collective Blade figure is packaged in a collector friendly box, designed with collectors in mind.