Doctor Aphra and Her Droids Come to SDCC as an Exclusive from Hasbro
Doctor Aphra and her droids BT-1 and Triple 0 are coming to San Diego Comic-Con (SDCC) this year. Hasbro will have them at their booth at SDCC for sale in a Vintage Collection three-pack, modeled after the classic Kenner three-packs of old. All three are super-articulated and the set will run $50. Not only will it be available at SDCC, but it will also be an exclusive at FanExpo in Canada later this year and available in limited quantities on Hasbro Toy Shop after the con.
Doctor Aphra will also be available single-packed in the Vintage Collection later this year, after winning the VC fan vote last year. There are currently no plans for the droids to see single-pack release, so they are the true exclusive here.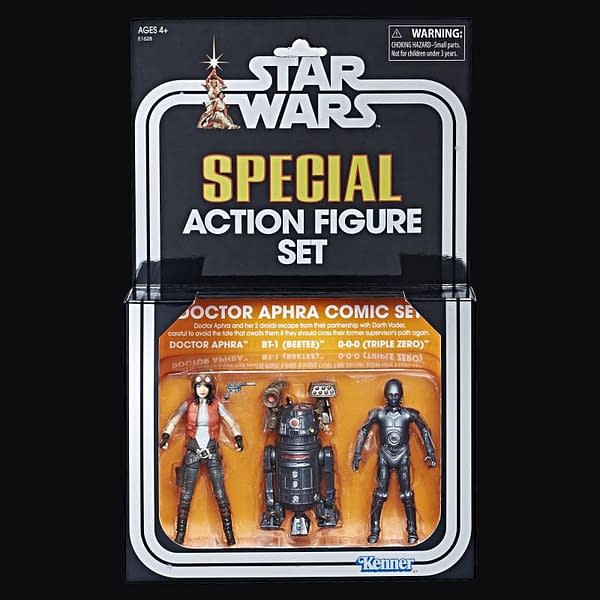 For those of you not familiar with the characters, Doctor Aphra first appeared in Darth Vader Vol. 1 #4 from Marvel Comics. When they got the license from Dark Horse, her appearance, coupled with the debut of her "murder droids" BT and Triple 0, helped catapult that book to the top of the sales charts. They were an instant smash, and she received her own ongoing title that is currently still in stores.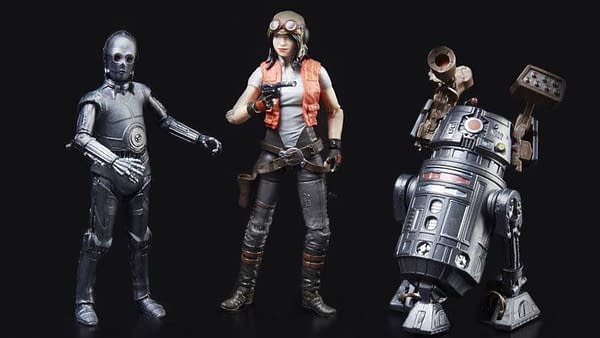 Chelli Lona Aphra was a human female archaeologist recruited by Darth Vader after the Battle of Yavin. Aphra, along with her assassin droid companions, 0-0-0 (Triple-Zero) and BT-1 (Beetee), fulfilled several missions for the Sith Lord before falling out of his favor.
Hasbro exclusives are always the toughest to get on the show floor, not to mention after the con on Hasbro Toy Shop. Having these exclusives over multiple shows these last couple years, along with Hascon, has helped immensely. I would think that if you want this set, you will be able to get your hands Doctor Aphra and her droids.
As more Hasbro SDCC exclusives are announced, we will bring them to you!