"Magic: The Gathering" Rolls Back Decisions on "Arena" Changes
Magic: The Gathering has made a decision to roll back on some of the changes they have been thinking of instituting for their software interface, Magic: The Gathering: Arena. This comes after much outcry from their consumers.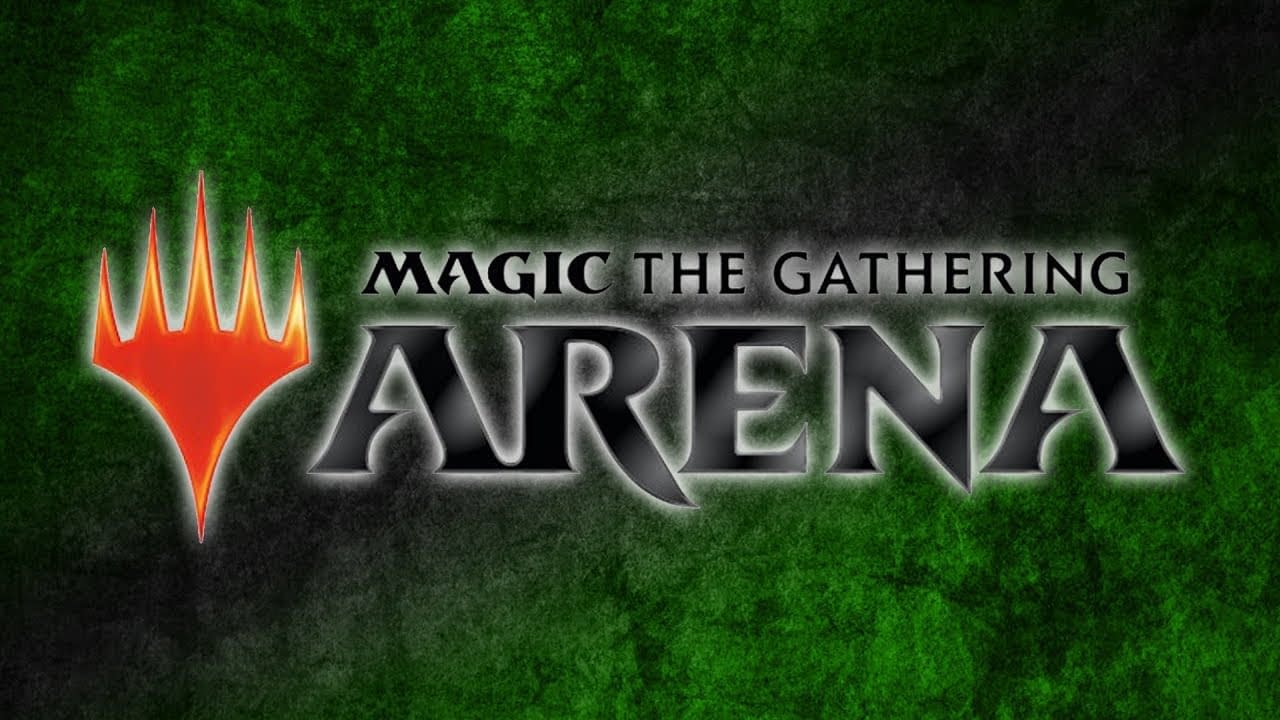 In their previous plan to implement the Historic format for the interface, Wizards of the Coast originally made the decision to make Historic wildcards, one of the better ways to gain new cards, cost two cards rather than one. This caused a public backlash, with people stating that Wizards was only doing so out of corporate greed.
As a result, Wizards has since rescinded this and made it known that they are doing so because they heard how people reacted to the plan.
Their new plan doesn't stop at just rolling back the wildcard decision, however. As a sort of counterpoint to that rescinded decision, Historic play will not count towards daily or weekly quests, but will still progress any quests active at that time. Additionally, where in the first plan only 45-card bundles were available, all forms of bundles will be available for Historic cards.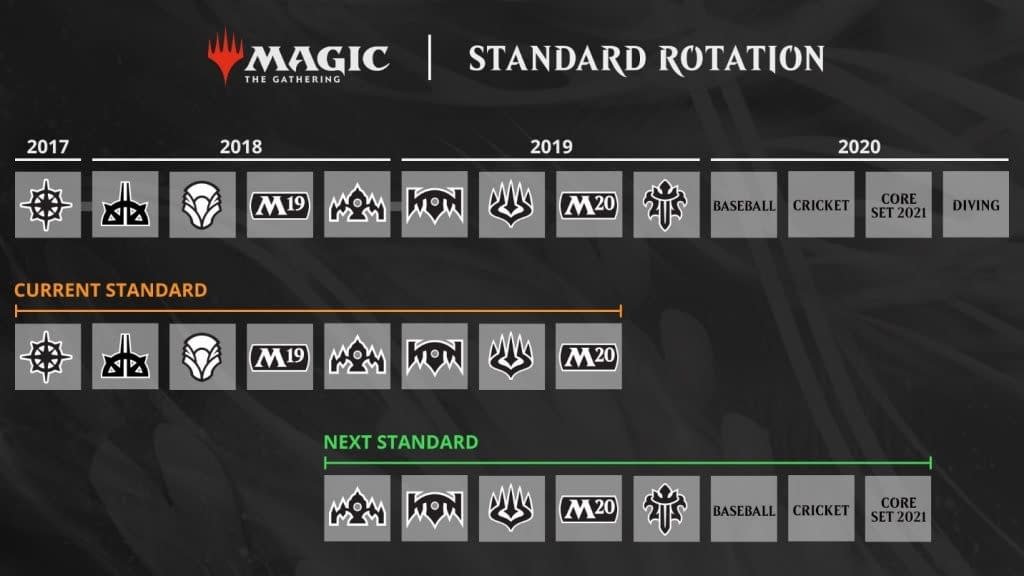 Some things are still being figured out, though, it seems, as Wizards of the Coast is still trying to see how to implement Historic card acquisition into the interface. This has been a continued dilemma for the company, and the answer is still to be determined. However, it is at least known that, when implemented, Historic cards will be obtained in a manner different than Standard cards.
The full list of Historic updates, in a nutshell, is displayed in the image below.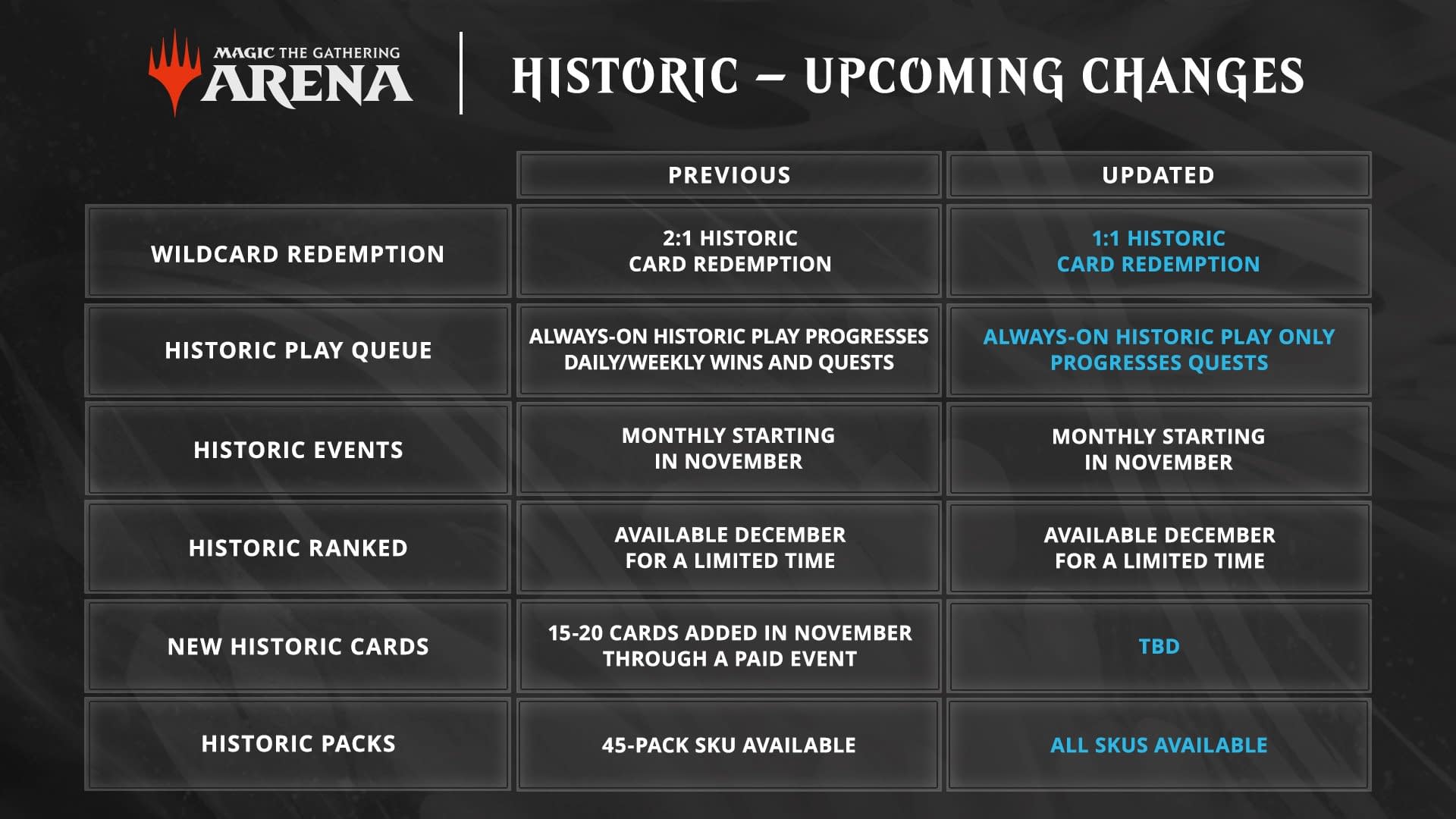 As far as next Standard season goes, Throne of Eldraine releases for Magic: The Gathering: Arena on September 26th and with its inclusion, we will see the following sets rotate out:
Ixalan
Rivals of Ixalan
Dominaria
Core Set 2019
At that point, we will see Throne of Eldraine enter Standard officially, followed by Theros: Beyond Death, Ikoria: Lair of Behemoths, and Core Set 2021. This will be the standard season until Fall of 2020 when we will see all of the sets currently in Standard rotate out with the inclusion of Zendikar Rising. With all the changes to Standard this year, as with every year, I look forward to seeing what Wizards will be planning for Magic: The Gathering.