Review: "Theros: Beyond Death" Bundle – "Magic: The Gathering"
Hello, loyal readers! Yesterday, I noted with gratitude the package that I had received from Wizards of the Coast; it contained a Booster Draft Box, a Bundle, and the two Planeswalker Decks, all from Magic: The Gathering's newest set, Theros: Beyond Death. Today, I want to review the overall contents of the Bundle I'd received. Note that this review will not be talking at all about the contents of any booster packs involved – I did my griping in the last article and there's no need to be bitter on my end.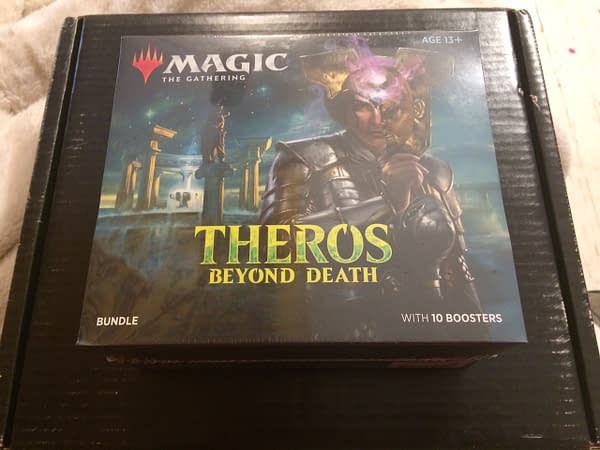 So, as this packaging states, the Theros: Beyond Death Bundle comes with ten booster draft packs. This isn't the Holiday Bundle, so there are not going to be any Collector's Boosters in here, which is perfectly fine considering that it isn't even the holiday season anymore.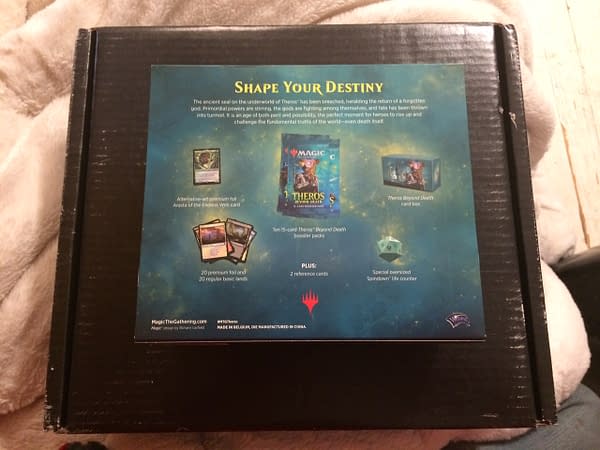 Additionally to the ten booster draft packs, the Bundle packaging advertises that the Bundle contains four of each non-full-art land in a foil version, the same four lands in nonfoil form, a spindown die, a promotional foil version of Arasta of the Endless Web, and a box to hold all of this good stuff within. Without further ado, let's crack this Bundle open and see exactly what is inside!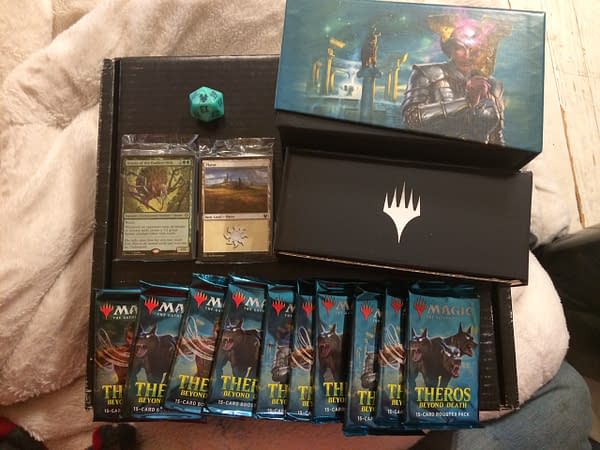 Well blow me away, that's exactly what this Theros: Beyond Death Bundle came with! Just as advertised! How pleasant. In fact, Bundles tend also to come with a bit of extra storage in the form of that littler box that has the "AEtherprint" Planeswalker symbol on it, and obviously this box is no exception to that rule.
What do you think? Is the Theros: Beyond Death Bundle an acquisition that's worth your while? What contents appeal to you the most? Let us know in the comments!