Wizards of the Coast Revises Censor Ruling – "Magic: The Gathering"
As we covered on the site on Saturday, Autumn Burchett, a Magic: The Gathering pro player who openly identifies as nonbinary, had been instructed by a Wizards of the Coast official to remove the basic land cards from their deck before playing in the main event in MagicFest Richmond.
The cards in question had written upon them slogans which were pro-trans rights and directly opposed trans-exclusionary radical feminism. This decision has since been retracted, in a manner of speaking.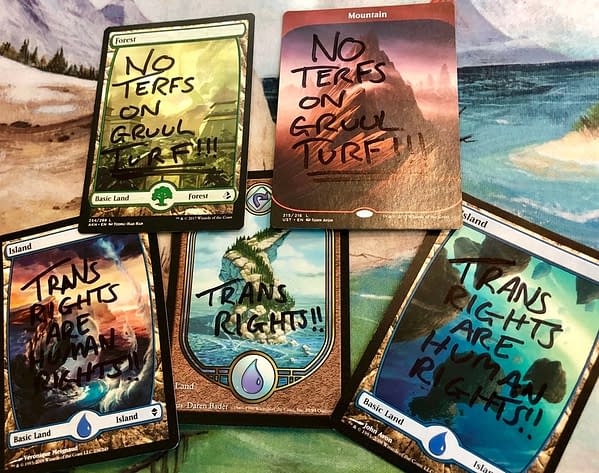 However, it has been decided by Wizards of the Coast that this decision was made not because of the slogans, but because of the name of the artist of the cards, Terese Nielsen, being scratched out of the cards. Nielsen has been confirmed as a trans-exclusionary individual and part of Burchett's point in using Nielsen's art on their cards was to point out the issues with Wizards of the Coast keeping a contract with someone like Nielsen.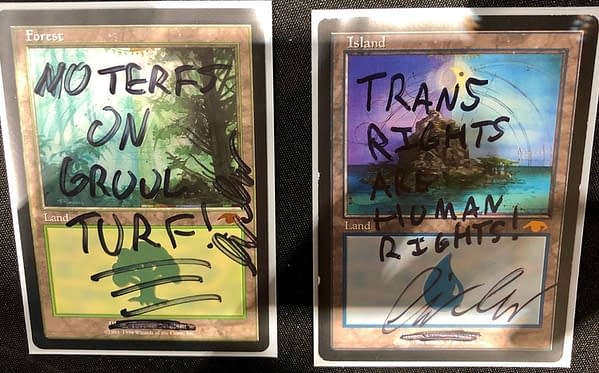 That being said, in keeping with the spirit of fair-protest, Wizards of the Coast reviewed their decision and seems to have revised the reason why Burchett could not play with their "Guru" lands (the specific style of lands, as shown above) to be that they had crossed out the artist's name. Since Nielsen still is an artist on contract with Wizards, Wizards seems not to have wanted to violate the terms of that contract. Nevertheless, Burchett used other lands with other peoples' art, and even used nonbasic lands this time, writing on such cards as Steam Vents and others.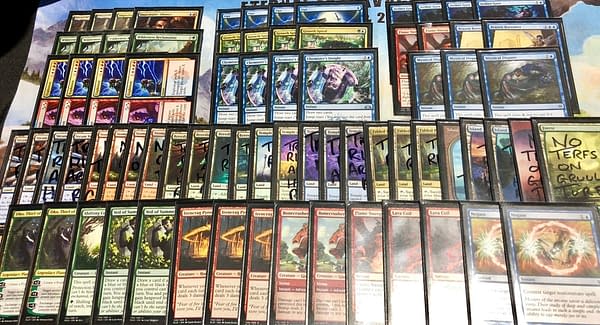 Do you agree with Wizards of the Coast's decision to allow Autumn Burchett to use their overwritten lands? Do you agree with Autumn Burchett's intent to protest? Do you believe that this is a statement that should be made in this context? Let us know!