WWE SmackDown Live Will Premiere on Fox Broadcast Network on October 4th, 2019
In a barrage of press releases sent out over the last half hour, WWE revealed the details of their upcoming TV deals with Fox and NBC Universal for SmackDown Live and Raw respectively. Amongst the details was an explicit confirmation that SmackDown Live will begin airing on Fox's broadcast network, as well as a premiere date: October 4th, 2019.
For the first time, every Friday night beginning October 4, 2019, FOX broadcast network will air WWE®'s flagship program SmackDownLive as part of a new five-year agreement with FOX Sports. The weekly, two-hour live event will air 52 weeks a year and captivate fans with a unique combination of edge-of-your-seat action, unpredictable drama and world-class athleticism.
That press release also touted SmackDown's ratings:
SmackDown Live is a consistent winner on television, currently averaging1 1.3M P18-49, 1.3M P25-54 and 3M total viewers P2+.
Fox Sports President Eric Shanks said:
At FOX we are thrilled to welcome WWE to the FOX Sports family and bring SmackDown Live to broadcast television. We are huge fans and know that together FOX Sports will be the leader in live events for the foreseeable future.
And WWE CEO The Genetic Jackhammer said:
WWE and FOX are a perfect match. Moving SmackDown Live to broadcast TV and having the ability to leverage FOX's extensive portfolio of world-class sporting events will expand the reach of our flagship programming.
Meanwhile, another press release outlined the deal with USA:
USA Network and WWE (NYSE: WWE) today announced a five-year extension for WWE's flagship program Monday Night Raw. The new agreement for the live, weekly three-hour block which commences in October 2019 continues WWE and USA's nearly three decade-long relationship. Monday Night Raw, the #1 show on USA Network, delivers action, drama, compelling storylines and unmatched athleticism, 52 weeks per year.
In that one, NBCUniversal Entertainment Networks President Chris McCumber said:
Monday Night Raw and USA Network have dominated Monday nights during a truly historic run. Our partnership with WWE is one of the strongest and most successful in the business, and together we'll take Raw to even greater heights.
While the Genetic Jackhammer added:
We look forward to continuing our long-standing partnership with NBCUniversal and USA Network. Monday Night Raw has been synonymous with USA Network and we are excited about what the future holds for WWE's flagship program.
Raw's ratings:
Among the most-watched, regularly scheduled programs on primetime cable, Raw delivers more viewers in the U.S. than all sports other than the NFL. On USA Network, the weekly block is currently averaging 1.7M P18-49, 1.7M P25-54 and 3.6M total viewers P2+.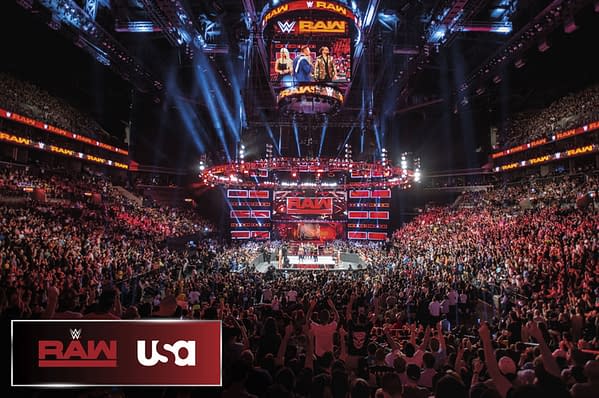 A third press release delved deeply into the financials of the deal, and if you're Irwin R. Scheister you can go and read them for yourself, but the bottom line is that WWE expects to make 3.6 times as much money from its new deals with NBC and Fox than the previous deal with NBC. Here's a considerably more boring summary:
The monetization of content is a fundamental element of the Company's business model, and the new agreements with USA Network and Fox Sports will provide a sizeable increase in the average annual value of WWE's U.S. distribution. WWE management anticipates that revenue from "key content agreements" including the new U.S. deals, described as "Existing and New Agreements" revenue in Exhibit 1, will grow to approximately $311 million in 2019 and $462 million in 2021.2 The Company has other agreements that are subject to renewal in the 2019 – 2021 period, which are described as "To Be Negotiated," and their revenue subsequent to renewal is not ascertainable. For illustrative purposes, the related amounts in Exhibit 1 reflect no future change in annual revenue (i.e. all future years are held equal to the value of the last year in the current agreements). This approach, which indicates revenue of $3 million in 2019 and $80 million in 2021, does not quantify management expectations and is used solely to reflect future risk or opportunity. As shown in Exhibit 1, revenue from the Company's "key content agreements" would increase to $314 million in 2019 and $542 million in 2021.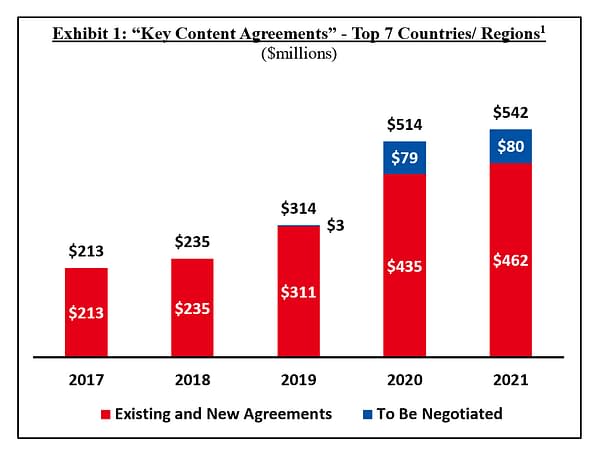 Oh, are you still here? We felt for sure that last part would put you to sleep. Well, in a fourth press release, WWE announced plans to hold a conference to discuss all this on Wednesday at 8 a.m. If anything interesting comes out of that, we'll let you know.