Batman Ninja is getting a statue from Good Smile Company. Designed by the designer of the character Takashi Okazaki this statue will stand at over 27 inches tall and features a pretty impressive sculpt all around. It will be limited to 1000 pieces and is up for preorder now by clicking here. Take a look at some photos and read all the details down below!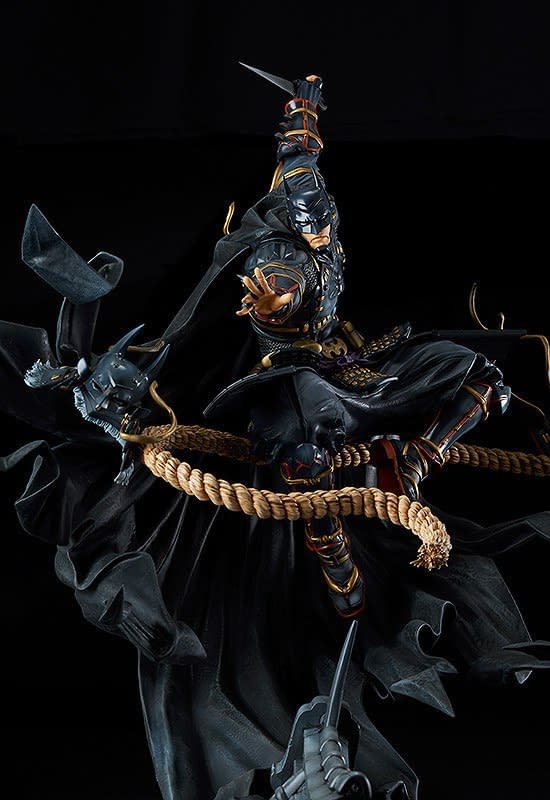 From the animated film "Ninja Batman" comes a 1/6th scale statue of the main character, Ninja Batman. The figure is based on an original art piece by character designer Takashi Okazaki, and will be limited to 1000 pieces worldwide.

Standing approximately 700mm in height, the overwhelming presence of the figure cannot be denied, and the fabric of his outfit as well as the chainmail have been sculpted with careful attention to the texture together with intricate airbrush paintwork.

The pose features Ninja Batman with his Sengoku Batman armor removed, jumping up into the air capturing a dynamic moment in exquisite detail for fans to enjoy in their collection. The cut rope that swirls around the main figure is sculpted with a waving motion as if just cut, further adding to the depth of the movement captured with the figure.

The base of the figure is designed to look like a crumbling roof of a Japanese castle to capture the setting of the series, with each of the tiles and the wooden frame beneath sculpted with great care. The finer features of the figure beg to be looked at in close detail, and no matter what angle you choose to look from the figure boasts superb sculptwork.

In addition, we also have a similar figure of Sengoku Joker currently in production, that is designed to be displayed as a set together with this figure! Whether you choose to display both or just Batman, be sure to add this piece of art to your collection!

Batman Ninja: TAKASHI OKAZAKI Ver. is a high-quality art piece, and only 1000 will be made available worldwide. Each product will be engraved with a unique serial number. (Serial numbers will be distributed at random. You cannot select which number you will receive.)
Enjoyed this article? Share it!