Beast Kingdom Brings Wonder Woman and Deadpool to SDCC
Beast Kingdom is going to have two exclusives at this years SDCC. One of them is a pretty sweet original colors tv show costume variant of their Wonder Woman figure from Batman v Superman: Dawn of Justice. That figure will feature 24 points of articulation and multiple interchangeable parts for $50. The other is an X-Force version of Deadpool with multiple backgrounds and will stand at about four inches tall.
These will both be available at the Beast Kingdom booth at the show. Check out pictures and details of both below.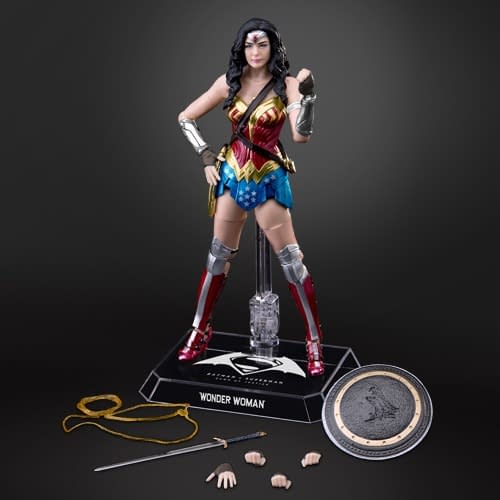 The 75th anniversary original colors' version: a classic collectible not to be missed by people who love this heroine that battles for justice, love and peace!

1/9 scale (about18.5 cm tall) "Batman v Superman: Dawn of Justice" Wonder Woman action figure

‧In tribute to the original colors from the outfit featuring in the 1975 TV drama, depicting her iconic stars-and-stripes skirt as well as a special golden-layered effect on the chest plate.

‧Body with up to 24 points of articulations.

Interchangeable hand gestures:

‧One (1) pair of fists

‧One (1) pair of open hands

‧One (1) pair of hands for holding

Weapons/ Accessories:

‧One (1) alloy Sword of Athena

‧One (1) Wonder Woman's Shield

‧One (1) Lasso of Truth in attack position

‧One (1) Lasso of Truth in the normal position

Exclusive action-figure stand

Price: $50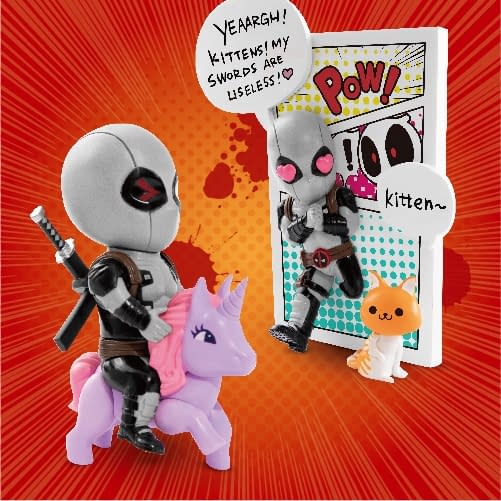 Beast Kingdom's MEA-004 Marvel Comics series is about to release a special limited edition of the self-proclaimed anti-hero Deadpool. Styled in the classic uniform of the X-Force – with the motto "stopping violence with violence" – from Marvel Comics' X-Men, Deadpool continues to break the fourth wall and run his mouth!

In contrast to the noble X-Men, the X-Force operates in the gray areas, fully capturing the hearts of fans. When the kindred spirit Deadpool joined the team, things became even more out of control!

The classic X-Force uniform comes with several different interactive features, accessories, and backgrounds. Adding to that, the rich colors and meticulous way he is hand-painted and assembled make Deadpool come alive and pay tribute to the classic comics with his unique style. Not just pure, but also of prime quality! A must-have for all Deadpool fans!

Price: $30