Funko Round-Up: More Cereal! Horror Pops! Black Widow!
Funko announces tons of new products and licenses every day, let alone every week. It can be a lot to keep up with. So we are here to help. Welcome to the Funko Round-Up! In this edition: more FunkO's cereals, new horror Pops for your Halloween decorations, and a special Rock Candy to celebrate the MCU's 10th anniversary. Let's take a look!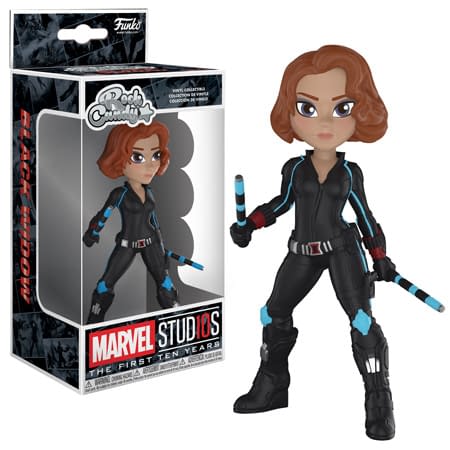 In honor of Marvel Studios' 10-year anniversary, spy,
assassin, S.H.I.E.L.D. agent and Avenger Black Widow
is getting the Rock Candy treatment.
Round out your Super Hero collection with Natalia Alianovna Romanoff
alias Natasha Romanoff alias Natalie Rushman.
I have always liked the Widow look from Age of Ultron, and this ROck Candy looks pretty awesome. I wonder why they don't do a ton of Black Widow stuff. They always do a good job with her.
Four new horror Pops arrive as exclusives this fall. Cthulhu gets a neon green version exclusive to Books a Million, Jason in his baghead look from Friday the 13th Part 2 is exclusive to Walgreens, Michael Myers gets a bloody variant at FYE, and coming exclusively to Rhode Island Comic Con is a black and white version of Pennywise (the Tim Curry version).
And finally we have our next round of FunkO's cereals! We loved the first wave, and the cereal was pretty tasty! Just like that first wave, this round will all be exclusive to various retailers. Batman and Batgirl will be exclusive to Entertainment Earth, Pennywise can be found at Hot Topic. Beetlejuice appears at BoxLunch, Cthulhu at Books a Million again, Cuphead The Devil cereal at Gamestop (instead of Hot Topic this time), and finally Huckleberry Hound on the Funko shop. I am really happy that these have taken off like they have, and it will be fun to continue collecting them.
The newest boxes of Funk-O's will be available in August.