Funko Round-Up: Wreck it Ralph, Fallout, Overwatch, Spider-Man, and More!
Funko announces tons of new products and licenses every day, let alone every week. It can be a lot to keep up with. So we are here to help. Welcome to the Funko Round-Up! In this edition: Spider-Man: Into The Spider-Verse gets a huge wave of Pops and more, ditto for Ralph Breaks The Internet, and we have new product for Overwatch and Fallout for all of you gamers to check out! Why don't we dive in.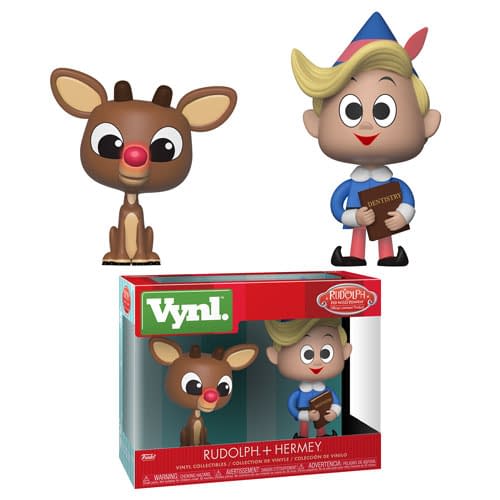 First before all that other stuff is a look at the new Rudolf the Red-Nosed Reindeer and Hermey Vynl two-pack. These turned out wonderfully, and will be in stores in this month.
Form Overwatch's Junkenstein's Revenge event are two exclusive Pops. BoxLunch will carry Dr. Junkenstein (Junkrat), and Hot Topic will have his Monster (also known as Roadhog) in stores this month. I actually saw the Hot Topic exclusive in store today, so you better get out and check!
The sequel to Wreck it Ralph is getting a ton of Funko product that is all available now. Plush, Keychains, Mystery Minis, and a Vynl set featuring Ralph and Vanellope are in stores as we speak.
Also available right now are a ton of Pops from the film as well. Three versions of Yesss, two versions each of Ralph and Vanellope, and more.
Also coming this month are a bunch of new Fallout products. A new wave of Mystery Minis, a Vynl two-pack, and a huge wave of Funko Pops. Two exclusive versions of the T-51 Power Armor can be found at Best Buy and Walmart, while an exclusive version of the Male Vault Dweller can be picked up at Gamestop.
Finally, we have a ton of Into the Spider-Verse products. I personally can't wait for this film, and I am pretty excited to get my hands on all of this stuff. I am happy to see Funko is supporting it this much. First e have two new Pop Keychains and a wave of Mystery Minis, including exclusives you can find at Walgreens.
This wave of Pops is incredible. Some of these sculpts are quite impressive, although I think Miles with a cape tied around his neck is my absolute favorite. Walgreens gets two exclusives here: an exclusive version of Spidey Noir and Spider-Ham! All of these are available now.
Most of these products can be ordered or preordered right here.