"Gaslands" – War Rig vs Highway Patrol Battle Report
Gaslands: Refuelled is an interesting game. Recently it became known that Osprey Games had run out of their initial stock of the game's rules manual, and it's getting increasingly harder to get ahold of a physical copy from online retailers for that reason. This serves as a testament to how awesome this game truly is.
Suffice it to say, I've been writing a truckload of weekly articles on this phenomenal game, and naturally, that means that I'm playing it every so often as well. Today, I will detail a rather fantastic battle I had against a rather formidable opponent.

Before I go into it, however, I want to mention the War Rig that I created for last week's article. It took a smattering of ingenuity for me to get it made, and it came out pretty nicely if I do say so myself.
Anyhow, the hour of battle (reports) is upon us! Last Sunday, I rode eternal, all shiny and chrome, and took on Neil Burns with my War Rig in a Gaslands: Refuelled scenario called the "Arena of Death". Neil ran a four-vehicle loadout with the in-game patronage of the Highway Patrol, a group of lawmen striving to keep the peace in the post-apocalyptic Earth that Gaslands sets its game in. I ran Verney as the patron for my War Rig, though I admit I could have done a bit better with selecting my patron. I only had Verney for the combination of perks that the in-game patron provided, having decided last-minute that I wanted to switch my Smoke Dropper output for Molotov Cocktails. The perks in the game don't really have a damaging effect on the game, and so I needed the extra firepower. The overuse of perks that I've been prone to means that I'm probably better off not caring as much about perks as the folks on Reddit would have me believe.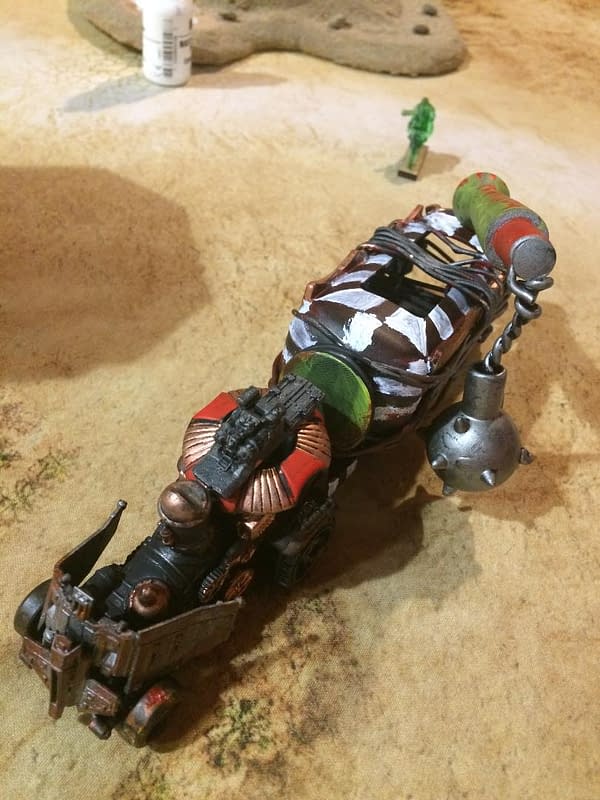 So, Neil and his Highway Patrol designated my poor War Rig as the "Bogey", a singular vehicle which the Patrol's vehicles have a particular advantage against. The War Rig had no excuse though, as it was my only vehicle anyway.
From the start, this game went pretty poorly for me. I was already out-activated and there were times where the War Rig was stuck doing only one thing in a whole turn. It was very tough to out-manoeuvre Neil's bikes since at least one had the Siren perk up, and was constantly on the Rig's tail (see the image above).
What this did was force my War Rig to lower its gear meaning, in essence, that it could not activate as often in a turn, sometimes as little as once in a turn. This doesn't help me at all, so I needed to take down the bikes (or at least the one on my behind) through passive retaliation. Fortunately for me, I had the Splashback perk, which deals a d6 worth of damage whenever the War Rig loses at least one Hull Point. It was very unreliable, but it did the job done where the four-Hull bikes were concerned. Plus one of the bikes decided to ram into me, which wasn't a huge mistake but did cost Neil an activation.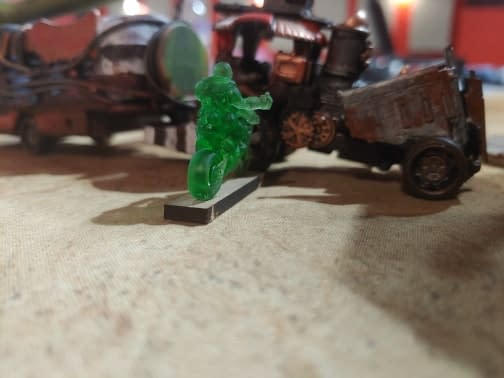 In the end, I lost this game against the last car that Neil brought alongside the two bikes and a truck. This is pretty simply explained by being outnumbered and losing activations to the Sirens of the Highway Patrol. My War Rig wiped out twice in this game to little consequence except for the neutering of my Gear Level (which, if I'm being frank, was actually a huge consequence – who am I kidding?). The last car Neil ran had four Hull Points left at the end of the game, which isn't to say I did little damage to it or the board (everything was either damaged or wrecked), but that I didn't implement enough carnage with a War Rig means I need to up my game for next time.
Just you wait, Neil. I'm coming. And when I get there, you'll witness some real entertainment.