M.O.D.O.K. is one of those awesome Marvel characters that does not get a ton of merchandise made in his honor. So when it does, you just know we have to highlight it. Such is the case today as Mondo is now offering a new M.O.D.O.K Tiki mug. Able to hold 36 oz of liquid and standing at around seven inches tall, this mug is a must-have for any Marvel collection. The main body of the mug is cast in a yellow glazeway, with brown edges for his hair. The detail on M.O.D.O.K. is amazing, and I can think of no other mug  I would want in my hand if I was to take over the world. Check out pics and details down below!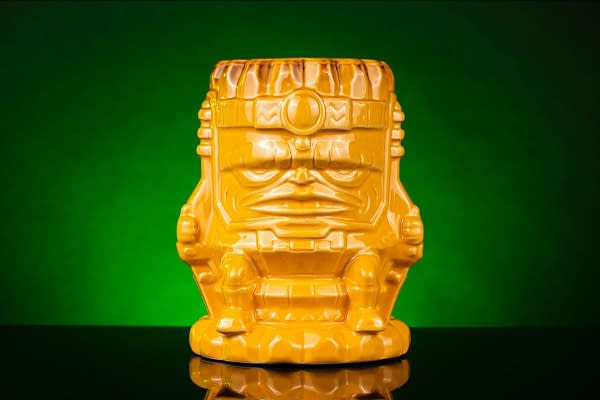 The Mechanized Organism Designed Only for Killing, or M.O.D.O.K., has had his programing redesigned – now he's a Mechanized Organism Designed Only for tiKi! Designed by Mike Bonanno & Thor, and sculpted by Tufan Sezer, and produced with help from the mechanized organisms at Tiki Farm, M.O.D.O.K. holds approximately 36 oz. for you to kill your thirst with!

This regular edition of the M.O.D.O.K. Tiki Mug features a gloss Yellow with Brown-Crown glaze!

NOTE: These mugs are handmade, making each one unique, so slight variations from images shown may occur.

The M.O.D.O.K. Tiki Mug is up for order now at mondotees.com.
Enjoyed this article? Share it!