Marvel Legends Avengers: Endgame Wave is Pretty Great
Marvel Legends collectors have been living in the world of Avengers: Endgame for a few weeks now, as the latest wave of Hasbro's popular Marvel figures take over shelves at stores around the world. While the wave only includes two figures from the film, the BAF for the wave features Thanos from the new film in all his armored glory. Surrounding those three are a much needed character from Infinity War, and four comic figures to help fill in some holes in all of our collections. Hasbro was nice enough to send us over a set to show everyone, so let's take a look!
The first two figures are from Avengers: Endgame. Captain America in his Quantum Realm suit is an ok figure, the body feel s stocky and is hard to pose. I really wish they had included the Steve Rodgers head from the 10th anniversary pack so you could match his stealth suit look from the film. This one is pretty basic. The better figure is Ronin, aka Hawkeye. He is really fun to pose, his costume is really well done, and he comes with great accessories. The hand that has the attached throwing stars is pretty great as well. My suggestion? Grab the Target exclusive Hawkeye/Black Widow two-pack and throw the Clint head on there. looks fantastic as you can see.
Infinity War's regal Squidward Ebony Maw is next, and he is perfect. One of the best sculpts they have done this year so far, this is a great figure. The paint job on this figure is what really sells it.The grey tones and sunken eyes really match the character as seen on screen, and it is quite easy to get him into his inquisitive poses he always strikes. This is a must-own.
On to the comic figures. Nighthawk is a really fun figure, if you are a fan of giant capes that are incredibly annoying. I have never been a giant fan of this guy, but I get that quite a few of you wanted this one. It just does nothing for me. Citizen V is a ton of fun, although his cape does not like to stay on for some reason. I thought I would be more excited for this guy, but he ends up just kind of boring. Oh well, they cannot always be winners.
The others two comic figures are home runs. This is the best Hercules figure ever, and it is not even close. He poses incredibly well, and the swappable hands mean tons of awesome posing. His included weapons actually fit in his hands, and the head sculpt looks like it was taken right off the page. I have nothing bad to say about this one.
The biggest surprise for me was the Living Laser! He has a really cool translucent pink body that really pops when you light it up, and his included effects pieces wrap around his arms and hands really well. It's the massive helmet that sells it though, and while it has no articulation, it is so dang unique that it just brings a smile to my face. We live in a world where Living Laser has a Marvel Legends figure. That is just too awesome.
The Thanos BAF is way better than the one from last year, featuring the correct skin color, the Infinity Gauntlet, and his balanced sword from Avengers: Endgame. The armor doesn't limit his movement at all, and it would be pretty perfect if it didn't have that stupid gritty teeth look. I get it, and I still like the figure a lot, but I hate that look.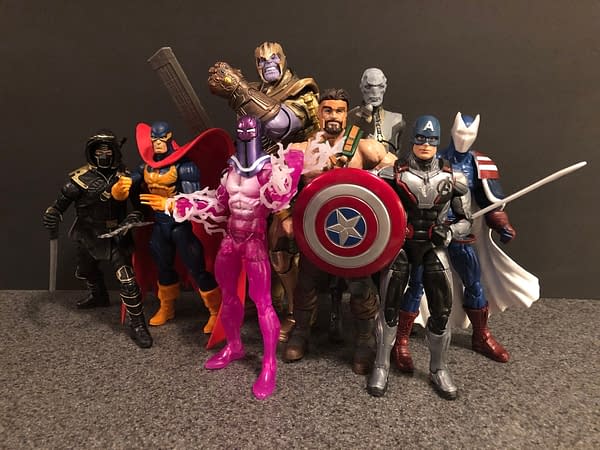 Overall, this is a good, solid wave of Marvel Legends. There is something for all collectors here- new film figures, an important figure to help finish last years sets, and four comic figures for those that do not collect the MCU figures. A BAF of Thanos is just icing on the cake.
If you want to order yourself this Avengers: Engame wave of Legends, click here.