Let's Take a Look at the New Marvel Legends Professor X Figure
Since the Marvel Legends rides series was introduced last year, the only one anyone would ask about or demand was a Professor X in his hover chair. probably the most definitive version of the character, he rode around in that big yellow ting in the 90's and into our hearts forever. hasbro is one to listen to their fans, so last year at SDCC it was announced that we would indeed see this figure released, and with him hitting stores now we got out hands on one to show you.
Like all Marvel Legends, this one comes in the standard box they have had for ages now. A little different, since it houses the vehicle and such, but the standard giant window box package in the front, with great figure art on the back always looks great. Also, there is a great piece of 90's X-Men art on the cardboard insert as well. That is a nice touch.
The chair itself comes in two halves, along with a base, seats for inside, a blanket to put over Chuck's legs, and panels that slide over to reveal the controls. It is super easy to snap it all together and place on the base, and once Charles is in there it keeps its balance very well. End of the day, this is just a large chunk of yellow plastic, but a cool one nevertheless.
The Charles figure is petty nifty as well. X-Men Marvel Legends cannot come out fast enough, and getting this figure erases a huge want for most collectors. It's weird- the head feels like a silver age version of Professor X, while his body feels more modern. It is easy to get him in and out of the chair, although I wish his arms rested better on the chair. The blanket fits snuggly on his waist as well, and completes the look. His finger to head pose works the best, and I like the head sculpt without the helmet and cerebro effect.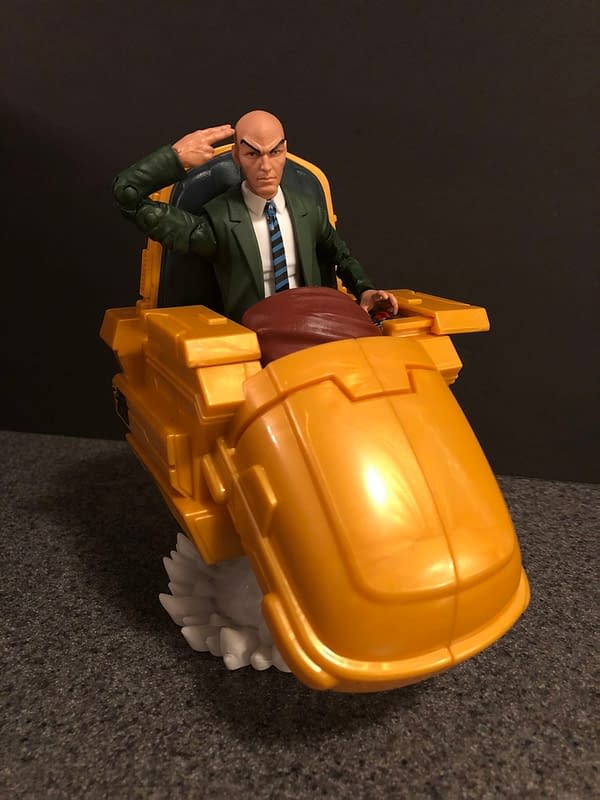 This is just a classic figure that is right in Hasbro's wheelhouse. I honestly don't have many issues with this one, besides maybe having a bit more to do with his arms in the chair. This one is well-worth the $50 pricetag, and will look great next to the rest of my X-Men Marvel Legends. Especially when I find Beast and Gambit from the new wave.
You can order this one right here.