Let's Take a Look at the Marvel Legends X-Men Caliban BAF Wave
Marvel Legends collectors cannot get enough of the mutants. The X-Men waves and special releases of the last couple years are not only immensely popular when first released, but also command some of the highest amounts on the aftermarket. Smartly, Hasbro decided to do the team in their iconic 90's costumes from the most popular era of X-Men. These versions are what fans and collectors see when they close their eyes and visualize these characters, and Hasbro has done a phenomenal job capturing those likenesses. This latest wav of X-Men Marvel Legends contains a few of the most-requested characters from fans since they started doing mutants again, and they were nice enough to send us the wave to take a look at. So, let's do just that!
Two characters I was not excited for and was pleasantly surprised by were Skullbuster and Blink. I haven't thought about Skullbuster in years, but man did they do him justice with this figure. The deco on this figure is way better than you would think it would ever be for him, and the interchangeable heads are both great. Bulkier than he looks, he is fun to put in a menacing pose, even though his tan colored gun is silly looking. it is a little tough to get the thing into his hand, but once its in there once its no trouble after that. He is just a fun looking figure. Also better than expected is Blink. Her little energy circle is a cool addition, and I would expect us to get one with Nightcrawler when he is released too. Her skirt is a little loose on her hips and is annoying to move around, but the look of Blink is fantastic. I never thought I would need a Blink to be honest, but now I cannot imagine my mutant Marvel Legends shelf without her.
Forge and a Weapon X version of Logan are up next. Forge is a pretty basic figure, but yet again featuring a fantastic sculpt. He comes with a small pistol and large rifle, both of which he looks great with. He might be the easiest figure I have ever posed holding a rifle. The only knock I have on this one is the tops of his boots, they slide all over the place way too easily and is frustrating to deal with. Other than that, he is great. I also really like this version of Logan. Yes- we have gotten so many Marvel Legends Wolverine figures in the last couple years. But there are so many versions of Logan people consider iconic, I get why they make them. they always sell. Weapon X is one of my favorites, so I was excited for this one. He has way more poseability than any other figure in the wave, and surprisingly none of the extra bits restrict his movements much. The helmet head is the one to go with here, I will join the masses in saying that the feral headsculpt is not the greatest and ends up looking silly. The claws on this one are also the sturdiest on any Logan I have had in these last few years. Overall, I would say this one is worth picking up.
Now the heavy hitter of this Marvel Legends wave. Jubilee comes with her duster, swappable heads, and three extra sets of her pink glasses. All of it is perfect. The bubblegum head is so great, and she is so easy to pose. I never finished the old BAF from a couple years ago, and this release seems better anyway. This will be the definitive version of Jubes forever, and probably will never be topped. Gambit was the figure I was most excited for. I have always been a huge fan of the character, as I am a sucker for a thief with a heart of gold. This one, like Jubes, will not be topped. While I wish the coat was a little less stiff, it is not a dealbreaker. Everything else about this one os great. I love, love, love that they gave hi a hand that can hold his charged card between his fingers. The headsculpt with him in his head sock is awesome, his body armor is fantastic and perfectly colored, his bow staff is great. The card throwing hand is a little odd, I am not sure how I feel about that with these latest figures, but I just won't use it. It only adds extra value. I could not be happier with this one.
Those two would be vying for Best-in-Wave if not for Beast. One of the most requested Marvel Legends figures period, they took their time and gave us an amazing figure here, and might be the best figure of the year. While I also would have loved to get an extra head packed in, it is far from something that would make me ding this one. They packed so much articulation and poseability into this one that it ill make your head spin. There is not a single pose you can't get him in. They nailed the paint aps on his fur, he is big without feeling too heavy, and did I mention the poseability? Never have I had as much fun posing a Legends figure. Perfection.
The Caliban BAF is also a pleasant surprise. These bigger ones all feature the same articulation, and figures this big feature more posing options than you would think, but still not a ton. The headsculpt is the star here, as there are all kinds of little details that you can tell they took their time with. He is much cooler than I would have thought.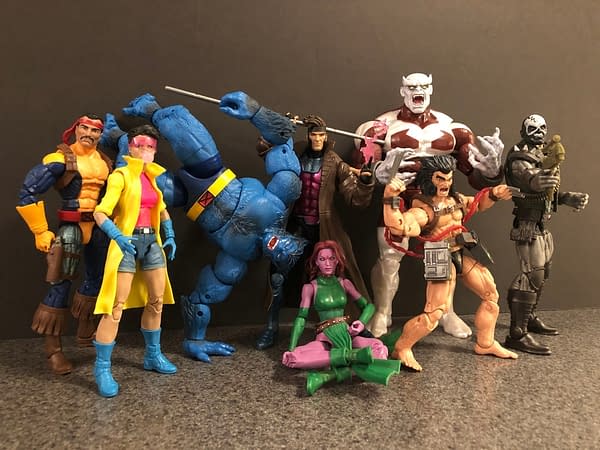 Overall, this is a really strong wave of figures. None of them are bad, all of them have strengths, and three of them are the new definitive versions of the characters. Buy the whole wave, and enjoy adding this wave of X-Men Marvel Legends to your collection.
These are in stores everywhere now, and can also be purchased right here.