New York Toy Fair: 80+ Pics From Super7, Masters of the Universe and More!
Super7 is my favorite toy company, hands down. They make such awesome, unique figures and collectibles, it is impossible to resist them. Throw in the fact that they are making masters of the Universe figures and they are hard to top. At New York Toy Fair this year, it feels like they are swinging for the fences, both literally and figuratively. From tons of new MOTU figures to some of the best ReAction figures they have ever done, they knocked it out of the park. Enough baseball jokes, let's check out the figures.
First: Super7 is doing ReAction MLB figures! Classic players and modern stars, and even mascots and bullpen cars! Heavy emphasis on the San Francisco Giants, since the company is housed there, but hopefully this Cleveland native can get some love for his hometown Indians? These are awesome, a perfect throwback, and I can't wait to get them.
Speaking of ReAction figures: who is up for figures based on the 1984 break-dancing film Breakin'? You should be! Talk about an inspired choice. Also coming soon are more rock mascots and members, including a Bark at the Moon Ozzy Osbourne, Motorhead's War Pig, and Papa Emeritus from the band Ghost! Rocky figures debuted earlier in the week, but in person they kick ass, Pee-Wee's Playhouse figures are going to be a huge hit, Robocop is on the way. Teen Wolf, more Masters of the Universe and Universal Monsters. The big surprise were They Live ReAction, and a four figure G1 Transformers wave. Soundwave will be mine!
SuperBuckets are expanding to include Masters of the Universe, Alien, Transformers, and Teh Misfits Fiend this year.SuperSoapies will add Alien, Universal Monsters, and Pee-Wee bottles this year as well. Transformers fans can also add Optimus Prime and Megatron Super Cyborg figures to their shelves in the fall, but save space for their new Voltron figure as well. The Toxic Avenger and Ren and Stimpy figures they will be doing were also hits with the crowd at the booth.
They have hit paydirt with their ReAction blind box waves of figures, and they will be expanding on that this year with MOTU and Iron Maiden lines! The MOTU are split into heroes and villains, while many different versions of Eddie will populate the boxes for the Iron Maiden line.
Finally: Masters of the Universe. Many new figures were shown off, including the latest announced waves in the Club Grayskull and Vintage lines. I am really loving the Vintage figures, and waves 2 and 3 look amazing in person. Mer-Man and Trapjaw are coming along nicely, Wave 4 was also teased, and Stratos and Buzz-Off are fantastic. Eldor and He-Ro maybe be two of the best looking figures Super7 have done for MOTU. And in a surprise, the 1987 Masters of the Universe film is coming to the Classics line! They look incredible! Look at that He-Man!!! Skeletor actually looks menacing! What an unexpected home run for them, I cannot wait to get these.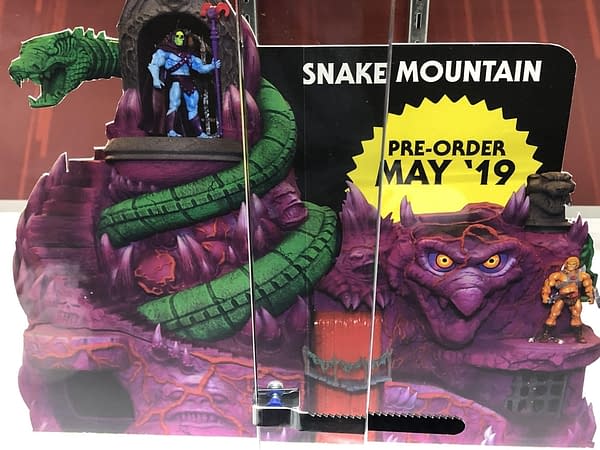 Also, an update on their Snake Mountain Playset. Preorders will open in May, although price and estimated shipping time on them is still tbd.
All in all, Super7 came up huge. This is primed to be their best year ever. Check out some of their other items at the show below!