Super7 Brings Masters of the Universe Exclusive ReAction Figures to Power-Con
Masters of the Universe fans are going to take over LA this weekend for Power-Con, the annual MOTU fan convention. On hand will be Super7, and they will have seven ReAction figure exclusives for Masters of The Universe fans to sink their teeth into. The highlight for me is Anti-Eternia He-Man, previously only available as a magazine giveaway in Germany. This will be on an English card, however. Alternate versions of Teela, Beast Man from the mini-comics, a camo version of Kobra Kahn, and three different versions of Stratos will also be available.
Check out the carded figures below! They even teased the Laughing Prince Adam being available on the show floor…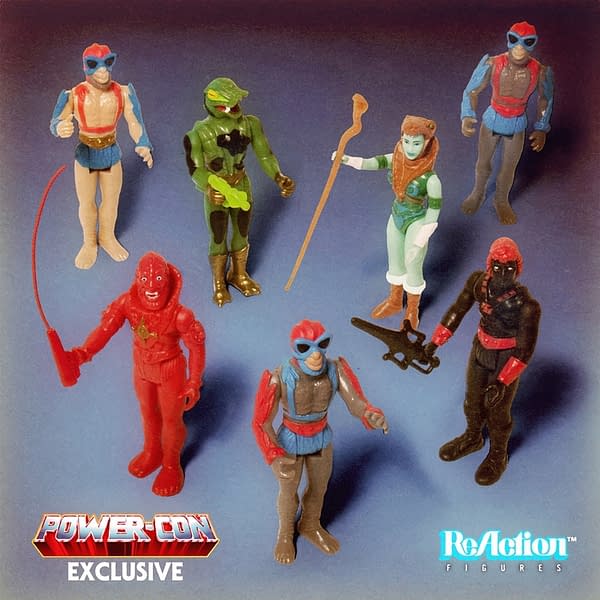 MOTU Monday: Alrighty then… This weekend Team Super7 will be back at the celebration of the Masters of the Universe community at Power-Con! To commemorate the weekend in Los Angeles we will have a squad of new and exclusive versions of our MOTU 3.75″ ReAction Figures at our booth: Anti-He-Man (English Carded), Kobra Khan (Camo), Teela (Warrior Goddess), Beast Man (Mini Comic), and 3 special Stratos Figures (Blue Beard, Mini-Comic, Reverse Color). These versions were made specifically for Power-Con. In addition, we will have a selection of some of our latest MOTU releases (Yes, maybe even a few of *those* figures that we saved to have at Power-Con) and MOTU apparel at our booth. Should be nothing but a good time! The trolls may start posting their complaints in 3… 2…1… now and we hope to see the rest of you this weekend! It should be a FUN time as always with MOTU friends and fans. By the Power of Grayskull!