Super7 and Universal Monsters Go Big at SDCC Pop-Up Event
Super7 is basically tying to get all of my time and money at this years SDCC. To help celebrate their new collaboration with the Universal Monsters brand, they will have a Universal Monsters Boodega Monstore pop-up event at their San Diego location Friday night-Sunday at SDCC this year. All sorts of new exclusive and amazing product will be in the store, from figures to prints and so much more. Let's look at some of it below!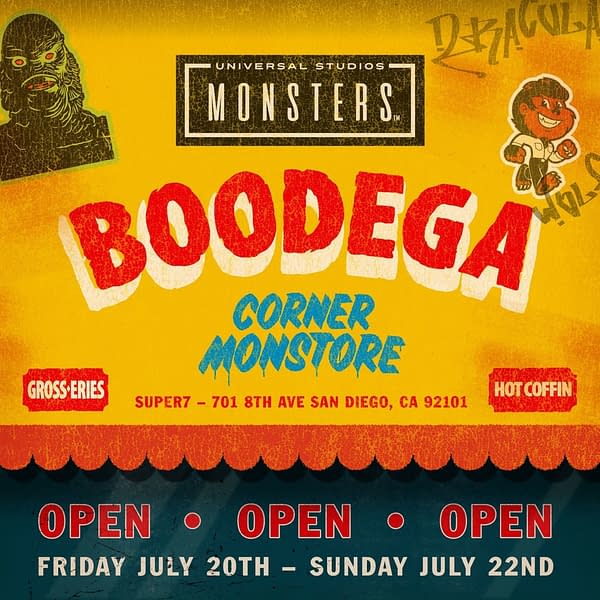 It's alive! Super7 is beyond stoked to launch our collaboration with the legendary Universal Monsters with this special event! The abomination begins after sunset on Comic-Con Friday with the opening of the Universal Monsters Boodega Monstore!

Universal Monsters Boodega Hours
Friday – July 20th: 5:00pm to Midnight
Saturday – July 21st: 11:00am to 9:00pm
Sunday – July 22nd: 11:00am to 5:00pm


No SDCC badge is needed to visit the Boodega and it will be open to the public on a first come, first serve basis.

The pop-up shop will be haunted by Super7 x Universal Monsters exclusives and spine-tingling special things created especially for this horrifying event.
Let's start it off looking at these ridiculously gorgeous giclée prints by Ed Repka. Each of the four is limited to 85 each and are 18″ x 24″. They are printed on heavy and textured cardstock as well. These are only $50 apiece — they will go super fast.
What would a pop-up shop be without some t-shirts? These are all exclusive designs, $25 each, except the Creature crewneck sweatshirt. That one is $45. Sizes from Small-3X.
As a Wolfman fan (he was my first monster), I feel like I have to get a can of Wolf Man's pomade. That is one genius exclusive. That one will run you $16. The 7" x 21" felt pennants show your monster spirit and will cost $25. Four adorable monster enamel pins will run you $12 each. And finally, an amazing Frankenstein lighter that says "Fire Bad!" is a must-have for Monster Kids like us. That will cost $3.
Variations on their new line of Universal Monsters ReAction figures will be available for $15 each and come on giant blister cards featuring artwork of that particular character.
Finally, Monster Sodas will be available at $6 a bottle, and a shoe that is yet to be revealed will be there as well. I am sure it will be awesome.
Man, anyone have a spare $1 million I can borrow?