'They Live' NECA 2 Pack Final Packaging Shots Revealed
NECA have revealed the final packaging shots for their upcoming two pack of figures from They Live. The John Carpenter classic is being honored with two retro style clothed action figures. Each will come with their wristwatches, a tv, magazine, newspaper, and a necklace. Check the box and figures out below.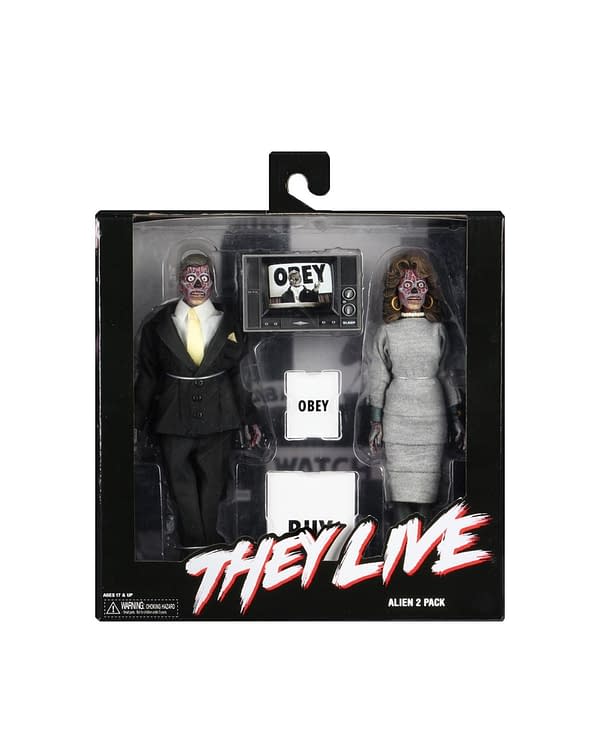 Consume! Obey! A truly underrated movie of the '80s, They Live had a fun sci-fi premise hiding a deeper social commentary about the manipulation of the masses via advertising. Horror master John Carpenter directed the film about a ruling class of aliens hiding in plain sight and controlling the people via subliminal signals in media and commercials. For the first time ever in action figure form, see the aliens as they really are without the aid of technical sunglasses in this clothed action figure set, featuring a male and female alien. Both figures come with the wristwatches that transport them to the alien command center, as well as television, magazine, newspaper and necklace accessories. Window box packaging.

Box Contents

Female alien figure
Male alien figure
2 Wristwatches
Television
Magazine
Newpaper
Necklace
These could not have turned out better, and horror fans have been clamoring for them for years. The only thing that could make this release any more perfect would be if they announced they could make a John Nada figure. He was of course played by the late, great 'Rowdy' Roddy Piper, in one of the most iconic horror/sci-fi roles of all-time. Who knows what the future holds, but for now we have what is looking like one of the must-own horror collectibles of the year. That is saying something with everything else NECA has been pumping out in 2019.
You can CONSUME these yourself by placing a preorder here. These are due to ship to retailers around December 2nd.