WWE and Mattel Tag Team for YouTube Show 'Outside the Box', and It's Hilarious
WWE Elite and Basic action figures are not only some of the best figures on the market — they are the #1-selling brand in the action figure game. In case you haven't seen them yet, Mattel is making a bunch of new videos weekly on YouTube called Outside the Box, part of the Mattel Action channel. The show is in the style of the long-running Robot Chicken and features Superstars Elite and Basic figures in skits, with in-ring footage as the featured Superstars as well.
About WWE Outside the Box: Outside the Box is an action packed comedy that collides the worlds of your favorite Superstars with your favorite YouTube trends. Get ready for some Superstar Sized Action with some Action Figure Sized Superstars!

About WWE: WWE entertains fans around the world with larger-than-life Superstars performing unprecedented displays of hard-hitting athleticism. It's rival versus rival as each Superstar strives to climb the ladder to the top, smash through the glass ceiling, and earn a shot at the ultimate prize – championship glory. Step into the ring and slam into the action!

About Mattel Action!: Mattel Action! is the not-so-secret headquarters for videos, packed with mind-blowing, rip-roaring, gut-busting adventures! From Mattel Brands to WWE to MEGA Construx to BattleClaw, these videos really pack a punch!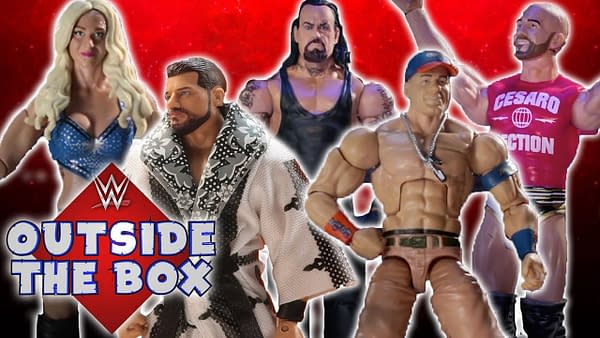 You can watch the first three videos, and check for new ones every week here. There are also videos featuring DC Comics heroes, Mega Construx, and more.