Justice League #5 Review: Enter the Legion of Doom
[rwp-review-recap id="0"]
Lex Luthor has just reached the Totality by controlling the body of Superman, but we jump back to right after the Justice League defeated the Omega Titans (Justice League: No Justice). He is unsure of his next move given the discoveries of the mission. He takes a trip to the future to learn what becomes of humanity, and his discovery reveals the power of Doom. This leads him to unite Sinestro, Gorilla Grodd, the Joker, Black Manta, and the Cheetah under the banner of the Legion of Doom.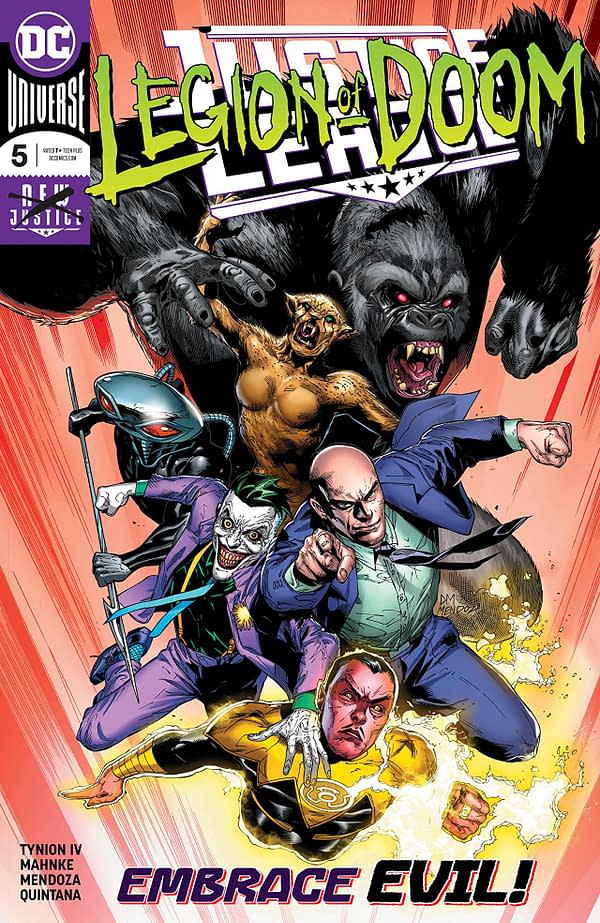 Justice League #5 begins the story of the Legion of Doom's union, motive, and mission. This issue focuses on Luthor and how he garnered the attention of Sinestro and Grodd.
I'm a sucker for a good villain story, and Justice League #5 is a damn good villain story. Luthor is at a crossroads again, forcing him to reinterpret his goal in life and how he could get there. It also explains how he's become this pseudo-fanatic for the concept of Doom. It's still not clear what exactly "Doom" is in this context—whether it's a specific power, plan, or just plain nihilism—that will likely be revealed later.
Luthor's confrontations with Sinestro and Grodd make for great reading and seeing Luthor manipulate them is compelling material.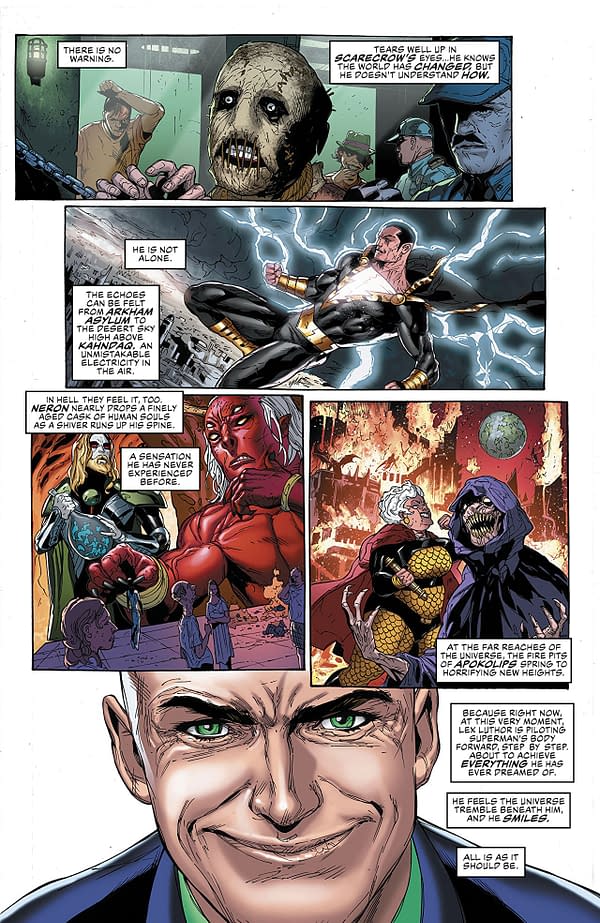 Doug Mahnke joins up for this issue, and he knows how to draw a truly unhinged Lex Luthor. The eyes are downright unsettling. Sinestro and Grodd are done great justice too. The detailing, faces, and environment are all spectacular. Wil Quintana's color work is a nice balance, though it errs on the side of brightness. That gives the book some extra visual flair.
Justice League #5 is an unnerving yet exciting dive into the mind of Lex Luthor and his Legion of Doom. We learn why he is doing this and how he gathered this powerful team. It's villainy fun, and it's boosted by some fantastic artwork. This one is highly recommended. Give it a read.
[rwp-review-ratings id="0"]
[rwp-review-form id="0"]