37 Thoughts About 37 Comics – The Movement, Detective Comics, Stormwatch, Crossed, Inhuman, Green Lantern, Caliban, Starlight, Action Comics, Field, She-Hulk, Dead Letters, Beautiful Scars, God Is Dead, Loki, New Warriors, Captain America, Revelations, Green Arrow, Garfield, Suicide Risk, Pretty Deadly, Secret, Revival, Adventure Time, Quantum And Woody, GI Joe, Artifacts, Sinister Dexter, Gate Way, Rogue Trooper, Monster & Madman, Judge Dredd, Green Hornet, Shotgun Wedding, Turok Dinosaur Hunter and Archer And Armstrong
Welcome to another week's worth of comic books. Could we have the first privilege check in a Marvel comic? Testicles mistaken for fruit? and did Captain America give away some spoilery scenes ahead of the Winter Soldier movie? Let's have a look… That's nice, members of The Movement, concerned about the grocery habits of their opponents. Francis Manapul and Brian Buccellato take on Detective Comics and bring in the pastel colours from The Flash, with a little darker tone for Gotham. And, as with Flash, give us some rather cool layout choices. You can feel guy scraping across the tarmac at speed, ripping himself up as he goes… yack! Stormwatch comes to an end… for now. But give us some kind of limbo ending, confirming that they are still around, fighting all the alien invasions that never make it to Earth that we then never hear about. But then… what about those that do? Is that them just slacking on the task? Having a lie in when Doomsday, Jor-El or H'el do their things?
Basically, yes. Oh and also, they do a much better job than the NSA.
Crossed Badlands #51 gives us Gordon Brown dealing with the outbreak of Crossed. Do you think he'll do a good job, little children? Or will the destruction of humanity be down to his lack of decision making process? Not that he'd ever think he was the bad guy… Every villain is a hero in their own story. And in Inhuman we get such a story – even if it seems like that Terrigen mist has been around for quite some time, waiting for this comic to get solicited, delayed, writer replaced, solicited again and eventually published. Inhumanity and Inhuman has been the attempt to relaunch the Inhumans characters ahead of some big plans for the characters in comics and movies. Only problem is… he readers haven't been that bothered, it seems. Maybe a Soule/Madueira combination might do the trick. Never not bring a ring to a knife fight, Hal Jordan. Seriously, dude. Having "will" is one thing, being a daft-minded idiot is clearly another. Green Lantern #30 there.
That's one look at what life in outer space is like. I get the feeling that there is a more likely alternative from Garth Ennis. And Caliban #1 gives us a far more likely and far more depressing possibility… as well as putting Kevin Spacey in charge. We know that won't go down well. But the look of your space ship does matter quite a bit…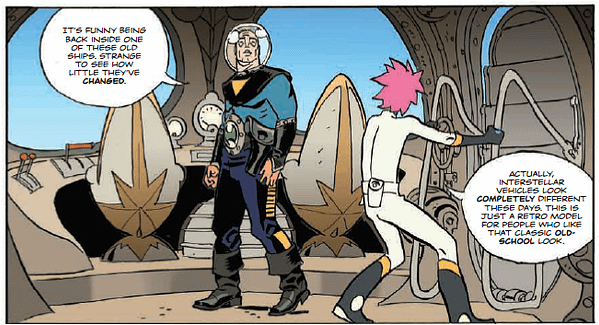 Starlight returns with its mashup of the old and the new and the way new used to look in the old. Triple rainbow! Wow! Triple rainbow! Amazing! Action Comics #30!
Field #1 does a great trick of forced perspective to put as much spaces between two peaple sitting next to each other in a car as possible. Neat trick. And is this the first use of "check your privilege" in a mainstream superhero comic book? She Hulk #3… still, taxis can come in useful sometimes. Say if a man missing half his head points a gun at you. Like in Dead Letters #1 (which we gratuitously spoiled last night on Bleeding Cool in a blatant breach of the Dan Slott protocols). Sorry about that. Still what other forms of transport could you choose?
Beautiful Scars shows us that two wheels good, three wheels better!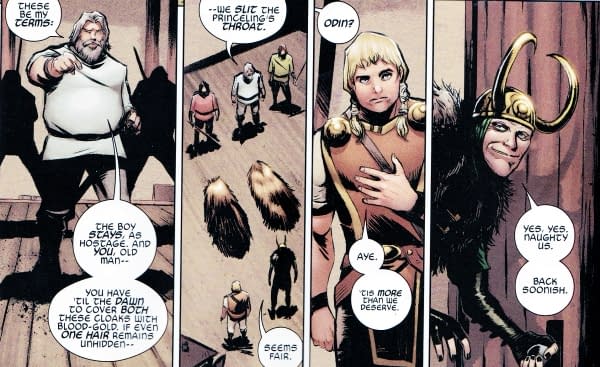 You know if they'd kept Loki looking like that, I don't think he'd have quite the female fan following he has now. A blast from the past gives us entertaining anachronisms. "Soonish" is just the start.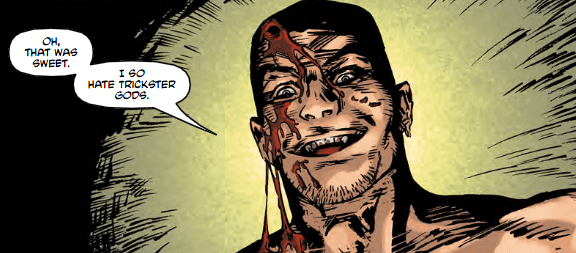 But God Is Dead #10 has a different solution to such individuals… Nova in New Warriors knows all. Do Doctor Doom next. No, Magneto. No, Wolverine. No, Cyclops. No…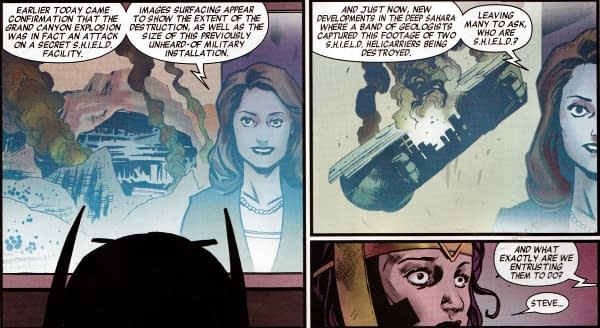 Seriously, guys at the Captain America comic book, out today, just before the Winter Soldier movie. Spoilers, please…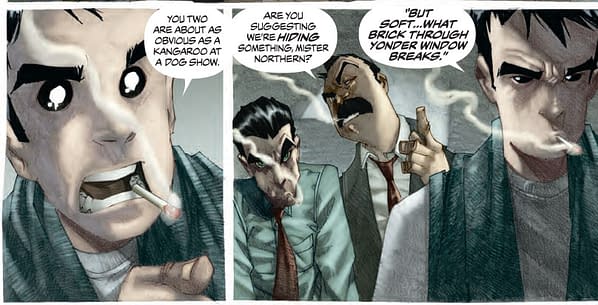 Revelations #4 takes the Shakespearean route to window breaking. There's a long tradition of throwing people out of windows, called defenestration. It coined that name, and reputation in… anyone? Anyone? Bueller? That's right, Green Arrow #30, in Prague. It is the second thing I most remember about Prague, the first being this bridge, which would have given you a view of said defenestration. Garfield. He does like lasagna. Here's the backstory into how he gets it… Suicide Risk #12 look at what happened to people's brains when they try to watch modern day Ridley Scott movies.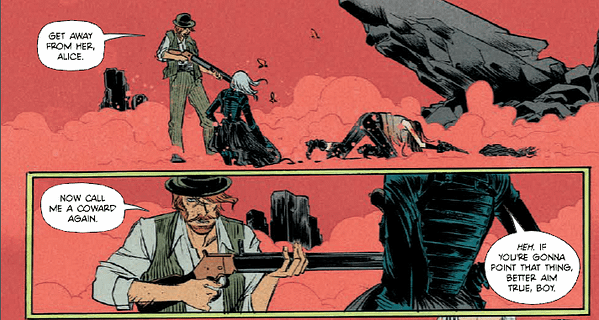 Lots of guns being held to people, folks. Whether they exist or not, or whether they will have an effect or not, well that's all up to Pretty Deadly.
There's so much to love about Secret but I want to highlight the intentionally restricted palette, curling like smoke around the pencils, both merging and separating elements within, guiding and surprising the eye…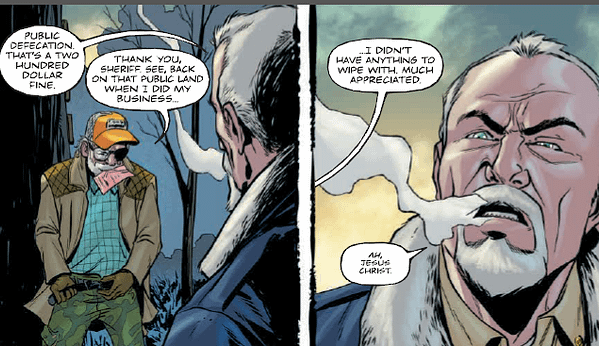 Revival finds good use for public documents. Don't try this at home, kids.

Adventure Time FlipSide #4 show me, well, basically, the party I was at last weekend in Putney. This is basically exactly what happened, kids eating crisps, and forty-to-fifty year olds hitting the dance floor. Welcome to my life. And… welcome not to my life. To be honest, I can't think of anything more annoying, from Quantum & Woody #9.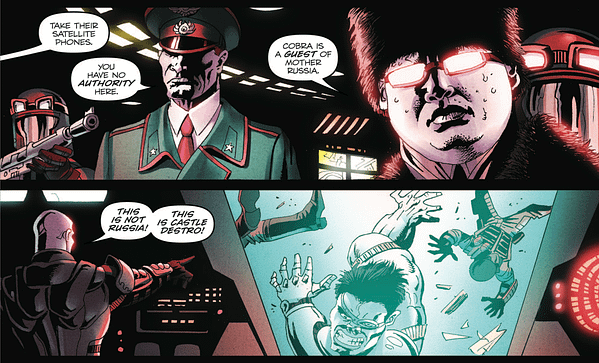 GI JOE Special Missions #13 gives us a more insistent version of those ads that tell you to turn off your phones before the show begins. Still, at least they can get a signal…, Bleeding Cool's Dan Wickline writes Artifacts #36, and tries to get around the "if they had a cellphone everything would be fine" problem that so besets modern action adventure offerings. Oh dear. Sinister Dexter #5. Gives us a pyschological insight into a disturbed minf. But I think my first memory might be Rentaghost. So… what's on your mind? Can I go on marches either for or against it, Gate Way #4? Or is it something a little more physical? You wouldn't be alone… Rogue Trooper #2 has a bagman for a wingman. And it works. And from attraction… To repulsion, with Monster & Madman #2. What happened to good old fashioned voyeuristic fascination? Judge Dredd Mega-City Two #3 shows us that Siri doesn't actually get that much better. You know, it might not have been quite so amusing if those with guns were slightly better shots. There's being an adrenaline junkie, and there's being shot in the ass. Insane is right, in Green Hornet #11.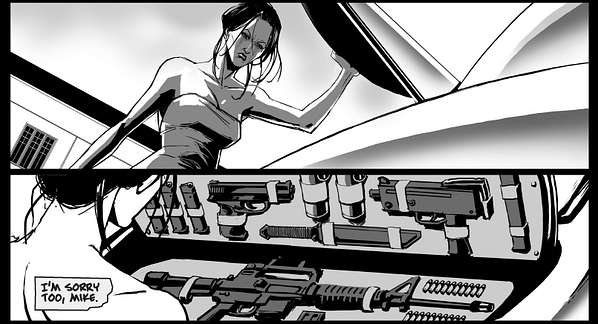 "Shotgun wedding" is usually just a phrase, utilised for exaggeration. In Shotgun Wedding #1… it's a little more than that.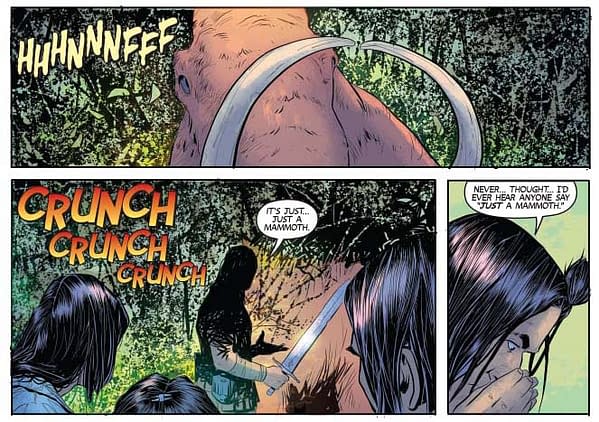 Yeah, Turok Dinosaur Hunter #3, leave it alone. You're meant to be hunting dinosaurs, not mammoths. The clue is in the name.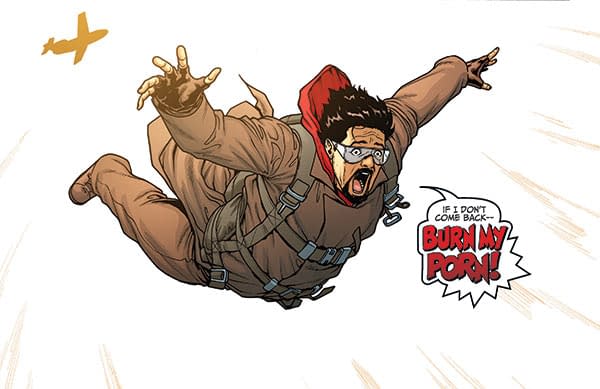 Archer & Armstrong #19 has quite an old fashioned view of pornography. Well, Armstrong has been around for a while. All men know that it just needs a magnet to a hard drive these days.
So… what are you picking up today?
Comics courtesy of Orbital Comics in London, hosting a very special comic-based class on Dynamic Figure Drawing with Michael Golden. There are very limited tickets left…