Bullet Club Gets the First Non-WWE Funko Pops in August
Bullet Club is fine. Bullet Club is strong. And now Bullet Club are Funko Pops.
Thats right: The Elite are coming to Funko, as four members of the famed wrestling stable the Bullet Club- Kenny Omega, Cody, and The Young Bucks (brothers Matt and Nick Jackson) are becoming the first wrestlers outside of the WWE to be immortalized in Pop form.
Funko is excited to announce members of Bullet Club coming to Pop!
Featuring Kenny Omega, Cody and The Young Bucks in a Pop! 2-pack!

Add them all to your wrestling collection this Summer!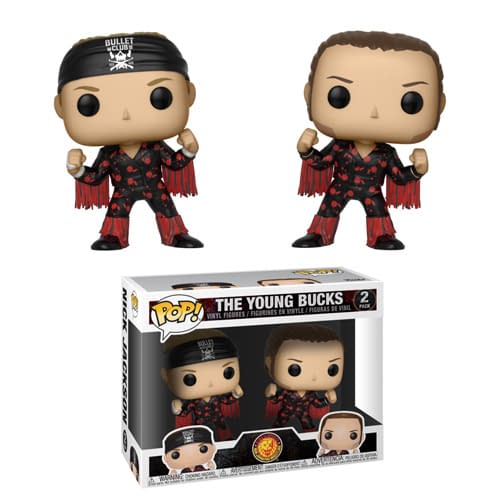 For those of you who have no idea what's happening here, the Bullet Club popped onto the wrestling scene in in 2013 in New Japan Pro Wrestling (NJPW for short) and quickly became the most popular stable in wrestling since the NWO in the '90s. Former leaders and member include the WWE's Finn Balor, AJ Styles, Karl Anderson, and Luke Gallows, Adam Cole, and a couple others.
Arguably the most popular version of the group is the current roster, led (maybe still?) by Kenny Omega, although the throughline on almost the groups entire history are The Young Bucks. Cody joined up last year and since then the group has stormed the wrestling scene, getting their merch sold in Hot Topic stores, selling out arenas with Ring of Honor, and even help spearhead NJPW's push into the US.
The group is even self-funding their own mega-event in Chicago this August called All In. Along with a huge show featuring the best Indie wrestling talent there is, they have helped set up a convention, Starrcast, around the event. A bunch of wrestling podcasts will be recording live there, and the All In talent will be there to meet and sign autographs. And of course, all the merch you can shake a stick at.
Tickets for the convention go on sale May 15th here. Tickets for All In go on sale May 13th and will go FAST. The Funko Pops will hit stores in August.