Phoenix Labs and Indiebox put together an absolutely stunning Collector's Edition for Dauntless that includes a massive behemoth statue, an art book, and a steelbook for the game's soundtrack. Since Dauntless never got a physical release, the steelbook contains two discs for the game's soundtrack, a decal, and a code for the Aetheric Armor set. The Collector's Edition marks the release of the Aether Unbound 1.0 update for Dauntless and is a pretty great bundle for those who love the game. Or just really like behemoth art.
Because, let's be real, the Dauntless Behemoths look pretty cool.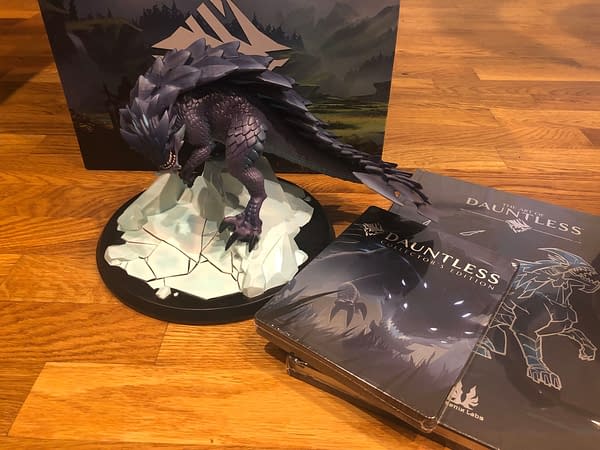 The art book and steelbook boast some pretty gorgeous covers, and the inside of the steelbook, plus both discs, are also gorgeous. The whole art book is a visual treat, but it also includes bits of information on the development process for the various environments, characters, and behemoths featured in the game. So if you want any background lore on Dauntless, the art book is a fantastic resource. After all, who wouldn't want to know that the original name for Pangar was "McRollin"?
The polyresin Pangar statue is the true star of the collector's edition, after all. The statue is incredibly well-sculpted with each individual scale on it's body being well defined. The paint job is also pretty fantastic, with hand-painted details on the underside of Pangar's primary scales as well as on his eyes and teeth. The hand-painted details aren't machine-perfect which adds to the statue's charm since each one is a bit unique.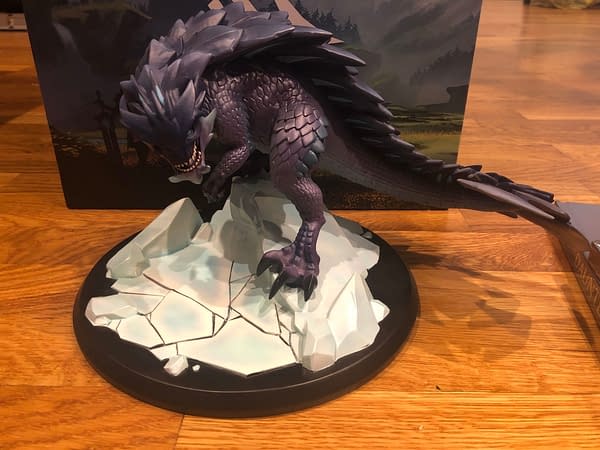 The ice sculpted base provides a nice bit of color contrast with Pangar's mostly purple body, and also provides a secure connection between the statue and base. You can move both around without worrying that you'll drop a piece, and that's always helpful when dusting display shelves.
Retailing at $149.99 USD, the Dauntless Collector's Edition is rather reasonably priced considering the contents. Similar polyresin statues alone often go for over $100, while the steelbook edition retails for $29.99 USD. Add in the art book, decal, and armor code, and it's honestly a pretty solid bundle.
Enjoyed this article? Share it!