This past week, Wizards of the Coast, the creative force behind their spectacularly-popular trading card game Magic: The Gathering, revealed a few new cards from their next expansion set, Theros: Beyond Death. Theros: Beyond Death is a sequel to the highly-praised Theros block of three sets, released between 2013 and 2014 overall. Theros, the plane of existence where these sets all take place, is based upon Greco-Roman mythology, folklore, and popular culture references that tie into these things (think, for example, the movie Clash of the Titans – the Kraken isn't actually a Greek or Roman invention, but actually Scandinavian; nevertheless, Wizards is using this trope among others that aren't exactly accurate because it's what resonates with the public image of Theros).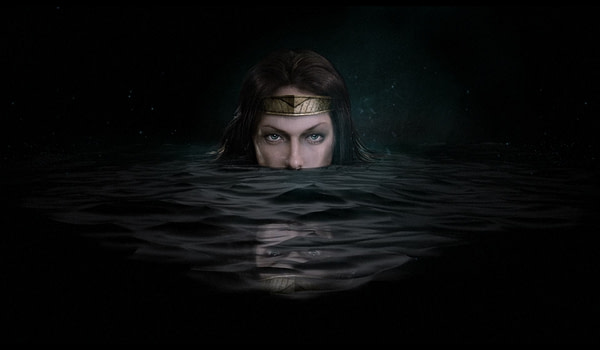 But I digress. We have started getting previews for a good many cards just this week, and it's been a bit of a trip.
December 24th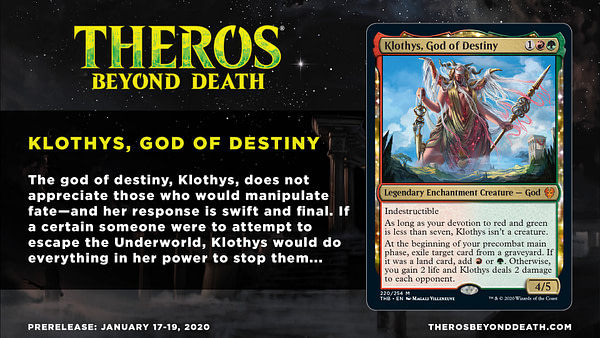 This preview was revealed on December 24th, Christmas Eve for many. Therein it previews Klothys, the God of Destiny who was deposed by Xenagos, a satyr Planeswalker, an act that encompassed the entirety of the previous Theros block. This was previewed on Twitter, via @MTG_Arena, Wizards of the Coast's official Twitter handle for Magic's newest online interface, Magic: The Gathering: Arena.
December 25th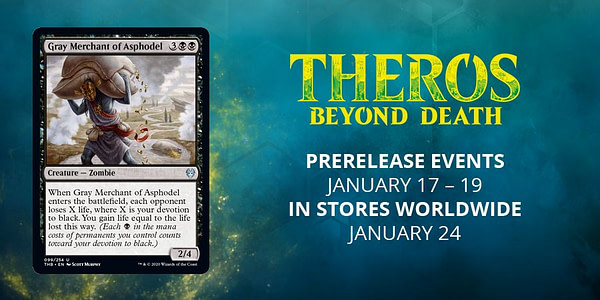 December 25th, Christmas Day, saw us getting an amazing reprint for Pauper, Commander, and other formats in the form of Gray Merchant of Asphodel. This zombie practically defined the metagame for the Standard format back in 2013 when it first came out. It's pretty magnificent to see it come back, likely to cement black in the Standard metagame once more. This preview was revealed on @wizards_magic, Wizards of the Coast's general Magic: The Gathering Twitter page.
December 26th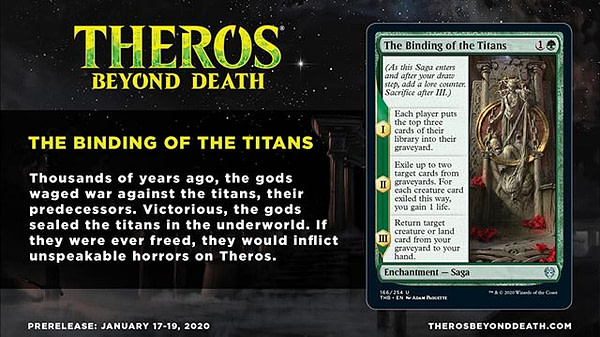 This preview from December 26th (Boxing Day in Canada), met with some controversy, showcases the new Saga called The Binding of the Titans. I am wondering why they're giving green the ability to mill while white is still lacking in practically every capacity. Sure, this first Saga ability is small-ish as far as mill effects are concerned, but it's still setting a rather worrisome precedent for the health of the game. At any rate, this preview was revealed via @wizards_magic, only this time over Wizards of the Coast's Magic Instagram page.
December 27th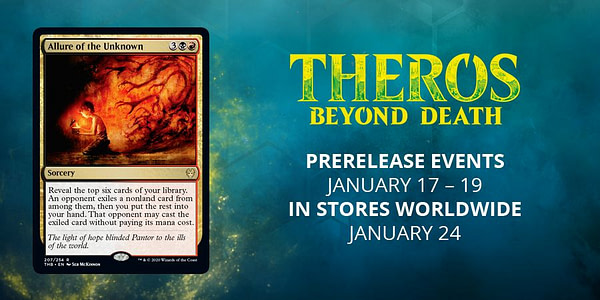 This preview from yesterday, December 27th, reveals the new black/red sorcery Allure of the Unknown. I absolutely dig this card – I don't know about the rest of you, but I see this card generating tons of value in this right builds for a minimal risk factor. I am inclined to include it in my Chainer, Nightmare Adept Commander deck, but that's just me. For what it's worth, I also absolutely love the art, done splendidly by artist Seb McKinnon. This preview was revealed via Twitter's iteration of @wizards_magic as well.
December 28th and Beyond (Death)
Today, December 28th, we still do not have the preview that we get to expect as of the time I'm writing this for Bleeding Cool, but when we do see it we'll see it via @djawadi_ramin, Ramin Djawadi's Twitter page. For those who are unfamiliar with Ramin Djawadi, he was a composer for Game of Thrones on HBO, and did the orchestrations for the Theros: Beyond Death trailer, seen below.
Betrayed by the gods. Banished to the underworld. Rise up and escape your fate.#MTGTheros is available everywhere 1/24. Play in a Prerelease at your local game store 1/17-1/19.

Learn how to preorder at https://t.co/PRoAG2INPy pic.twitter.com/uLA5bEO1g2

— Magic: The Gathering (@wizards_magic) December 13, 2019
Any other future previews can be located via DailyMTG's page linking to all of the preview locations. That's found here!
What do you think about these previews? Do they bode well for the health of the game, or do they foretell a certain doom for Magic: The Gathering (or at least white)? Let us know!