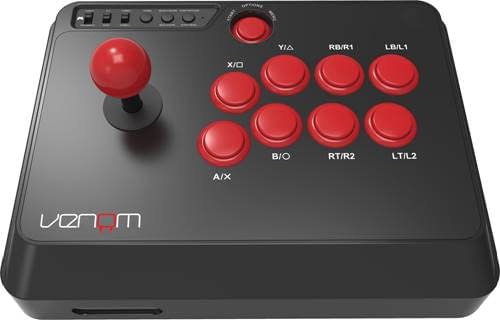 To celebrate the launch of Dragon Ball FighterZ, which hit PS4 and Xbox One last Friday, Venom has announced that their multi-format Arcade Fight Stick is now available for purchase from UK retailer Argos. If you don't already have Dragon Ball Fighter Z, you'll both at a reduced price when you pick them up at Argos.
For a limited time only, gamers can purchase the amazing Arcade Fight Stick for a price of just £59.99, and purchase Dragon Ball FighterZ, the hottest fighting game in years for just £15.00 GPD. You can find out more information on the promotion over at Argos's site.
The multi-format Arcade Fight Stick has been fashioned after popular arcade configurations and features the classic ball-top joystick and eight-button arcade layout, which should make it an easy fit for classic arcade gamers.
The Arcade Fight Stick's compact footprint has been designed to work on a table, desk, or while sitting in your lap and is easily portable. And for those interested, Venom has made certain that the Arcade Fight Stick can be easy customised with Sanwa Denshi components should you wish to have the most realistic experience possible.
The deal is available for both the Xbox One and PS4 versions of Dragon Ball FighterZ, and only lasts until February 8th, when both items are added to the shopping cart at Argos.
Enjoyed this article? Share it!