Whenever studios actually go through their back catalog of classic films and do a proper remastering from the original film stock with a 4K scan to a 4K Ultra-HD disc, the results are almost always outstanding. Warner Bros. Home Entertainment will be delivering an early Halloween present to fans of Stephen King and Stanley Kubrick when The Shining releases this fall.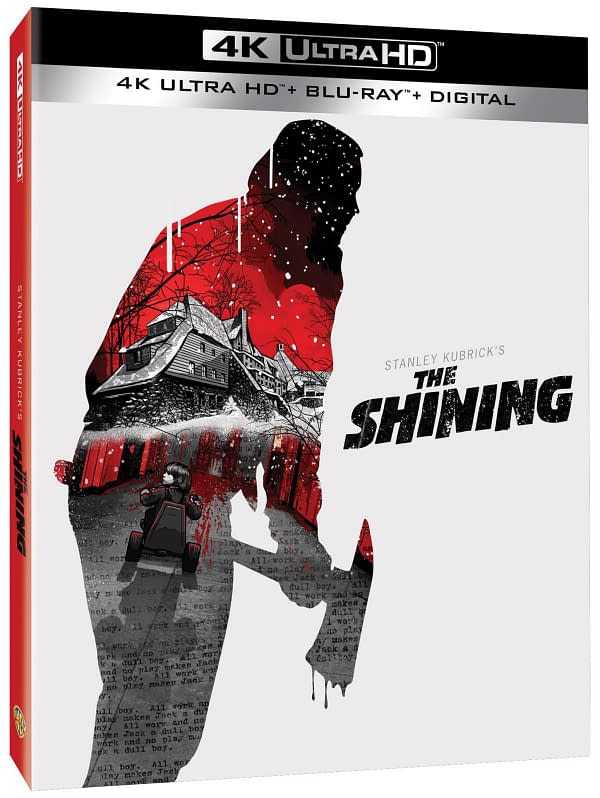 The transfer was overseen by Steven Spielberg and Stanley Kubrick's former personal assistant (and subject of the documentary, 'Filmmaker'), Leon Vitali. With their working closely with Warner Bros. during the mastering workflow, it'll be as certain as we can be that it was done with an utmost respect for Kubrick's legacy.
The included special features are noted to include:
Audio commentary by Steadicam inventor Garrett Brown and Stanley Kubrick biographer John Baxter
Video from the Overlook: Crafting The Shining

Enter the terrifying world of the Overlook Hotel as only Stanley Kubrick could envision it

The Visions of Stanley Kubrick

A detailed look at one of cinema's greatest visual storytellers and his unique ability to move audiences through the magic of unforgettable images

The Making of The Shining

This cinema verite documentary offers a rare glimpse into the directing style of Stanley Kubrick as he interacts with stars Jack Nicholson, Shelly Duvall and others

Wendy Carlos, Composer

Composer Wendy Carlos reflects on working with complex auteur Stanley Kubrick and developing music scores for The Shining and A Clockwork Orange
Unfortunately the there's nothing new in the features that haven't been released previously, so if you already have one of the prior Blu-Ray releases you likely have most of the bonus materials. However if you don't, the disc set would be well worth it for the Making of The Shining documentary alone; shot by Kubrick's daughter, Vivian Kubrick, it's the best behind the scenes exploration for the movie that's been produced. The audio looks to again be the 2007 Blu-Ray's Dolby Digital 5.1 remix from the original audio sources (the film as originally released had been in mono – not even stereo). While it may not be an fresh Atmos remix, the 5.1 is still a superb interpretation of the original.
This will be the first time that the full rescan of the original will have been done, so the image should easily be the best version of the film that's been seen to date.
Best Buy will be getting the release as an exclusive Steelbook edition.
The Shining 4K UHD will release on October 1st 2019, and has a MSRP of $41.99.
Enjoyed this article? Share it!