The Weekly Static S01E09: Scully And Scary And Sleazy…Oh My! Welcome back to The Weekly Static on a very sunny and chilly Friday the 13th in the northeast, which is perfect weather for hockey mask-wearing and head of your dead mother-carrying — so here's hoping you take advantage of it! In case you haven't drank the Kool Aid quite yet, here's a little reminder of what we do here: The Weekly Static is my righteously desperate-yet-endearing attempt at finding the lighter side and an interesting perspective on the past week in the land of the networks, cable, streaming, smoke signals, cloud formations, and shadow puppets.
Our goal? Pretty simple:
● Offer a blunt, honest perspective on a handful of random TV news posts from the past week that also highlights your relentless team of news-thirsty Bleeding Cool writers and the quality work they do.
● Spotlight a news item we might've missed that you should find interesting.
● Feed my insatiable ego with humble offerings of praise, adulation, social media shares, pizza, Superman Funkos, and a plethora of Eisner Award nominations.
So here comes The Weekly Static (murderer)…it's the lyrical gangster (murderer)…excuse me mister officer (murderer)…still recap like that:
Rick's Memory Is Still The Only Place I Can Find Szechuan Dipping Sauce
Negan Gets "Only 2" F-Bombs This Season On The Walking Dead
Jason Aldean Performs Tom Petty Song On SNL For Vegas Victims
Gillian Anderson Confirms This Will Be The Last X-Files Outing For Dana Scully
Castle Rock Season 1 Plot Details Revealed, Now With More Shawshank
Matt Ryan Rumored To Reprise Constantine Role In DC's Legends Of Tomorrow Season 3
Elijah Wood Seeks 'Y: The Last Man' Role
Steven Spielberg, Bryan Fuller Rebooting 'Amazing Stories' For Apple
Amazon "Reviewing Options" On TWC TV Series Amid Weinstein Scandal
Watch Linkin Park's Carpool Karaoke, Featuring Ken Jeong

Julie Plec Signs New Overall Deal With Warner Bros. TV (EXCLUSIVE)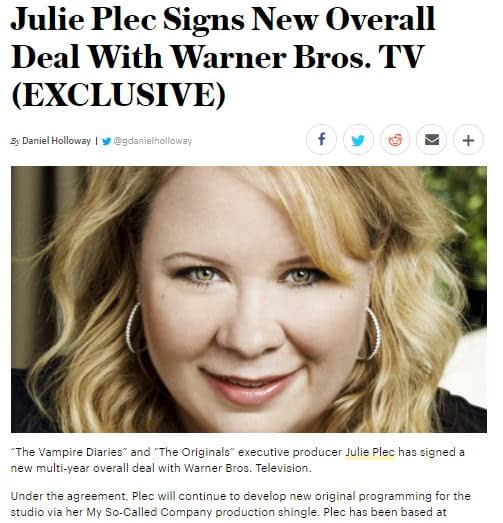 "The Vampire Diaries" and "The Originals" executive producer Julie Plec has signed a new multi-year overall deal with Warner Bros. Television.

Under the agreement, Plec will continue to develop new original programming for the studio via her My So-Called Company production shingle. Plec has been based at Warner Bros. since 2009, when she co-developed supernatural drama "The Vampire Diaries." The series, on which Plec was showrunner, ran for eight seasons on the CW…"