Loewe x Howl's Moving Castle Capsule Collection Unveiled
Sophie, Calcifer, Witch of the Waste, Howl and Markl of Howl's Moving Castle can be seen in the new vibrant capsule collection from Loewe.
---
The vibrant colors of Calcifer, aesthetic of Witch of the Waste and many more have been unveiled in a new collection from Loewe celebrating the style of Studio Ghibli's Howl's Moving Castle. The 2004 film by Hayao Miyazaki has been invoked for fans with this capsule collection coming out of the luxury house formed back in 1846 in Spain and is now spearheaded by Jonathan Anderson, the creative director, since 2013.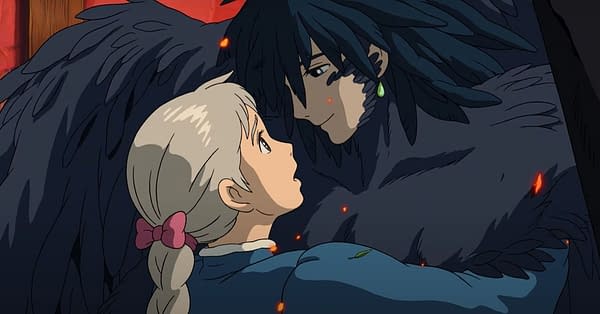 A Fabric Journey with Loewe x Howl's Moving Castle
The plot of Howl's Moving Castle can de described as such: "When an unconfident young woman is cursed with an old body by a spiteful witch, her only chance of breaking the spell lies with a self-indulgent yet insecure young wizard and his companions in his legged, walking castle". Loewe has worked with Studio Ghibli before this capsule collection back in 2021 with My Neighbor Totoro. The Loewe Foundation sponsored the release of Joe Hisaishi and the Royal Shakespeare Company's landmark adaptation last year. They also set up a three-year sponsoship for the Tokuma Memorial Cultural Foundation for Animation to maintain cultural programming at the Ghibli Museum, Mitaka.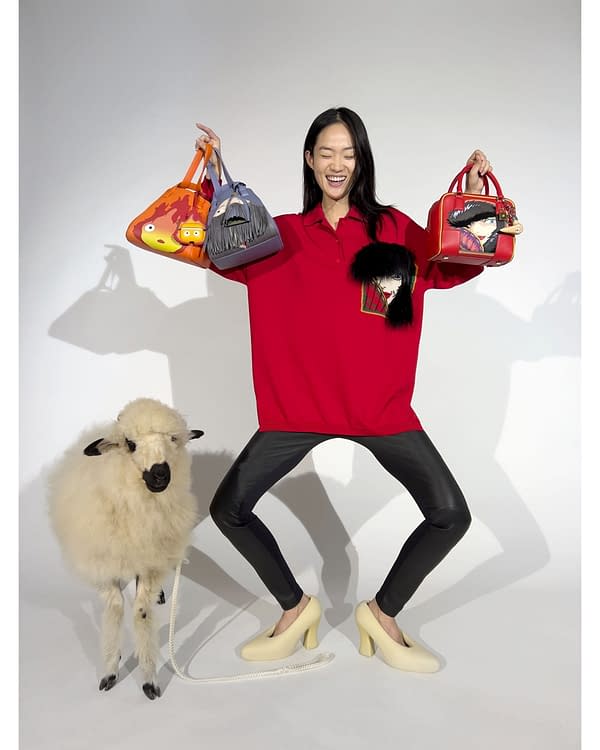 Howl's Moving Castle will be the third and final installment for Loewe's collaboration with Studio Ghibli, with the previous two being My Neighbor Totoro and Spirited Away. "A commentary on the moment and an alternative to it, always heartfelt, fulfilling, full of fantasy and sentiment," Anderson has said of this final collection with the Japanese animation studio. Jumpers, shirts, a tweed jacket, wallets and many iconic bags make up the colorful collection.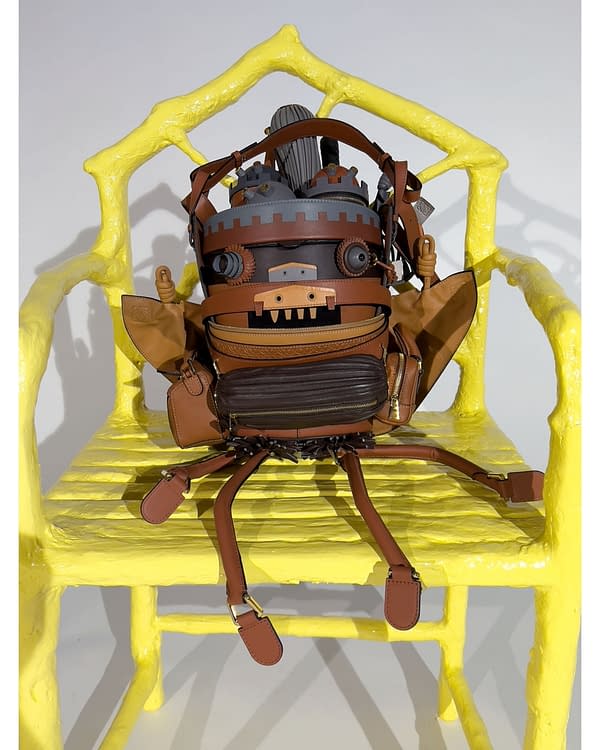 Taylor Russell, who recently starred in Bones and All with Timothée Chalamet, is featured in the campaign wearing one of the pieces and holding a bag invoking the character Calcifer. A backpack made to look like the legged castle itself was one that definitely caught our eye and will likely be a big deal for many fans of the film. The Howl's Moving Castle by Loewe will be globally released on February 2nd, 2023. For those who are eager to grab an item from the collection, registration is available for early access on Loewe's website.