Funko Reveals a Ridiculous Amount of Avengers: Endgame Products
Funko has joined today's Avengers:Endgame party, revealing a huge assortment of Pops, Mystery Minis, keychains, pens, exclusives, Pop shirt packs, and more. Seriously: there are so many different exclusives. Let's take a look at all of it so you can figure out where you need to go to collect it all! That is, if you wanna go broke, because I feel your pain, fellow Marvel collectors.
First, four new Pop Pens, six new keychains, and three new Dorbz figures. the Dorbz will be exclusive to the Funko Shop. Exclusive keychains of War Machine and Rocket will be at BoxLunch/Hot Topic and Walmart.
Look at all the Avengers: Endgame Pop Tee packs! Target has an exclusive Iron Man in adult sizes, while they will also have Thanos, Hulk, Thor, and Captain America in kids sizes. That is pretty cool. Another Hulk can be found at Hot Topic, while another Captain America will be at FYE. All of these packs come with a Pop figure of the character.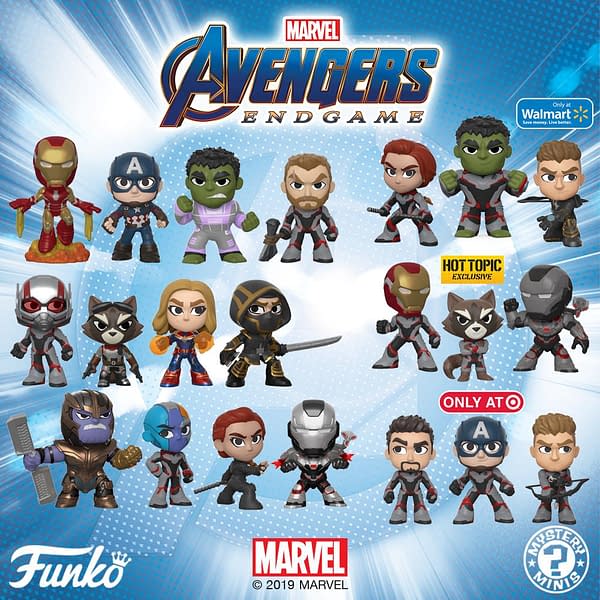 Mystery Minis are back of course. Stores will again have exclusives, with Quantum Suit versions of the characters at Walmart, Hot Topic, and Target.
So Pops. There are eleven regular release Pops this wave, and you can also order them from Entertainment Earth and get a three pack of free collectible cards with each. That is kind of neat.
There are also nine store exclusives. An alternate suit Hulk is at Gamestop, regular suit Cap at Hot Topic, regular iron Man at BoxLunch, Hawkeye in his Quantum Suit at Walgreens (those are Quantum Suits, right?), Quantum Suit War Machine at Amazon, Quantum Suit Rocket and Ronin at Walmart, and a two=pack of Thanos and Hulk regular releases at Barnes and Noble. Finally, an aromored Thanos 10 inch Pop can be found at Target.
Most of these hit stores today, with the rest to follow throughout the month!