Funko Round-Up: Holiday Spongebob, Star Wars, South Park, Flash, Destiny, and More!
Funko announces tons of new products and licenses every day, let alone every week. It can be a lot to keep up with. So we are here to help. Welcome to the Funko Round-Up! In this edition: new Flash Pops, Spongebob and Star Wars holiday Pops, Destiny, South Park gets a long-requested figure, and Brady Bunch Pops. Lets dive right in!
Here's the story of a lovely lady who was bringing up
three very lovely girls and a man named Brady who
was busy with three boys of his own. Think your house is
ready for a blended Pop! family? The iconic Brady bunch
is looking for a new home and while the crew would
prefer a house with shag carpeting, they're willing to make exceptions.
Grow your family with Marcia Brady, Cindy Brady,
Bobby Brady, Peter Brady, Greg Brady and Alice Nelson.
And don't worry about Jan, we're all
about "Marcia, Marcia, Marcia" right now.
These are pretty great, and if I was to guess, Jan will be an exclusive somewhere. Maybe NYCC? We shall see. These will be in stores later this month.
Your Ghost performs essential functions. From hacking Golden Age
technology to providing warnings about potential threats, it deserves
the finest Shell you can acquire. Similarly, your keys serve
a vital function, and deserve the finest keychain in the solar system.
These 12-piece Destiny-themed Blind Bag Keychains provide both.
With a rarity of 1/12, the keychains include Generalist Shell,
Nessus Shell, Moon of Saturn Shell, EDZ Shell, Io Shell,
Last City Shell, Kill Tracker Shell, Iris Map Shell, Infinite Hand Shell,
Jasper Dawn Shell, Iron Companionship Shell and Garter Snake Shell.

With a rarity of 1/12, these keychains include the Dawning Bauble Shell, Kingslayer Shell, Crimson Shell, Garter Snake Shell,
Jasper Dawn Shell, Iris Map Shell, Last City Shell, EDZ Shell,
Generalist Shell, Moon of Saturn Shell, Nessus Shell, and
Io Shell available exclusively at GameStop.
That is a lot of keychains. Good luck to those of you who want all of these, they do look awesome. You can find them in stores in October.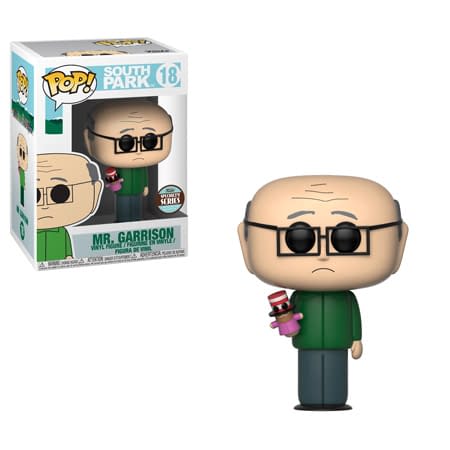 South Park favorite Mr. Garrison finally gets a Funko Pop. This will be part of their Specialty Series, so you can only find it in comic shops and such. He comes out this fall.
DC TV gets some long-awaited new Pops from The Flash, including a Vibe Pop! He looks incredible, and I would expect that one to be a tough get, people have wanted him for a long time. These come out this month.
And finally, we have new holiday-themed Pops. Spongebob and Patrick will be in stores this month, and the Star Wars ones will hit sometime this fall.
You can preorder many of these Funko products right here.