Posted in: Collectibles, LEGO | Tagged: Far from home, lego, Lego Marvel, lego spider-man, lego spider-man far from home, Marvel Studios, mcu, Molten Man, molten man battle lego, molten man battle lego set, mysterio, spider-man, stealth suit
---
Let's Take a Look at LEGO Spider-Man: Far From Home's Molten Man Set
Avengers: Endgame hit theaters this weekend (like you needed a reminder) but collectors already have an eye to the next entry in the MCU, Spider-Man: Far From Home. One of the first products showing up to stores right now are the LEGO sets based on scenes from the film, One of those sets, the Molten Man battle set, LEGO was kind enough to send over to us to show everyone. So let's dig into one of the cooler sets of bricks I have gotten my hands on in awhile.
The Molten Man Battle set clocks in at 294 bricks, spread across two bags. This is my favorite kind of LEGO set- an odd design with lots of weirdly colored bricks to make something truly unique looking. Lots of little pieces and little builds that add up to a bigger set when all is said and done.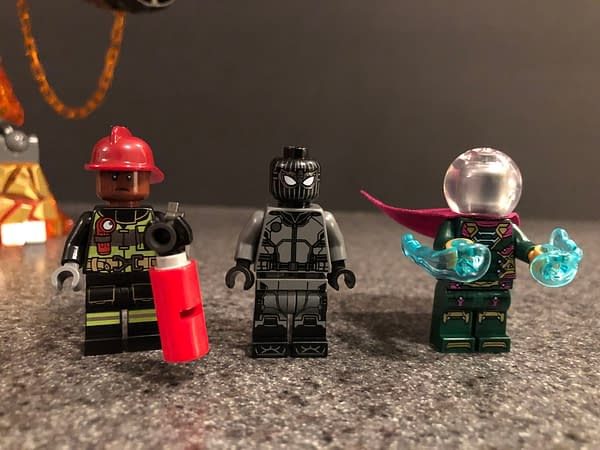 Three mini-figs are included in this one- a firefighter, Spidey in his Stealth suit, and Mysterio. All three are cool. I am still not sure how I feel about that stealth suit look in this film, but Mysterio could not look better. I love his little magic pieces, and the bowl looks awesome on top of the mini-fig. Great stuff.
The mini-figs are spread through the two bags while you build out Molten Man. he consists of building a bunch of mini-bulids and combining them to form the body. These are repetitive builds, making you do most steps twice for both sides of the massive figure. The translucent orange bricks really pop on the build itself as well, making for some really striking angles when the light catches the bricks.
When he is all the way done, the little details are what sticks out the most. The road signs and such sticking out all over him are awesome looking, and stay anchored really well to his body. He is a little top heavy, so watch how you pose him in your displays, but he is easy to maneuver around. He looks so menacing and gnarly, one of my favorite features are the attached lava drips around his chest. It gives the figure so much depth and substance, and when you add in the chains and such, it brings the whole thing together.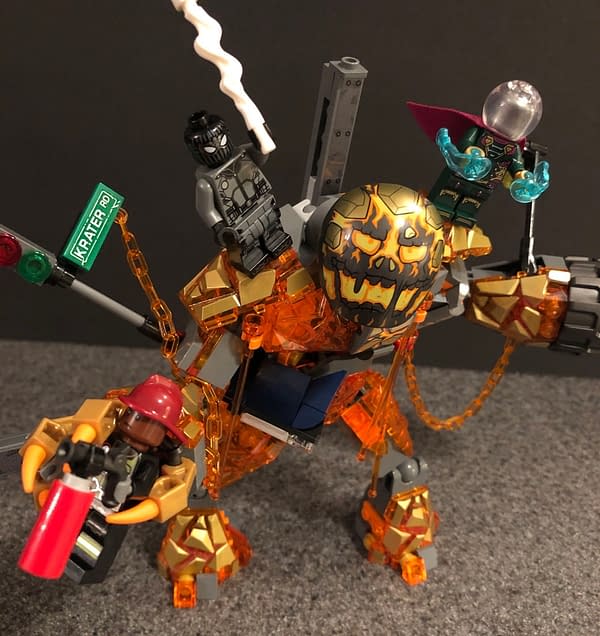 I have zero complaints about this one. It is instantly on my list as one of the best LEGO sets of the year, and if all the other Spider-Man: Far From Home sets are as great as this one, it might be the line of the year for LEGO. It is that good. A fun, unique build, this one will only run you $29.99 as well, a steal at that price.
You can order one for yourself right here.
---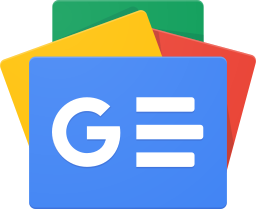 Stay up-to-date and support the site by following Bleeding Cool on Google News today!