Marvel Legends Avengers Endgame Wave 2: Let's Take a Look
Marvel Legends second Avengers wave of the year is hitting stores now, with both comic figures and MCU figures from Avengers: Endgame. After a first wave that suffered a tad from having to keep the film's secrets Hasbro no longer has that problem and can let loose a little. Three MCU figures are here, including two female heroes for a change. The comic figures feature some great Avengers related figures that many have been asking for. Hasbro was kind enough to send over the wave for us to show you, so let's dive right in!
First up, two comic Marvel Legends. A new classic version of Loki that comes with crazy horns and hair and a sword. While this sculpt is great, the neckpiece drove me nuts. It refused to stay straight, and became a quick nuisance. Other than that, he is a cool figure, he holds his sword well, and the smirking face is so great. he looks sinister, and that is how I have always seen Loki.
Even better is this version of Union Jack. He comes with a pistol and a knife, and he has huge range of motion on his arms. One of my favorite poses to do on the shelf is the character reaching into the holster to grab the weapon, and if the figure cannot do it it bothers me. I am so glad this one can. Perfectly I might add. They nailed the coloring on the suit as well, the dark blue and the symbol really pop. Great figure.
You know who is not a good figure? Rock Python. Look, I am glad the Marvel Legends team over at Hasbro is trying to finish teams and give us deep dive characters, I do. But man is this just a miss for me. His sculpt is not very exciting, he comes with zero accessories, and is just an odd figure all around. I do like the purples and blues, it makes the figure stand out on a shelf. Maybe it is just because I have no emotional ties to the character or the Serpent Society.
I do have emotional ties to this Beta Ray Bill figure however. What a great figure. The cape is a tad cumbersome, but besides that there are no problems here. He holds his hammer well, he has great range of motion and great poseibility in every limb. And that articulated jaw makes me swoon. This is the best figure of the wave by far.
Looking at the two female figures from the MCU in the line, both are pretty great. The better of the two is for sure Shuri, but that is only because she is not in a suit, and Hasbro can show off their photo real tech on the head sculpt. The Shuri Marvel Legends figure took forever to release, but she is well worth the wait. Her gauntlets come on and off rather easily, she stands well in multiple poses, and the detail on the figures is crazy.
Rescue is also great. Pepper comes with two backpacks, one with attachments at the ready. Her leg articulation is good on mine, I have seen some complain that theirs have loose legs. Not a problem with my example. Her head was really stiff out of the box, but it loosened up quickly. Most importantly, neither of these figures suffered from the same elbow joint issues past female figures have. I really wish a Pepper Potts head was also included, but it is not a dealbreaker.
The last single-carded figure is an updated War Machine. This one is a mixed bag. I love all the attachments he comes with, and while pretty bulky, he has pretty good range of motion, especially in the legs. Sadly though, he comes off as a little rubbery. The upper body on mine a little wonky as well, with loose joints all over the arms. I like the look of the figure fine, but it lacks in execution.
Collect the whole wave of Marvel Legends to build a new version of Hulk. I was not excited at all about this one when it was announced, but once I had it built and in hand, I can admit I was wrong. I love both head sculpts, the stoic one especially. His torso does lean a bit to the right, but that hardly matters when posing the figure, as it corrects itself. This is just a really fun version of the Hulk, and I am glad to have it in the collection.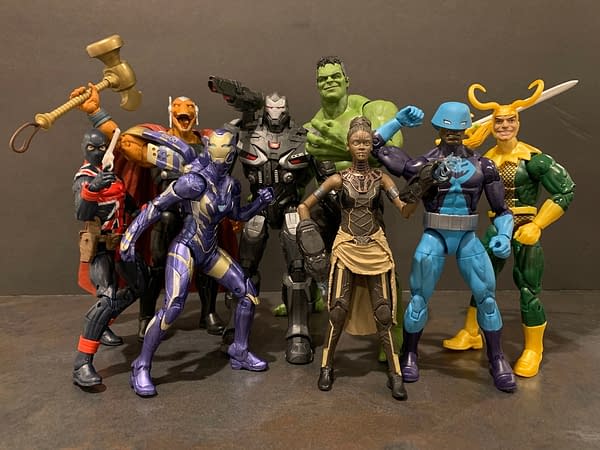 Overall, besides Rock Python, this is a pretty solid wave of figures. This is what every Marvel Legends wave should be. A good mix of comic and MCU figures with a quality BAF.
If you want to add this solid wave to your collection, you can do so here, or find them in stores now.