Rick and Morty Season 1 Trading Cards Feature Autos, Sketch Cards
Rick and Morty season 1 trading cards are on their way from Cryptozoic Entertainment. The base card set will be 45 cards and will feature scenes from the episodes. On top of that, there will be eight different insert sets to collect — character cards, stickers, standees, STR PWR, temporary tattoos, Rixty Minutes, Anatomy Park, and scratch and sniff. Premium inserts will include original art sketch cards one per box, and voice talent auto cards, featuring signatures from Chris Parnell, Rob Paulsen, Ryan Ridley, Phil Hendrie, Jess Harnell, Kari Wahlgren, Maurice LaMarche, and Tom Kenny. The glaring omission from the auto cards is of course Justin Roiland. The autos will be a bit tougher to pull, being one every 48 packs (or two boxes).
Along with foil variants and a collectors binder to house the cards (it also comes with one exclusive card), this is a set that fans are going to gobble up in no time. Many sites are sold out on preorder, but there are still a few taking preorders for a June release, or you may have to go the secondary-market route.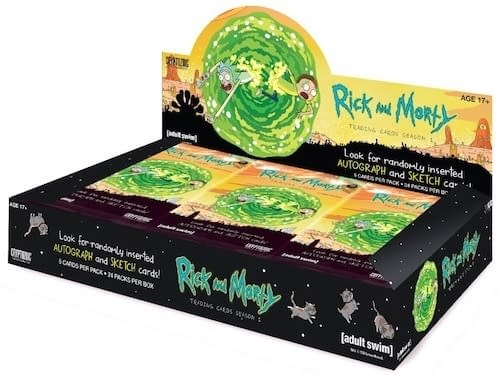 Get ready to relive all the zany moments from the first season of Adult Swim's smash hit TV series Rick and Morty, as brilliant scientist Rick Sanchez creates amazing gadgets and goes on adventures across the universe with his grandson Morty, often endangering his family and all of reality in the process!
Box Configuration: 12 boxes/24 packs/5 cards
2018 Cryptozoic Rick and Morty Trading Cards Season 1 Box Hits:
(1)

Sketch Card

(TBD)

Chase Cards
2018 Cryptozoic Rick and Morty Trading Cards Season 1 PRODUCT HIGHLIGHTS:
45-Card Base Set – Featuring episodic images from Season 1
Chase Sets

Characters
Rixty Minutes
Anatomy Park
Temporary Tattoos
Scratch and Sniff
Standees
Stickers
STR PWR

Autographed Card – From voice talent –

(1:48 Packs)
Sketch Cards –

(1:16 Packs)

Foil Variants – Base & STR PWR Cards
Printing Plates
Collector Binder – With an exclusive card!