32 Thoughts About 32 Comics – Batman Eternal, Multiversity, Thor, Original Sin, Uncanny Avengers, Uncanny X-Men, Wolverine & The X-Men, Miles Morales, Trees, Supreme, Sirens, All New X-Men, Deadpool, Gwen Stacy, Superior Spider-Man, The Shadow, Solar, Purgatori, The Wicked + The Divine, Devilers, Translucid, Bionic Woman, Hellraiser, Storyteller, Foster's Home For Imaginary Friends, Cataclysm, Turtles In Time, X-Files, Transformers, Maxx, Littlest Pet Shop And Judge Dredd
Another week, another lovely batch of comic books to read through… so what takes your fancy today? Stephanie Brown gets some fatherly advice regarding using mobile devices while driving, in Batman Eternal.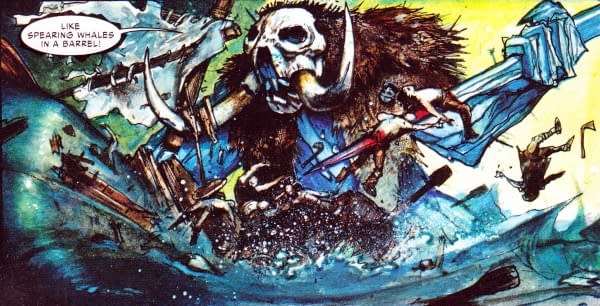 Simon Bisley doesn't so much draw Thor as regurgitate it. Raw, powerfel, syrong and possibly a little smelly. So, basically, Angela's real name has "Spawn" in it? Most amusing, Original Sin #5.4 Okay, so maybe we might now know who Magneto is going to kill, from Uncanny Avengers. Glad to see that club bouncers are just as fanboyish as the rest of us. Anyway, who says he doesn't have adamantium in his teeth? Yeah, South Carolinian Stephen Colbert won't like that reading his Uncanny X-Men. Might he be the ma n to start an anti-mutant hunt amongst the Colbert Nation?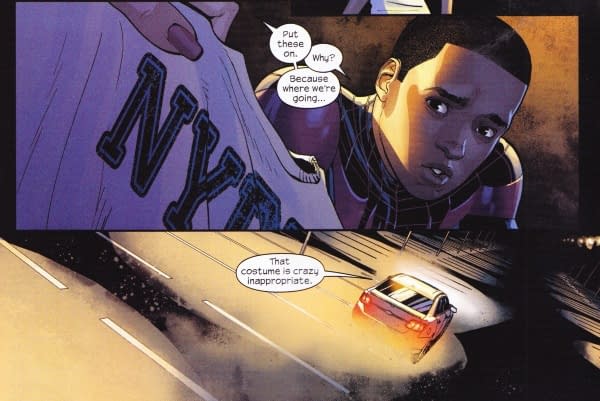 Of course there are some communities where Miles Morales wearing a police department shirt may be as equally inappropriate, from Miles Morales: Ultimate Spider-Man. While in All-New X-Men, he's being rather inappropriate regarding a certain secret identity. The Deadpool Bi-Annual has its own share of inappropriateness, reviving the all-ages animal action team Brute Force in an incredibly not-all-ages comic book. Jim Henson's Storyteller: Witches also has some fun with a little anthropomorphisation, and some playful experimentation with stoyrtelling devices.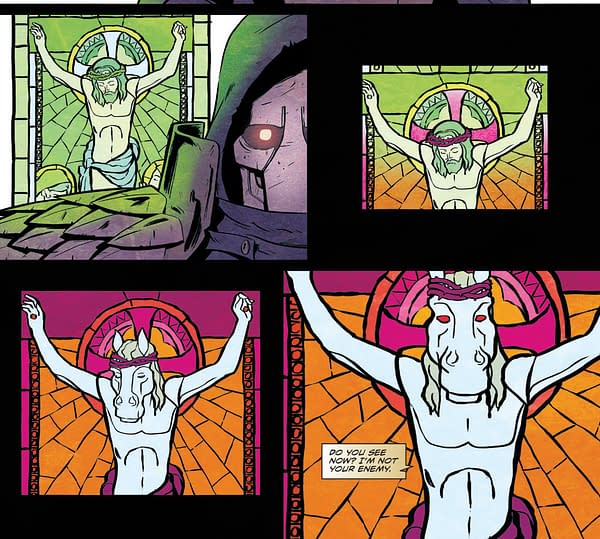 While Translucid #6 has a rather transformative experience. Little donkey, little donkey… come on, sing along, has a heavy load… Okay, not quite the lyrics I was going for there, from Hellraiser: Bestiary #2. Also, Dr Fate may have something to say about this.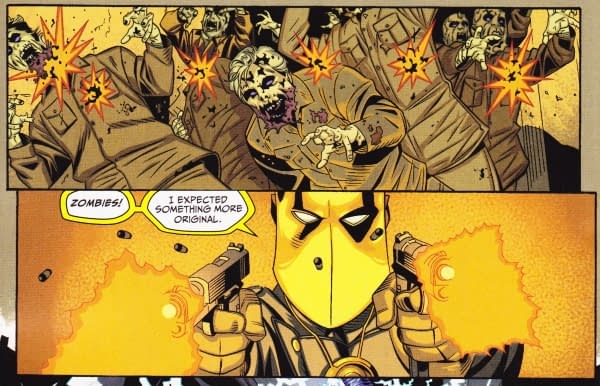 Dr Fate criticises Multiversity's decision to use the same plot as The Avengers right now. Why do I guess that this is the comic that will have been really underordered this week? Gwen Stacy as a Spider-Man in Edge Of Spider-Verse, and also having to deal with those really nice, but really annoying foreigners who insist on dancing with you, and how can you say no to such innocent enthusiasm?
Okay, maybe not so innocent…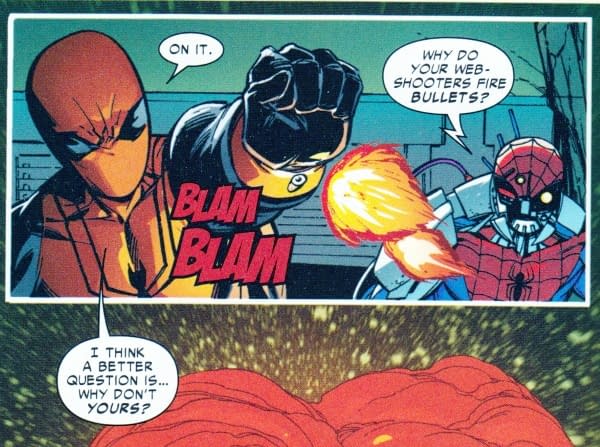 While in another Edge of Spider-Verse title, Superior Spider-Man, we have a little spinner envy… The Crossed version of The Walking Dead's Rick Grimes deals with a similar event in his own life in true Crossed style. Trees encounters another rather powerful concept that also totally transforms our lives… The Shadow has some serious problem with halitosis in Moscow… Remember when you're with Solar, anyone who punches him may well punch you my mistake. With a wolf. The Lucifer in Pugatori #9 is just rude. I mean so is the Lucifer in The Wicked + The Divine #4 but at least she has class. And she's a she. Devilers #3 as just reminded me that I don't seem to have any water about my person either. And there are signs on the London Underground suggesting that I carry some. None of them call me an amateur for not. Maybe they should…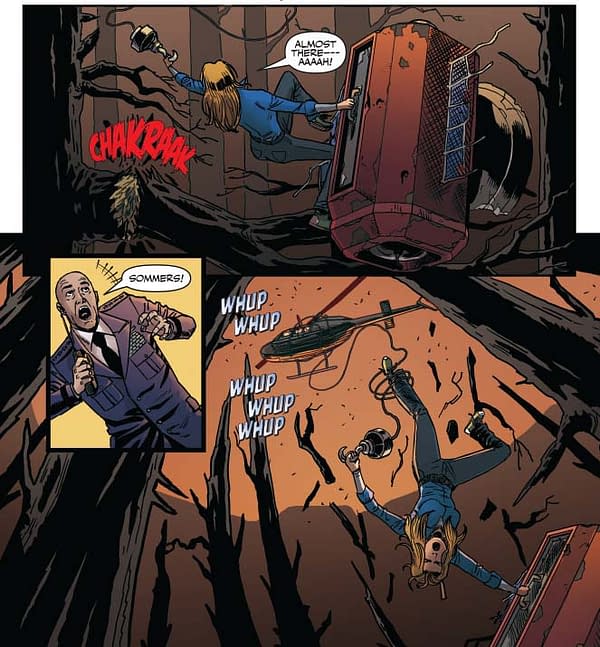 Bionic Woman #1 give us a scene that, if you could monetise it safely, could make you millions at a Bionic Woman theme park. Foster's Home For Imaginary Friends #1 exposes the innermost fears of any monster, from the important to the trivial. No one has punched anyone over it yet. Godzilla: Cataclysm #2 has the kind of prayer that once said, can never be satsified. Narrative choice simply won't allow out. He'll be baaaak… Any plan that doesn't involve licking a frog, clearly has no business being a plan, in Rise Of The Magi #4 Artifacts #39 educates its audience. By shushing a question that I am sure that some folks reading this would have been mouthing along to… Turtles In Time #4 have their own time travel and find no one who wants to fight them. That's what I used to bank on the future fr, now I'm not so sure… X-Files Season 10 #16 shows the powerful hypnotic alien stare… that might explain why people watched the TV show for so long. That we got a subconscious blip from that thing every time we watched, so we kept watching…. and now it's in the comics… Transformers: More Than Meets The Eye #33 makes me wonder if there is any word you can't add Quantum to, to make it sound more interesting and progressive… Communication is key, folks. Maxx #11 doesn't seem to have much of it. He'll become a Twitter warrior very soon, if he can get his followers to do exactly that. Littlest Pet Shop #5 gets very close to inviting Russell BBand to play with them. Keep this up folks, and he'll be there…. Judge Dredd #23 has a Dark Judge get outwitted by another cop. Note how Andersson has to be sneaky. No one has ever accused Dredd of that! George Perez' Sirens looks as if they were watching Doctor Who last weekend. Unless it was Professor Night, that is…
….as seen in Supreme Blue Rose, as a Doctor Who stand-in. Jonathan Ross talks through the DC and Marvel reboots.
So what are you reading today?
Comics courtesy of Orbital Comics, London. Currently exhibiting the Scene & Heard collection, with Gerry Duggan signing next Wednesday.