63 Thoughts About 62 Of Today's Comics – Prometheus, Guardians Of The Galaxy, Batgirl, Suicide Squad, Harley Quinn, Lady Demon, Copperhead, Charmed, Spider-Verse Team Up, Spider-Man, Supreme, Bitch Planet, Spider-Man & The X-Men, Skylanders, My Little Pony, Mercy Thompson, Fraggle Rock, Little Nemo, Peter Panzerfaust, Empty Man, Crossed Badlands, Wild Ones, God Is Dead, Earth 2, Batman Eternal, Thor, Avengers World, Carnage, Constantine, Amazing X-Men, Rocket Raccoon, Winterworld, Futures End, Alice Cooper, Shutter, Magdalena, The Valiant, Princess Ugg, Helheim, V-Wars, TMNT, Angry Brids, Angry Birds Vs Transformers, Transformers, Bravest Warriors, Regular Show, Star Trek, Samurai Jack, October Faction, Suicide Risk, Maxx, D&D, 7th Sword, Hexed, Sirens, Eternal, Thomas Alsop, Deep State, Solar, Flash Gordon, Ex-Con and John Carter
Bitch Planet #1 asks the important question in comic books today. It also happens to lead off with a great pull back and reveal that's reminiscent of the beginning of the first episode of Spaced. It works a treat… While Prometheus: Fire And Stone gives you the best advice you'll ever get instead. Aside from "nuke them from space" of course. The long delayed Guardians Of The Galaxy Annual with Frank Cho on art gives us the Guardians Of The Galaxy/Star Trek crossover you've always wanted but never knew you did. Oh, and with SHIELD as well. Could this be the start of a new franchse? Very, very ossibly. The gender politics of today's Batgirl will be all over the place – expect a mixture of fascination and outrage. But welcome to the Uber of the DC Universe. More panels, more brands… Can you really believe that this Harley Quinn in Suicide Squad is the same one that appears in the ongoing series? That's the magic of comic books I guess! Still, having Taylor Swift songs constantly inside your head might explain quite a few things. The Harley Quinn Annual gives us possibly the dirtiest line in a non-Mature Readers comic book since The Books Of Magic's original publication with the line "Felching Heck". It was later given a Mature Readers tag… Lady Demon #1 is just a little more direct. No need for innuendo here, it just goes off in your hand. As it were.
Copperhead however prefers to play a little… While Charmed can make even the most innocent game pretty filthy…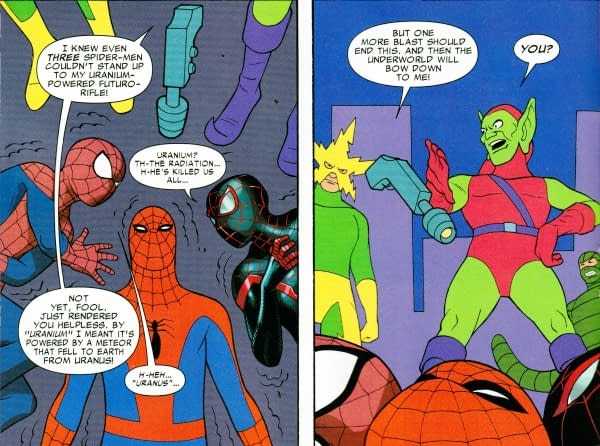 Yeah, sorry, but sixties' animated Spider-Man doesn't come close, I'm afraid, in Spider-Verse Team Up. Still at least he had one solution to another problem.. The pig knows who is in charge in Amazing Spider-Man. Man, the webbing must be a bitch to draw on this crossover. Can't everyone look like 60's animated Spider-Man? It would make the artist's job so much easier. Although teleportation does seem to do a similar job, in Spider-Man & The X-Men. Come on Spidey, appearing topless in front of your students is only going to lead to a court case. Especially once with their tongues hanging out, in Skylanders #3. As for lessons, there's a certain pony in My Little Pony: Friends Forever #12 who you might want to skip being taught maths. Or self restraint.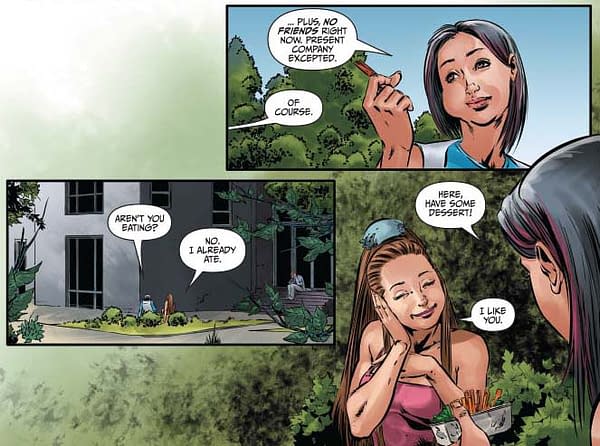 Mercy Thompson #3 also learns the power of food to compel. And there is no self restraint present in Jim Henson's Fraggle Rock: Journey to the Everspring. Little Nemo #3 has a better understanding of such dangers… though substituting tobacco for sugar only opens a whole host of worms. Gummy fruit flavoured worms. Though Peter Panzerfaust would probably beg to differ given the choice. The Empty Man #6 is ready to turn your stomach at any given moment. And it's final issue is no slouch in that department… but if that doesn't do it… …Crossed Badlands should give you all you need, and more. It's enough to turn you to drink. While Wild's End #4 goes for another poison. Do you know the effect alcohol has on small mammals? Pretty much the same effect it has on all mammals… Frankly, if I was Darkseid in today's Earth 2: Worlds End, I'd be hard pressed to get a word in edgeways. Oh, and it all starts to happen here folks… Remember folks, he's not a valet, he's a butler. The gang's all here in Batman Eternal. And it looks like Batgirl's new Burnside look hasn't been welcomed by everyone… That's the closest we're going to get to see Thor's real face for some time I'm thinking. And yes, as we predicted, a certain someone seems to be making a comeback in the Marvel Universe, courtesy of an Axis-inverted Doctor Doom and his new guilt complex in today's Avengers World…
While the inverted Carnage has a character come up with a new line in making a case not to be shot by a man with a glowing skull for a head. And an inverted Nightcrawler in Amazing X-Men starts doing an impersonation of his dad in X-Men: First Class… John Constantine explains DC Comics continuity without, somehow, breaking down and getting the giggles in Constantine. Seriously, someone kill this now…
Rocket Raccoon moonlights as a retail worker. Seriously, how could you not buy from this sweet furry guy as he looks at you with his deep red eyes and points a gun at your genitalia?
Of course there are other ways to shop. Winterworld #5 prefers the five fingered discount. Or maybe the head-blown-off discount. Talking of which… New 52: Futures End has a kid doing what every kid should, playing with a decapitated head, then putting on the mask for size. And finding it fits. It's a completely natural and healthy activity. Well, according to Alice Cooper, corrupter of the youth, anyway… Shutter #7 also brings back similar fears, there must be something in teh air right now. After the ISIS assassinations, it seems like there's even more of this stuff going around right now.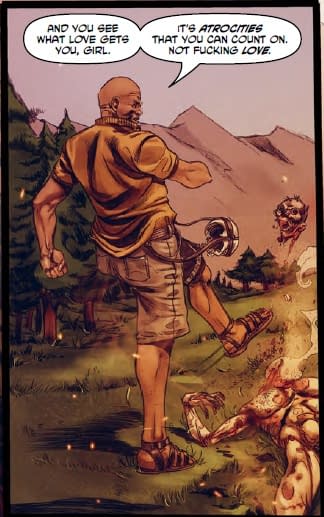 At least God Is Dead #25 can turn the activity to a more healthy, sporting, pursuit. But there are times like this, as in Magdalena: Seventh Sacrament Oneshot that having a weapon expert on the premises isn't always the best idea. The Valiant #1 could really do with a little heavy exposition at this point. Princess Ugg #6 sees a mangling of her opponents, as well as Scottish dialect. Surely "dinnae ken" rather than "dinnae know"? Yeah, I think we know what he really means about being "not natural", from Brides of Helheim #3.
And he was born that way. Okay, possibly not, but you know what I mean. I hope. V-Wars #8, there, preaching genetic tolerance. Teenage Mutant Ninja Turtles #41 is doing its best to be a Transformers crossover… Such a shame Angry Birds Transformers #2 beat them to it. But look to be about as effective. Turtles, tricycles, what's next to transform into? Of course, the cassette deck. What are you going to do, Soundwave in Transformers #36, spool him to death? Turn up the volume? How about some deadly break dancing? While the Bravest Warriors just have giant robot envy… Star Trek New Visions #4 demonstrates that future plastic surgery has certainly come on a tad. Though the hair still looks a little on the dodgy side, even then. Never fight a hungry dragon, Samurai Jack. You're more likely to win if it as a heavy full stomach. Hopefully not containing you. Back to Thor #2 again… The October Faction #3 knows that nostalgia kills. And wouldn't have it any other way. The Maxx #14 has an interesting definition of the word, "progress". And D&D: Legends of Baldur's Gate #3 likewise with the word "invitation."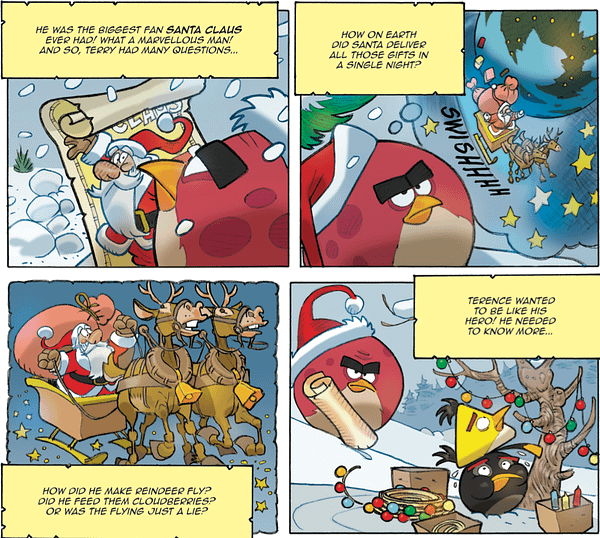 Angry Birds Holiday Special shows us that there are some things that man is not meant to know. Or overstuffed flightless bird….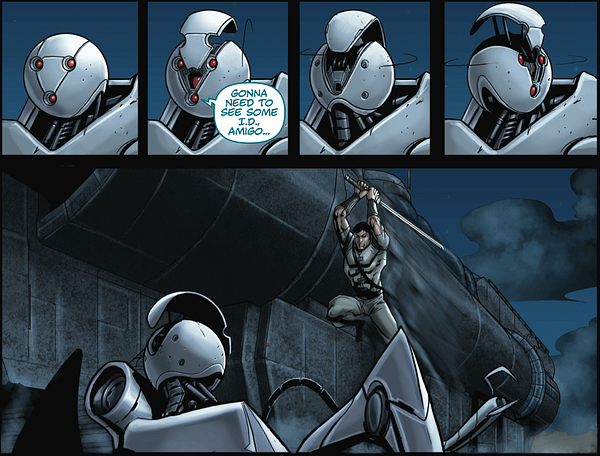 7th Sword #6 has all the ID you'll ever need….
I believe the appropriate phrase here is "burn!"? Thomas Alsop #7 gets snappy.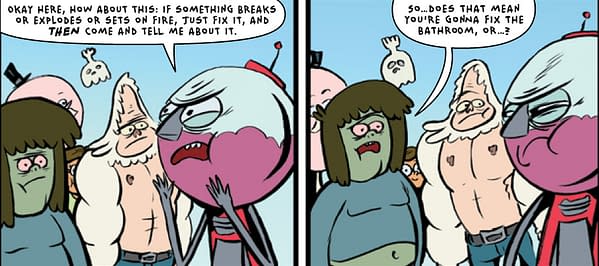 You know, it's just this kind of conversation in Regular Show #18 that you really shouldn't have with a guy with a bomb for a head. It will never end well.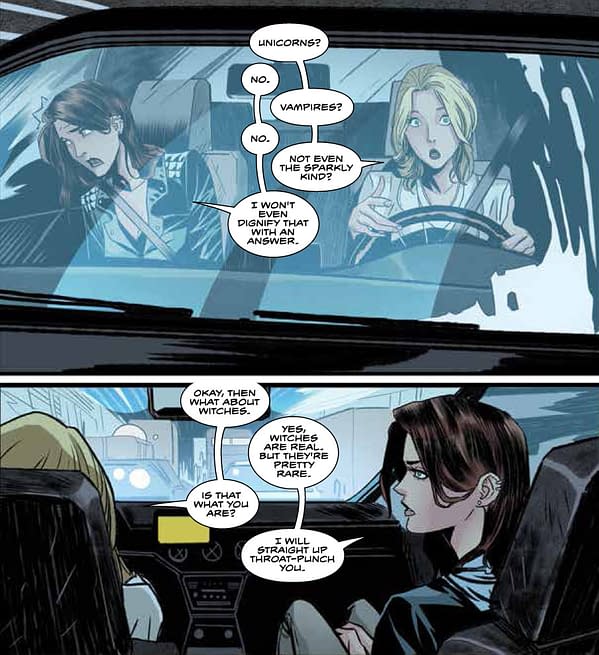 Hexed #5 makes its position on Twilight well and truly known. And on throat punching.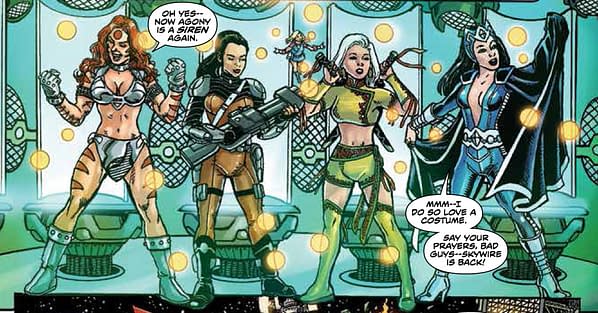 While George Pérez is clear to distance himself from anti-cosplay comments of some of his fellow comic book creators in Sirens #2. It's all about the 'play…

William Harms (Impaler, Infamous) brings us Eternal #1, a new series in a world where cloning has made death merely an option. Along with how your eggs are done.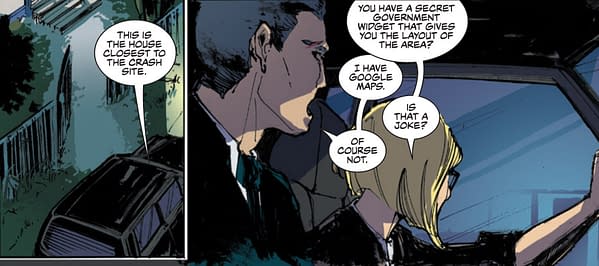 Deep State #2 reminds us that Google is the superpower now.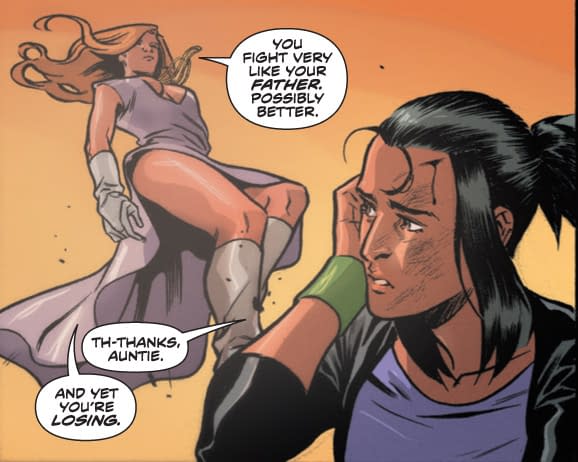 That's the thing about relatives. They give with one hand and take away with the other, as in Suicide Risk #20.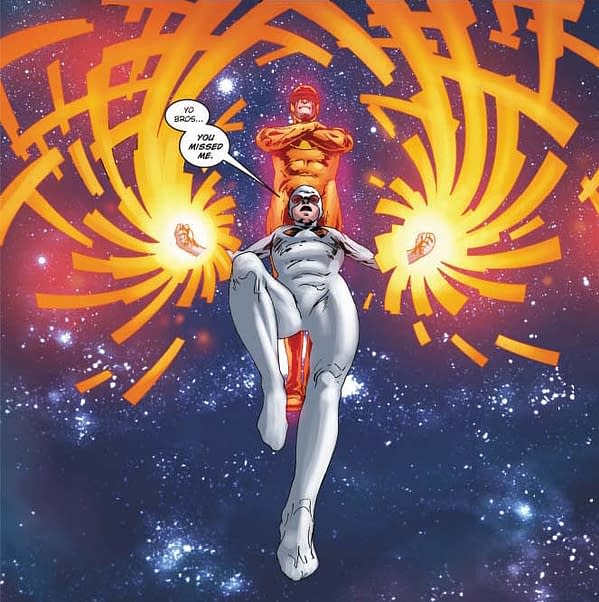 Solar #8 chooses a very unflattering angle to arrive. Seriously, someone will instagram that and you'll be a Meme Of The Atom.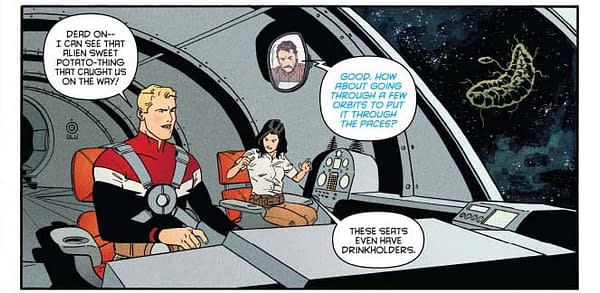 Flash Gordon #7 discovers the comforts of space travel, with some ergonomic design. Let's just hope those are drinkholders and not place for aliens to rest their external organs, or you may end up with a very slimy cup.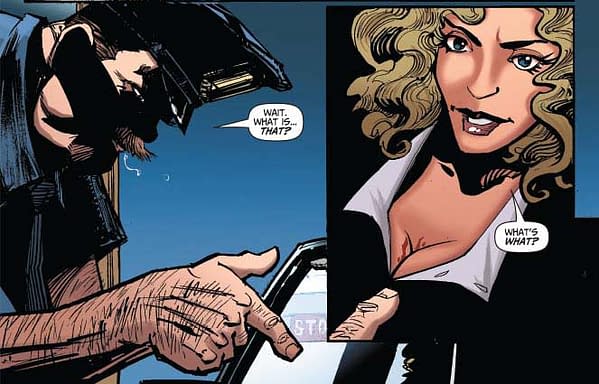 Eyes up mister! Put that finger away! She's not smuggling puppies! Ex-Con #4 cleaves with the cleavage.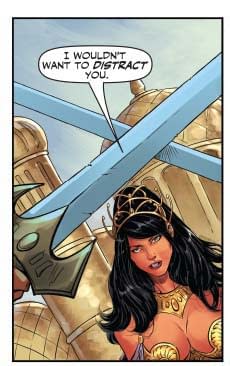 While in John Carter #2, Dejah Thoris has her own, very similar way, of spilling blood. Oh and it strikes me that there has just not been enough religious criticism today. Watching Constantine, I've been distressed by the lack of evil priests of late, once a staple. Even this week's Amazing X-Men has a relatively kindly one. Will everyone stop ridding me of these turbulent priests?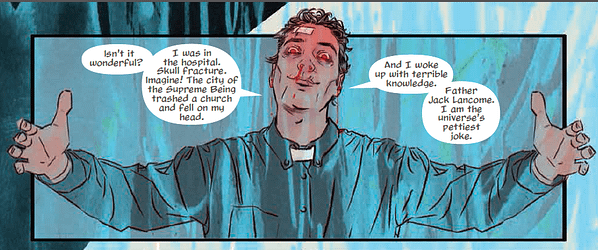 Thank yo Warren and Tula. Supreme: Blue Rose it is.
Comics courtesy of Orbital Comics, London. Hosting a Becky Cloonan signing and artist commentary on Gotham Academy tonight.